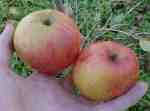 .....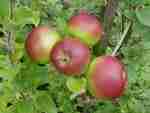 .....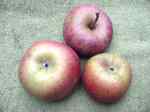 .....
LEICESTERSHIRE APPLES NEWS 2022
.... 2021...... 2020...... 2019...... 2018...... 2017..... 2016..... 2015..... 2014..... 2013..... 2012..... 2011..... 2010..... 2009

Buy Leicestershire Apples

EVENTS 2022
We are now approaching normality again; a very busy 'apples' year for us with five grafting workshops taking place; all of them full or oversubscribed. Events this year:

Thur 13 Jan Scion collection at Cotesbach Hall
Sat 22 Jan Orchard Pruning at Cotesbach Hall
Thur 27 Jan 7pm Zoom talk on setting up an orchard; for CFLPS*
Sat 19 Feb Cosby Apple Grafting Course (all-day); Cosby Methodist Church Hall
Sun 20 Feb Great Easton Grafting Workshop 1, morning; in the Village Hall
Mon 21 Feb Grafting session: Assisting Lubenham Grafters & Growers
Sun 20 Feb Great Easton Grafting Workshop 2, afternoon; in the Village Hall
Sun 6 Mar Whitwick Grafting Workshop, 10.30 - 12.30, Whitwick Park Hall; for CFLPS*
Sat 12 Mar Quorn , Grafting Workshop, 2pm - 4pm. Old School Hall; for CFLPS*


*CFLPS is the Charnwood Forest Landscape Partnership Scheme (see Whitwick & Quorn courses, below).

-------------------------------------


QUORN GRAFTING COURSE, SAT 12 MAR 22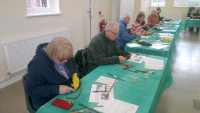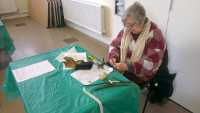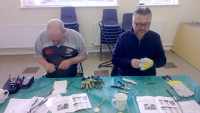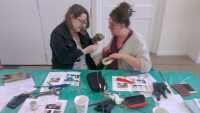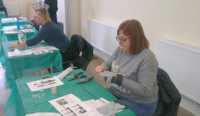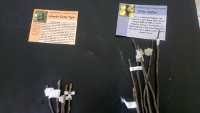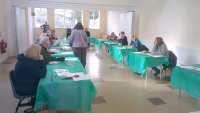 This workshop took place in the Quorn Old School Hall. An enthusiastic group of 14 students were given an introductory talk on grafting: the reasons we do it, the two main methods, and how to look after the trees for the first few months, when they need constant care. More trees were donated to the Charnwood Forest Landscape Partnership Scheme, and most of the rest were taken away for planting in other local orchards and gardens.
The varieties on offer were again Belvoir Seedling, Prince Charles, Sweetings, Dumelow's Seedling, St. Ailred, Leicester Burton Pippin and Langton's Nonesuch. It is good to get these uncommon varieties out into the community. It's important that trees like this are labelled and mapped so that people in the future know what they are.
Thanks to Carolyn again for organising the event for CFLPS, supported by the National Lottery Heritage Fund.
12 Mar 2022

WHITWICK GRAFTING COURSE, SUN 6 MAR 22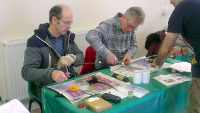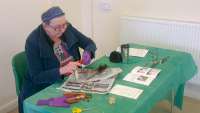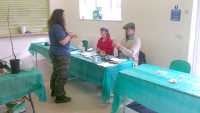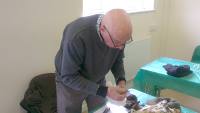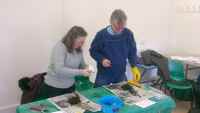 This workshop took place in the Whitwick Park Hall and was ably organised by Carolyn Holmes. Each student was issued with an illustrated booklet on how to graft, and Mel and Nigel talked about reasons for grafting, the mechanics of the two basic techniques, and aftercare of the trees. Some of the trees were donated to the Charnwood Forest Landscape Partnership Scheme, which aims to plant useful trees, with local participation, in the Charnwood area. The scheme is supported by the National Lottery Heritage Fund. Dave Holden provided assistance and took photographs, as did Carolyn; the ones above are just snaps taken by Nigel on his mobile phone.

There were two last-minute absences because of positive Covid tests, but other than that, everything went smoothly.

The varieties on offer were Belvoir Seedling, Prince Charles, Sweetings, Dumelow's Seedling, St. Ailred and Langton's Nonesuch, the variety we recovered from Germany.

Many thanks to Carolyn for organising the event.
6 Mar 2022

-------------------------------------

LUBENHAM GRAFTERS & GROWERS, Mon 21 Feb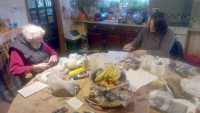 Each year, Judith Egan holds some informal grafting sessions to construct Leicestershire (and other) apple trees which are distributed & planted around Market Harborough and mapped in a 'virtual orchard'. The picture shows Paul, Gabriella and Judith working steadily towards their target of grafting one hundred trees in a few days. I was pleased to be asked to help for a couple of hours.
21 Feb 2022

-------------------------------------

GREAT EASTON GRAFTING COURSES, SUN 20 FEB 22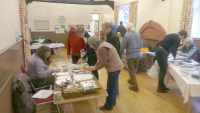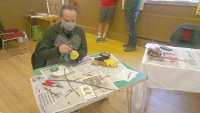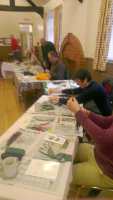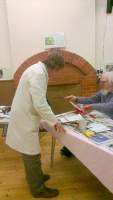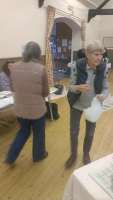 Grafting workshops completed at Great Easton; 20 Feb, presented by Mel Wilson, Nigel and Alison. There were two 2-hour workshops (10.30-12.30 and 1.30-3.30), in which students were given a brief introduction to grafting; the reasons for doing it and the mechanics of carrying it out; the cleft graft, favoured by Mel, and the whip & tongue graft, favoured by Nigel. The sessions were carried out in the Church Hall and were organised by Bob Mitchell and Teresa Chapman, as part of the Great Easton Platinum Jubilee celebrations.
The sessions were popular (15 people on each, and more on a waiting list) and were generously subsidised by "Walk on the Wild Side", a practical component of the Great Easton "Platinum Treebilee". To quote their brochure: "...we have teamed up with the Leicestershire heritage Apple Project which promotes, rediscovers and grows apples with are unique to Leicestershire". Sixty trees were grafted during the day, most of which will be planted locally.
There were six Leicestershire varieties available to graft:

Leicester Burton Pippin: dual purpose (cooker in Sept; dessert in Oct)
Prince Charles: dessert, earlymidseason
Sweetings: very early dessert
Belvoir Seedling: late dessert
Dumelow's Seedling: late midseason cooker
Langton's Nonsuch: mid-season dessert
The intention is for a central record to be kept of who grafted what, along with the locations of the trees, so that the varieties have a better chance of being preserved in the future. Please make sure, if you are one of the grafters, that you label the tree with a permanent label, that you tell other people the names of the apples you have grafted, and that you write down and keep a paper record of the trees you have constructed and the exact location (in your garden) of each. You will not remember which is which!
21 Feb 2022

COSBY GRAFTING COURSE, SAT 19 FEB 22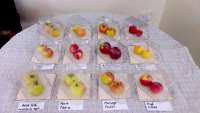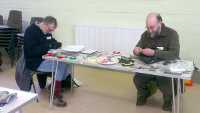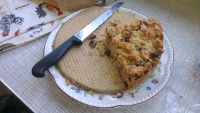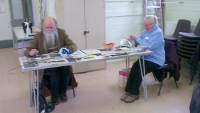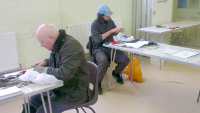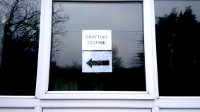 All-day grafting course completed at Cosby, 19 Feb, presented by Nigel and Alison. Some pictures from the event are shown above; click on the thumbnails for more detail. We began at 9.30 for 10.00; introductory talk on natural grafting, then propagating trees from seed, by cuttings and by grafting, and then a budding simulation followed by a theory and practical on the two main kinds of grafting. We also showed a few of the odd apple varieties which we've collected over the years, some of which are used in breeding new varieties.
The lunch session involved a tasting of twelve late apple varieties, the latest of which (Burford Yellow) which was picked only a fortnight ago. The active apple-picking period is rather longer than most people realise. The apples used were Burford Yellow, Eden Crab, MM106, Hidden Rose, Mere Pippin, Durrant, Xmas Pink, Marriage Maker, Burford Red, High Cross, Suttonelms and the Huonville Crab. The sugar levels of the students were raised a little by pieces of Alison's home-made apple cake.
The afternoon session gave more practice, particularly on coping with very thin scions, and then each student made two trees. We were pleased to see new arrivals from Derbyshire and Nottinghamshire, some students coming back for a refresher, and a few old friends encountered at apple and wildlife events around the county.
We hope to see pictures of your grafted trees in a few weeks!
21 Feb 2022

'ZOOM' TALK ON SETTING UP AN ORCHARD, 27 JAN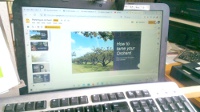 Talk for the Charnwood group, organised by Carolyn Holmes, 7pm; lasted about an hour, followed by numerous questions. I'm used to talking to groups, but this was my first experience (apart from being on a judging panel for a radio drama event) of talking to a group from a room in my house. Nevertheless it worked well; it was presented by Mel Wilson, who handled the technical side and introduced it, and I was able to contribute some ideas from the other end of the county. Topics covered included planning, preparation, tree protection, routine maintenance, dealing with pests, and a host of other essential things to consider when setting up an orchard.
28 Jan 2022