I am listing below some interesting redfleshed apples; details and pictures sent by Hans Perneel, Belgium.



1. Redfleshed seedling and fruit from Blaton, Hainaut, in the French part of Belgium. Red pigmentation is only slight, but it has a superb taste. It does not store well (only a few weeks). We have called this "Blaton Rouge".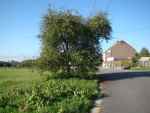 ....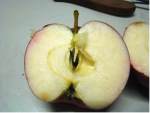 ....



2. Apples from a wild tree found at Edgem, a small town in West Flanders: as yet un-named. It has a pleasant, very rich flavour.



....

....



3. A deeply pigmented wild apple we've called 'Rode Dries'; picture of the seed, the fruit, and sliced through, from tree on new rootstock.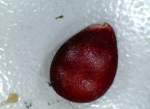 ....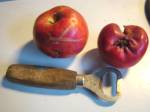 ....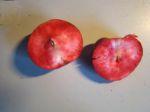 ....



4. Fruit from another newly grafted 'Rode Dries' tree is shown below; it has turned out to have a paler colour.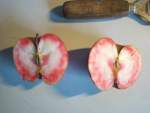 ....



5. WEIROUGE, a German redfleshed apple which is now being grown commercially on a small scale in italy. It is one of the better-flavoured redflesh types; it grows well in England and has a good flavour. It's not biennial, the tree is healthy, and the fruit keeps in crisp condition for about 4 weeks in a cellar. Ready early September.



....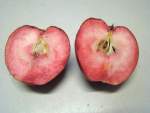 ....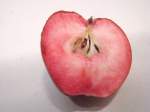 ....




UPDATE, OCT 2012
More pictures from Hans ... a selection of his redfleshed apples this year.

Varieties looking at the pictures clockwise, starting top left: (1)Pomvital, Weirouge & Rubens; (2) Malus Aus Korma, freshly cut; (3) same apple one minute later; rapid browning; (4) Pomvital, showing the vivid red colouration; (6) Malus Geneva; (7) Malus Rubens again; about the size of a golf ball.





compiled by Nigel Deacon / Diversity website