Rodney Wingfield is well known for his "Inspector Frost" character, played by David Jason in the popular television series, and for the Frost novels. Less well known, perhaps, are his radio plays which were broadcast between 1968 and 1987 by the BBC, and which are still being broadcast from time to time in Germany, Australia and Canada. He also wrote a comedy series for Kenneth Williams, broadcast in the early 1970s ("The Secret Life of Kenneth Williams").
Below, we have a radio biography of Rodney Wingfield , followed by a list of his plays; then a few notes and part of an interview done for Radio Times. All Rodney's plays are known to exist in collections except Double Entry. I (and probably the BBC) would be grateful for information enabling the missing play to be found.
R.D.Wingfield Radio Plays
R.D.Wingfield was for twenty years a stalwart of BBC radio drama, producing a steady stream of intelligent mystery plays with a built-in guarantee of enjoyment for the listener. He is, of course, famous now as the creator of Inspector Jack Frost, reaching a wide audience through his Frost novels and a spin-off TV series with David Jason starring; but it was on radio that he honed his skills, and even the celebrated Frost made his bow on the air.
All Wingfield's plays are clever, with sharp dialogue, clear-cut characters and intriguing action. He hooked his listeners quickly and efficiently and then proceeded to lead them up the garden. His plays are full of tricks and surprises, clever twists and unexpected developments. Sometimes the biter is bitten; sometimes black appears white; often the denouement stands everything else on its head. Certain themes recur: missing money, insurance fraud, bomb disposal; but Wingfield always has something up his sleeve and he never repeats himself.
At his best, he is outstanding: witness A TEST TO DESTRUCTION, an early play in which an explosives expert, seemingly caught in a desperate trap, keeps his nerve and thinks ahead. This was broadcast in 1970, with a powerful performance from Robert Lang in the lead. Witness also THE TENTH ANNIVERSARY, from 1972, which cleverly resolves an unexplained murder ten years after its commission; or the amazing late serial, OUTBREAK OF FEAR (1982), which piles one horrific death onto another in a hair-raising, catastrophic sequence. For sheer, high-voltage excitement, even Wingfield has never surpassed his achievement here.
Leslie Sands played the bewildered police sergeant in OUTBREAK OF FEAR, and it was he who first brought Frost to life, in THREE DAYS OF FROST, broadcast in 1977 in 'Saturday Night Theatre'. A complex mystery about a lost child, set in sub-zero temperatures at Christmas, it also featured Jack May as Superintendant Mullett and Steve Hodson as D.C.Barnard, here the narrator. Leslie Sands also played Inspector Chew in BETTER NEVER THAN LATE (1969), about an unsolved kidnapping case that he determines doggedly to clear up as retirement looms. Derek Martin played Frost in a later play, A TOUCH OF FROST, on 'Saturday Night Theatre' in 1982. COVER UP (1985) was a third play in this drama series, with David Sinclair as a demoted ex-Inspector, making things awkward for former colleagues who now need his help.
SMILING AND BEAUTIFUL DEATH (1976) stands somewhat apart from the bulk of R.D.Wingfield's plays, achieving suspense despite an element of predictability - for once, we have due warning of what is eventually to happen. Different, too, is THE CELLAR, a short 'Just before Midnight' play from 1979, which artfully grafts a realistic sequel onto an ongoing ghost story. Other of Wingfield's plays have an engaging comic element, like THE NIGHT THEY DELIVER THE MONEY (1970), where Lockwood West's harassed bank manager cleaves desperately to routine procedures in the face of potential disaster, or DAYLIGHT ROBBERY, where Monica Grey's prim spinster proves quite other than she appears.
Two exceptional works were produced under pseudonyms: an unnerving 'undercover' thriller serial, THE KILLING SEASON in 1984 (as by 'Arthur Jefferson'); and Wingfield's final radio play, HATE MAIL, in 1988 (as by 'T. Smith'). In the latter a discredited sergeant on the point of retirement runs rings round his ungenerous, self- regarding younger colleague. The pity is that its author was discouraged from continuing to write for radio, and there have been no new plays since.
Barry Pike

Update.........R.D.Wingfield died at the end of July 2007. There are numerous tributes to him on the internet. The best obituary you'll find is by Jack Adrian of The Independent.


...... some comments by Steve Monaco, spotted by a friend on a newsgroup........

The BBC has never stopped producing fine radio drama, and I've only now discovered the work of one of their most popular mystery writers, R.D. Wingfield, even though his work goes back four decades. His main detective is Jack Frost (first radio, then novels and TV), but his radio plays are usually about people scrambling for a buck-- he writes about business well-- and what happens to small lives when something huge like murder happens. Outbreak of Fear is a five-part play from 1982, and shows Wingfield at his very best: gruesome, funny, and engrossing from the first line. (I especially like the high level of animosity between his characters, which leads to some great arguments.) They show up on newsgroups that specialize in British radio series-- try to find some, because they're as good as radio mystery gets.

- Steve Monaco, 13 Dec 05.

Message to Steve - Let me know your web address and I'll put in a link) .... N.D.  
RADIO PLAYS
Compensating Error (45') Aug 68 8.15 R4
Our West Ladyton Branch (60') 13-11-68 8.15 R2
Better never than late (60') Nov 69 2.00 R4
The night they deliver the money (60') 4-4-70 2.00 R4
Double Entry (45') 7-10-70 R4
Test to Destruction (45') 1970 R4
Slow fuse (45') 13-1-71 8.15 R4
Letter of the law (60') 28-4-71 3.05 R4
Cat and mouse game (45') May 71 8.15 R4
Adequate Reasons (45') 21-7-71 8.15 R4
The tenth anniversary (45') 9-2-72 8.15 R4
The Alternative Plan (45') 19-7-72 8.15 R4
A second class risk (45') Jan 73 8.15 R4
Sins of commission (45') 2-5-73 8.15 R4
Cleft stick (45') 19-12-73 8.15 R4
Balance brought forward (45') 27-2-74 8.15 R4
Murder locked out (45') 11-9-74 8.15 R4
Saturday Roster (45') 9-10-74 8.15 R4
Slow Fuse (30' version) May 76 R4
Smiling and beautiful death (45') May 76 3.05 R4
Death of the insured (45') 8-7-76 3.05 R4
Winner takes the Kitty (30') Oct 76 R4
Three days of Frost (90') 12-2-77 8.30 R4
Credit risk (45') 24-2-77 3.05 R4
Daylight robbery (45') 2-6-77 3.05 R4
The last escape (45') 7-7-77 3.05 R4
Blood money (60') 26-8-77 3.05 R4
Post Mortem Shock (45') 2-11-77 R4
Nightmare (15') 16-2-79 1145pm R4
The cellar (15') 7-4-79 1145pm R4
Second sight (60') May 81 3.02 R4
Innocent victim (60') 20-8-81 3.02 R4
A touch of Frost (90') 6-2-82 8.30 R4
Moveable assets (45') Apr 82 3.02 R4
Outbreak of Fear (5 x 30 mins) beginning 29-8-82 R4
The Killing Season (as Arthur Jefferson) (6 x 30 mins) Jan 84 R4
Cover-up (90') 5-1-85 8.30 R4
Hate Mail (as T. Smith) (45') c1985 R4
Deadfall (60') Dec 87 R4. Rebroadcast by ABC, c1995
NOTES
COMPENSATING ERROR....1968
Rodney Wingfield's first play - set in a bank. There's a new manager who's only interested in productivity, and there are sackings. But two redundant old buffers hatch a plan to get their own back. Stars Derek Guyler and George Benson.

....."Compensating Error", by R.D.Wingfield (Midweek Theatre, 3 Sept, 1969).....a play which brings back not-so-happy memories of office life back in the 1960s, with its petty backbiting and intrigues, and which has a nice twist in its tail. Splendid characterisations of two crafty old buffers by Deryck Guyler and George Benson. (-Roger Bickerton).
BETTER NEVER THAN LATE....1969
'Twelve years ago the Force was my life - but things change. Twelve years ago while I was looking for a kidnapped child, my son died and my wife walked out on me. I want to solve that case before I retire - I want to wipe the slate clean.' Cast: Brian Haines, Sean Barrett, Fraser Kerr, Malcolm Gerard, Charles Simon, Malcolm Hayes, Sheila Raynor, Alan Haines, Jill Simcox, Nicolette Bernard, Patricia Gallimore, Nigel Lambert, Frederick Treves. Producer Glyn Dearman.
DOUBLE ENTRY....1970
RT blurb: 'Double Entry' becomes 'Double or quits' when £15,000 is missing from the safe.' Patricia Gallimore, David March, Kerry Francis, Alan Rowe, Michael Harbour, Dennis Waterman, Frederick Treves, Nigel Anthony, Tony Leary. Producer Christopher Venning.
TEST TO DESTRUCTION....1970
Taut little thriller with a surprise in store. Radio Times said the following: 'For John Somersham, the Department of Scientific Warfare always comes first, but when the safety of his small son is at stake he faces the most agonising crisis of his life'. With Robert Lang, Dudley Foster, Malcolm Tierney, Patrick Newall, Beth Harris, Patrick Tull, John Nightingale, Geoffrey Segal, Matthew Walters, Ian Thompson, Claire Ballantyne. Produced by Robert Cushman.
THE NIGHT THEY DELIVER THE MONEY....1970
'The picture's beginning to build up. Four mysterious Auditors, whose existence is denied by Head Office; a large consignment of money coming in .... With Lockwood West, Andrew Sachs, Michael Spice, Jill Simcox, Jonathan SCott, Nigel Anthony, Anthony Whelan, Aubrey Woods,Geoffrey Wincott. Produced by Glyn Dearman.
ADEQUATE REASONS....1971
A young child has gone missing. There is a complex interplay between police, parents and kidnapper ... and a most surprising resolution. With Frederick Treves as Inspector Nuttall, John Sampson as D.S. Dalton, John Pullen as Mr. Hallett, Alethea Charlton as his distraught wife; also stars Douglas Blackwell, Martin Friend, John Rye, Antony Higginson, Julian Fox and J.J.Murphy. Produced by Roger Pine.
CAT & MOUSE GAME....1971
Police thriller. With Hugh Burden, Michael Kilgarriff, Jill Shilling, Wilfrid Carter, Douglas Blackwell, Sheila Grant, Leslie Heritage, Nigel Havers. Producer David H. Godfrey.
THE ALTERNATIVE PLAN....1972
Unless a vital code chain can be intercepted, a political assassination is on the cards. A frightened ex-Army captain and a dying ex-Nazi provide the only chance. With Peter Jeffrey, Roger Delgado, Douglas Blackwell, Brian Haines, John Rollason, William Sleigh, Olwen Griffiths, Manning Wilson, John Samson. Producer Gerry Jones.
THE TENTH ANNIVERSARY....1972
Every year on the anniversary of the famous Monkstead murders, Det-Insp Ridley revisits the scene of the crime. On the tenth he disappears... Edward Kelsey, John Graham, Michael Kilgarriff, John Rye, Peter Pratt, Ronald Herdman, Stan Davies. Producer Glyn Dearman.
A SECOND CLASS RISK....1973
This isn't the usual petty run-of-the-mill claim. The week he died, Beaumont insured his life for £50,000. "I like to see the ink dry on a policy before I pay out". With Penelope Lee, John Rye, Geoffrey Matthews, Peter Pratt, Simon Lack, Kate Binchy, Philip Weston, Olwen Griffiths, Fraser Kerr; produced by Glyn Dearman. Midweek Theatre.
CLEFT STICK....1973
.............extract from VRPCC newsletter, Oct 03..... Rodney Wingfield writes..."Cleft Stick" was a play that nearly did not get bought. I had submitted it and was confident that it would be accepted. I was in Broadcasting House on an entirely different matter when the Script Editor for this slot called me in and said that he was afraid they would have to reject "Cleft Stick" because the Script Reader had given it a poor rating. He showed me that Script Reader's report which said that he had guessed the ending right from page 1. This was ridiculous, and it was obvious he had fallen for one of my "red herrings" and had not read beyond the first few pages. I asked the Script Editor, as a favour to me, to read the play himself. He did, and the next day 'phoned to say he thought it terrific and that they would be buying it. If I hadn't been at the Beeb that day, it would have been rejected".
remarks from ND..........a radio gem; murder, double-crossing villains, and the biter bit. Produced by David H. Godfrey.
SINS OF COMMISSION....1973
Producer: Glyn Dearman: R4 02-May-1973. Cast List : Alan Dudley, Peter Tuddenham, William Fox, John Baddeley, David Gooderson, Katherine Parr, Chrys Sal, William Eedle, Nigel Graham, John Hollis.
BALANCE BROUGHT FORWARD....1974
'The police never close their files. It's like owing the bank money - they never leave you alone ... Wouldn't it be rotten luck to think you'd got away with it for 30 years and then ... David Timson, Karen Archer, Aubrey Woods, Peter Williams, Rolf Lefebvre, Gudrun Ure, Fraser Kerr, Manning Wilson. Producer Harry Catlin.
DEATH OF THE INSURED....1976
'If you've only got a short time to live, at least you should be able to liveit up in the time that's left to you....' John Hollis, Jeffrey Segal, Christopher Bidmead, Shirley Dixon, Garard Green, David Neal, Kathleen Helme, Eva Haddon. Producer Harry Catlin.
WINNER TAKES THE KITTY....1977
'No buts...she's my stake....her for a night against your pile.... come on Kitty, smarten yourself up ... try to look as if you're worth the money ... you look more like the half-crown touch at the moment'. Stanley gets more than he'd bargained for in a friendly game of poker.... but so does Harry. Thirty Minute Theatre. Derek Deadman, Don McKillop, Brian Croucher, Irene Sutcliffe. Producer Anton Gill.
DAYLIGHT ROBBERY....1977
"Elderly lady living alone in remote house, willing to take in paying guests." When Miss Pickering puts this advertisement in the paper she has an ulterior motive. So have the four gentlemen who reply. Producer: John Cardy: R4 02-Jun-1977. Cast List : Monica Grey, Norman Shelley, Jonathan Scott, Peter Woodthorpe, Howard Goorney, Lewis Stringer. Other parts: Daisy Bell, Brian Gear Elizabeth Havelock, Douglas Leach, David Ponting.
THE LAST ESCAPE....1977
Seaton had been a model patient for all those years, and then something had been triggered off..... Walter Hall, Malcolm Gerard, Jonathan Scott, Kevin Brennan, Anton Phillips, Gavin Campbell, Penelope Reynolds, Richard Hurndall, Crawford Logan. Producer Christopher Venning.
BLOOD MONEY....1977
Demotion to manager of a small branch of Benington's Bank is Eastwood's last chance and he is determined that nothing should go wrong. But within minutes of his arrival he is faced with a ransom demand for £40,000. Cast: John Bentley as Eastwood, with Jonathan Scott, Joanna Wake, Hugh Janes, Paul Meier, Roy Spencer, John Arnatt, Kenneth Shanley, William Eedle, Nicolette McKenzie. Producer Graham Gauld.
CREDIT RISK....1977
'....Tomorrow morning, gentlemen, we are going to defraud the Sesame Credit Card Company of something in excess of a quarter of a million pounds'. John Rowe, William Eedle; with Irene Sutcliffe, Christopher Scoular, Alan Tilvern, Leslie Glazer, David Graham, Tom Watson, Martin C. Thurley, Andrew Seear, Marcus Campbell, James Thomason, John Oxley, Joan Matheson, Valeria Murray. Producer Christopher Venning.
THE CELLAR:....1979
Creepy 15m play produced by Gerry Jones in the series 'Just Before Midnight'. 'There is a cellar, sir, yes, but we can't get to it. The previous owner had it bricked up'. R4 7-Apr-1979. Cast List: John Pullen, Rosalind Ayres, Leonard Fenton, Fred Bryant, Gordon Dulieu, Elizabeth Lindsay.
OUTBREAK OF FEAR....1982
We are in Inspector Frost territory in more ways than one...the setting is Pulford, just outside Denton, and Leslie Sands plays Sergeant Fowler, sorting out the mess during and after a series of gruesome deaths. His sidekick Constable Beaumont is played nicely by Nick Orchard, and Nicholas Courtney is excellent as the supercilious Superintendant Chadwick, Fowler's temporary boss. The other cast members are Paul Nicholson, Conrad Phillips, John Gabriel, Malcolm Young and Rosemary Segal. The programme was directed in Bristol by Brian Miller.
A TOUCH OF FROST....1982
This play was my initiation into the world of Rodney Wingfield, the (now) under-used and probably no-longer-used and expert radio dramatist. A fine performance from Derek Martin delivers Frost with pace and beautiful timing. The whole has plenty of twists and a satisfactory dénouement. Why no more "Frosts" were commissioned by the BBC after this one defeats me. Glad to say that I still revel in the YTV/David Jason productions, thankfully repeated ad infinitum. Leslie Sands did "Three Days of Frost" nicely, but, for me, Derek Martin has the edge. (Donald Campbell, VRPCC newsletter) ........note from N.D: both "Frosts" were produced by Graham Gauld, who also produced the Hobbs & Shelley "Sherlock Holmes" dramatisations .

Cast: Derek Martin, Haydn Wood, Stephen Thorne, Alan Dudley, Ellis Dale, Stanley Page, Jill Lidstone, Gordon Reid, Andrew Byatt, Alex Marshall, June Brown, Richard Gold-Parry; producer Peter King.
THE KILLING SEASON....1984
Written using the pseudonym 'Arthur Jefferson'.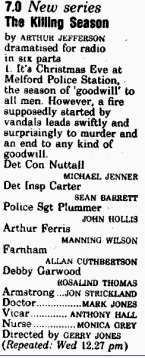 COVER UP....1985
RT blurb:....Just two years ago they demoted Detective Inspector Slade and kicked him out of the Division. Some people said he was treated unfairly; others were glad to see him go. One thing is certain; they'd never have had him back if it hadn't been for the bank raid... David Sinclair, Andrew Burt, David Garth, William Eedle, with Mia Soteriou, Michael McStay, Philip Rowlands, Guy Holden, Jack McKenzie, Steve Hodson, Gwen Cherrell, Narissa Knights, James Kerry, Arnold Diamond, John Forbes Robertson, Nicholas Courtney, Martyn Read. Producer David Johnston.
DEADFALL....1987
Harry, an explosives expert, is in the demolition business, blowing up old factory chimneys. But years earlier he used to work for the Section, an undercover part of the Ministry of Defence, and was involved in an assassination attempt on a rising black politician. An attempt is made on Harry's life, after one of his old army colleagues turns up on his doorstep - is this coincidence, or his past catching up with him? This is a superbly-paced thriller, broadcast first for the BBC but also put out in Canada and Australia. It stars Bob Peck as Harry Davis, Judy Berry as Jenny Brown, with Stephen Thorne, Jim Reynolds, Alan Dudley, Aubrey Woods and Peter Howe. Produced by Ian Cotterell.
HATE MAIL....1988
This play was written under the pseudonym 'T.Smith'. Sgt. Wicker's last week before retirement starts out with a less than thrilling case of a vandalised garden. It soon escalates to something very much nastier. Cast: Ian Targett, Joanna Mackie, Philip Sully, Barbara Atkinson, Laurence Payne, Norman Bird, Diana Katis, Michael Tudor Barnes. Producer Matthew Walters.
Nigel Deacon, Diversity website
INTERVIEW WITH RODNEY WINGFIELD, 23 Aug 96
I was radio's blue-eyed boy. Everything I wrote they bought. When I'd sold three plays I thought, I'm on to a winner here, and I slung up my job - I was a clerk in an oil company -and started writing radio plays full-time.
Right. Now we move forward to 1972. I get a call from the publishers, Macmillan. They'd heard one of my thrillers and wondered if I'd like to write a book. Offered £50 advance, non-returnable, no matter what. So I started to write my book, not knowing there's a difference between writing a book because you want to and writing one because someone's given you fifty quid. This first book was called FROST AT CHRISTMAS. I wrote it during one of the hottest summers for years, the sweat pouring off me. But I did it and proudly sent it off. And back it came. Rejected.
I turned it into a radio play and now what you'll want to know is who was the first Frost, and I'll tell you. We wanted Ronnie Barker, but he was wrapped up in his television work and didn't have the time. So Leslie Sands was cast and he was terrific. The Jack Frost in my books is a chain-smoker and Leslie Sands gave him a real smoker's cough. Perfect.
I don't watch the television Frost. Nothing against David Jason. I could watch him again and again in 'Only Fools and Horses', but he isn't my Frost, and my fear is that if I were to watch him, then my next Frost would become him.
I used to work with a chap called Jack Frost, but he wasn't anything like him. But there was a fellow who did have an influence. He was one of the reps at the oil company. This was a company where, if you toed the company line, you got on. And he was actually better than many of the others, but he didn't toe that line.
For instance, reps had to make out call reports, itemising all the customers they'd approached. All the other reps would make it up. But this boy would write down "Such and such a garage and 59 other calls". The district manager would get furious. Yet if this chap had said he'd made 59 other calls it would be true. He didn't play their game, but he was straight.
The first book was finally published in Canada, about 1982, and then the rights were sold here. The last book, HARD FROST, was nominated for an Edgar award: lesson there- never take no for an answer.
I was only going to write one Frost book. He was going to die with a bullet in his head. But they said don't do it. So I wrote that there he was on the operating table, and rather than finish the sentence, I just put three dots. You know the sort of thing...
Rodney Wingfield was talking to Cordell Marks, for Radio Times.
Rodney Wingfield supplied the play list; Barry Pike wrote the article about the plays, Cordell Marks wrote the last bit, and the rest is a mixture of excerpts from the Radio Times and my own notes & reviews.

Nigel Deacon / Diversity website.