Anya is a cross between Desiree and Pink Fir Apple, done at the Scottish Crop Research Institute (1995). It is very similar to Pink Fir Apple. Yield in containers is lowish but reliable (about 1.5 lb from a 2 gallon container; 2lb from a 3 gallon conatiner). Differences from Pink Fir Apple-

It matures more quickly (2nd early, not maincrop) so you don't need to wait all season to find there's virtually no crop.
The flesh is whiter, less nutty, and a little less waxy.
It is very susceptible to alternaria (early blight) but this doesn't seem to affect the yield very much.
The flowers drop off at the bud stage.
The haulms are thin, delicate and short.
The tubers are less knobbly than Pink Fir and a paler colour.

For containers I'd rate this higher than Pink Fir.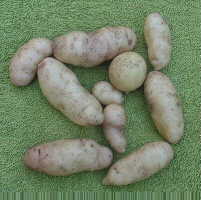 ....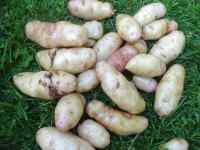 Seed tubers of this variety can be obtained from JBA Seed Potatoes by clicking the link below: