Betty Davies started at the BBC as a secretary (which was what they called production assistants in those days) before the war, in 1939. Soon afterwards she became a producer, in the days when women producers were unheard of. She became well-known in the 50s, 60s and 70s for her radio work. The BBC Genome project lists about 1300 of her productions and adaptations, mainly on Home Service/R4 and the Light Programme/R2; she probably had a hand in about two thousand radio dramas in all, many of which were for 'Saturday Night Theatre'. This page lists a small fraction of her work, and is being expanded as more information (and time) becomes available. According to my information, her first radio play went out in 1943 and she retired in 1980. At the time of writing (Jan 2018) she is 100 years old; she will be 101 on 27 Feb 2018. Three of her likes are red wine, cakes, and hats!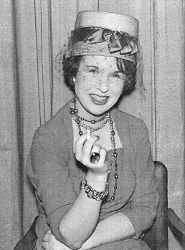 I have now been contacted by David Roberts, who writes as follows:

You may like to note that Betty died in January at the age of 100. She was my father's first cousin.

She was an extremely colourful character, who led a long and fascinating life, working well into old age and then travelling the world - from Antarctica to the Karakoram - until too infirm to do so. Until mid-2017, having outlived all her BBC contemporaries, she continued to live alone in the flat in Shepherd's Bush she had occupied for many decades. It was a running family joke that Betty was likely to pop up in the most unusual places. She once stayed with me in Santiago, Chile, but nothing beats the time I bumped into her by accident in the countryside near Cienfuegos in Cuba. This was in 1983 - deep in the Cold War, when western tourists were rare. She really did get about!

David Roberts


A FEW TITLES AND DATES: R4 / Home Service unless otherwise stated
1980 Not a penny more, not a penny less, by Jeffrey Archer, in 7 episodes
1980 Little Dorritt, by Charles Dickens, in 10 episodes
1980 The Cellar (JBM) by R.D.Wingfield
1979 The Bostonians, by Henry James, in six parts
1979 End of the Line (JBM) by Betty Davies
1979 Play Mas, by Mustapha Matura
1978 I know an old lady, by Betty Davies
1978 Whose little boy are you, then? by William Ingram
1978 Crocodile by Graham England
1978 Heart of Midlothian, by Walter Scott
1977 Gaffer, by Graham White
1977 I Want It Now, by Kingsley Amis
1977 A Very Special Person, by H.G.Castle
1977 The Sunny Side of the Street, by Michael Abbensetts
1977 Summer Days, by Bruce Beeby
1977 Long Time Story by Valerie Murray
1977 Maigret, series
1977 The Painted Fade
1976 The Fugitives, by Kenneth Cook, ad. Bruce Beeby
1976 Penelope, by Antonia Fraser
1976 A Blaggin' Job, by Joan Lock
1976 Bang, Bang, You're Dead, by Muriel Spark
1976 Les Miserables, by Victor Hugo, in 16 parts
1976 Honest Tom, by Terence Kelly
1976 Bingley's Classic Case, by Allan Surtees
1976 The heroine, by Antonia Fraser
1975 Lion's Roar, by Peter Russell
1975 On the battlements, by Antonia Fraser
1975 Our Roman Cousins, by Bruce Stewart
1975 The Fencing Man, by Peter Russell
1975 Part of the View, by Giles Cooper
1975 Daisy Miller, by Henry James
1975 Tom Tytham, by Peter Russell; Mon play
1975 Milk in the Coffee, by Sam Selvon
1975 One to the power of two, by Graham Blackett
1975 Idea for a Rhapsody, by Michael Kittermaster
1975 The Lost World, by Sir Arthur Conan Doyle, in 3 parts
1975 Portrait of a man with red hair, by Hugh Walpole
1974 Master Sunshine, by Peter Russell
1974 Murder with Variations, by Michael Brett
1974 Himself, by Anthony Grey
1974 The Girl Upstairs, by Michael Davies
1974 Sole Witness, by Michael Brett
1974 The hero who played the cornet, by Daniel Katz
1974 Tiger, by Derek Raby
1974 Letter from Paris, by Dodie Smith
1974 The Short-Sighted Optimist, by Hugh Steadman Williams
1973 A Question of guilt, by Philip Levene
1973 The House on the Strand, by Daphne du Maurier
1973 Carol, by Sheila Hodgson
1973 The Admirable Crichton, by J.M.Barrie
1973 A Good Day for Stripey Tigers, by John Hynam
1973 And They'll Come Home, by Elisabeth Batt
1973 The Bashful Canary, by Sheila Hodgson
1973 Paying-Out Night, by William Ingram
1973 A Guest of Honour, by Nadine Gordimer, in 4 parts
1973 One of our Patients is missing, by Leslie Darbon
1973 Portrait of a Lady, by Henry James, in 5 parts
1973 Frogs'Legs and Laver Bread, by William Ingram
1973 A Way with Women, by Michael Brett
1973 The Office, by Derek Raby
1973 Thunder on Sunday, by Karen Campbell
1972 Cometh the Hour, by William Ingram
1972 The Harvest in Wilderness, by Sam Selvon
1972 Kristina's Winter, by Malcolm Ross-MacDonald
1972 Idea for a Rhapsody, by Michael Kittermaster
1972 Number Thirteen, by David Ellis
1972 The Temple Tree, by David Beaty
1972 Jane Eyre, adap.
1972 Stab In The Back, by Vernon Harris
1972 Number 13, by David Ellis
1972 Shadows of the Past, by Rosemary Timperley
1971 The Executioners, by Peter Russell
1971 You Never Can Tell, by G.B.Shaw
1971 Voyage to Trinidad, by Sam Selvon
1971 Out of Season, by William Ingram
1971 Two in the Bush, by William Ingram
1971 Venus with Pistol, 8-part serial
1971 Beyond The Black Stump, by Neville Shute
1971 Unquiet Conscience, by Philip Barker
1971 The Tumbled House, by Winston Graham, ad. Val Gielgud
1971 Edith, by John Whitkley
1971 Philately Will Get You Nowhere, by Andrew Sachs
1971 Death at the Dolphin, by Ngaio Marsh
1971 Nobody can have Everything, by Peter Russell
1970 The Mourning Raga, by Ellis Peters
1970 Patricia
1970 Stranger at the Gate, by William Ingram
1970 Death of an Escapologist, by David Williams
1970 The Marquise, by Noel Coward
1970 Tales from the Poona Club, by Berkely Mather
1970 The Prime Of His Life, by Charles Hatton
1970 You Right In The Smoke, by Sam Selvon
1969 Sailor, Sailor by William Ingram
1969 A Shilling For Candles, by Josephine Tey, rpt 1972
1969 Home Brew, by William Ingram
1969 The Contract, by Bruce Beeby
1969 Round the Bend, by Nevil Shute
1969 The Gantry Episode
1969 Bringing In The Sheaves, by Sam Selvon
1968 Mariolina, by Sheila Hodgson
1968 Trustee from the Toolroom, by Nevil Shute
1968 The Rivals, by R.B.Sheridan
1968 A Corpse for Charybdis, 5-ep serial, by Susan Gilruth
1968 And Shame The Devil
1968 A Different Kind Of Animal, by Barbara Foxe
1967 Trouble with Bells, Sheila Hodgson, adap
1967 Mandragragora, by Frederick Treves
1966 This Little Piggy, by William Ingram
1966 The Chequer Board, by Nevil SHute
1965 Mrs. Thompson, Mollie Hardwick, adap
1965 Landfall, by Nevil Shute
1965 Waters Of The Moon, by N.C.Hunter
1965 A Foot in the Door, by Jill Hyem
1964 Suspicious Mind, by Philip Levene
1964 Requiem For A Wren, by Nevil Shute
1963 The Grandmother Clock, by Philip Callan
1963 Mixed Feelings by Denys Kay-Robinson
1963 The Man On The Island, by Malcolm Hulke
1962 Returned Empty, by Arthur Curtis
1961 The Chinese Bowl, by Edward Gough
1961 Broker's Dozen, by Redmond Macdonogh
1961 The Years Between, by Betty Stafford Robinson
1961 Cat and Mouse, by Betty Davies
1961 Break For Commercials, by Gyles Adams
1960 Mrs. Dale's Diary
1960 Flying Arrow, by Dick Cross
1960 Between Deep Sea and the Devil
1960 The Two Sights, by Joyce Bell
1959 The Telephone Call, by Betty Davies
1959 Double Deception, by Redmond Macdonogh
1959 Laces for a Lady, by Michael Hardwick
1959 The Weather Man, by Charles Hatton
1958 Danger-Witch at Work, by A. Kennington
1958 Burglar's Bounty, by Redmond Macdonogh
1957 Women are so Unreasonable, by James Saunders
1956 This Happy Brood (sic), Delderfield, adap
1956 His Saving Grace, by J.S.N.Sewell
1955 Mrs Dale's Diary: about one programme a week, 1955-62, Lt. programme
1953 Meet the Huggetts - some material written by BD for each show, 26 episodes
1951 The Silver Flame, by Betty Davies (Children's Hour play)
1947 Duet, by Betty Davies (Mystery Playhouse, Lt. Programme)
1947 The Lost Reindeer, by Betty Davies (Children's Hour play) rpt 1949 & 1950
1948 no entries
1946 The Key, by Betty Davies (Mystery Playhouse, Lt. Programme)
1946 The Conjuror's Rabbit, by Betty Davies (Children's Hour play) rpt 1949 & 1950
1946 Winter Witchcraft, by Betty Davies
1945 Best Seller, by Betty Davies
1944 Blow Your Own Trumpet, by Betty Davies
1943 Three Wishes, by Betty Davies
1943 Pig About Town, by Betty Davies



NOTES ON SOME OF THE PLAYS

NOT A PENNY MORE, NOT A PENNY LESS....1980
By Jeffrey Archer, dramatised for radio from the novel in seven parts by Betty Davies. Ep. 1 ... The Set-Up. Making a million legally has always been difficult. Making a million illegally has always been a little easier. Keeping a million when you've made it is perhaps the most difficult of all. Harvey Metcalfe had managed all three. David Kesler: Blain Firman, Harvey Metcalf .......... Stratford Johns, Stephen Bradley .......... Paul Darrow, Adrian Tryner .......... Francis Matthews, Jean Pierre Lamanns .......... Edward De Souza, Lord James Brigsley .......... Jeremy Clyde, Bernie Silverman .......... Bob Sherman, Time reporter .......... Peter Marinker, Jorg Birrer .......... Sian Probert, Frank WattS .......... Michael Spice, Mr Izard .......... Godfrey Kenton, Miss Fish .......... Eve Karpf.
I have been contacted by Carol McShane, one of the SMs who worked on the broadcast, who writes as follows: 'If I remember correctly, "Not a penny more, not a penny less" was directed by Glyn Dearman on which I did grams & tapes. We were in Studio 6A with Patience Pratt on Panel but I can't recall who was on 'Spot'. Glyn booked Jeffrey Archer to do the narrations.'

1977-09-19 Waggoners' Walk
By Alan Downer and Jill Hyem. Directed by David Johnston, Betty Davies and Bernard Krichefski. R2. Joanna has been to her first evening class and had another seizure; Charlie has been upset by a family photograph; Arthur Tyson has taken to his bed with a touch of the Dixons; Mr Patel and Kath have made bonfire plans; and Milton Monk has told Mike to carry on beaming.

HIMSELF....1974
By Anthony Grey. Afternoon Theatre 15 Jun 1974. A comedy set inside one human body - a vast bureaucracy where bright young living cells clash with their conservative superiors and the whole concern is run by the intellectual elite - the Brain Cells who Inhabit the corridors of power. A crisis develops in the life of the Body concerned - Himself - and the cells react like the crew of a trapped submarine. (There's another excellent play similarly set inside the human body - by J.C.W.Brook, its title is "Giving Up"; see JCWB's page). Cast:In the Outside World: Himself ....David Timson, Herself .... Diana Bishop, Commuter ....Stephen Thorne; In the Body: Living Cell 10047, a bright lad in Parathyroid Sub-Division ....Nigel Anthony, His Superior .... James Thomason, Living Cell 10013 .... David Valla, Living Cell 100654 ...Sion Probert, Brain Cell One .... Rolf Lefebvre, Brain Cell Two ..... John Rye, Chief Engineer, Fuel Refinery ....Fraser Kerr, His assistant .... Antony Viccars, Ego .... John Rye. Other parts: John Bull. Special effects by the BBC Radiophonic Workshop. Producer Betty Davies.

1974-02-13 Tiger
By Derek Raby. Thirty Minute Theatre. 'All these people - they're all in cages of different kinds - and they have the effrontery to stand there and feel sorry for me! ' The Tiger: Norman Shelley, The Child: Judy Bennett, Other parts: Nigel Graham, Anthony Hall and Diana Bishop. Producer - Betty Davies.

1973-07-25 Paying-out Night
By William Ingram. Midweek Theatre. For 25 years Griff Davies had run the loan club in his South Wales village. But now the Committee had decided to make a change, and Griff found himself ' put out to grass.' Griff Davies: Meredith Edwards, Dai Roberts: Anthony Hall, Llew: Douglas Blackwell, Simpson: Cllve Swift, Thomas: Haydn Jones, Will: William Ingram, Councillor Morgan: John Dearth, Martha Beynon: Elizabeth Morgan, Gwil, the landlord: Sion Probert, Producer: Betty Davies.

1973-02-26 The Office
By DEREK RABY; Monday Play. It rises high out of the traffic. Blank-faced and window-eyed .......... layer upon divided and subdivided layer, each one much the same as the one above it or below it ... It is - The Office. Narrator .......... Richard Hurndall, Mrs Thing .......... Katherine Parr, Wilkins .......... Rolf Lefebvre, Miss Pring .......... Barbara Mitchell, Typists .......... Phelen Worth, Typists .......... Jane Knowles, Typists .......... Gail MacFarlane, Mr Shape .......... William Eedle, Miss Dampenshaw .......... Margot Boyd, Rogers .......... Lewis Stringer, Daphne .......... Sandra Clark, Jacques .......... David March, Browne .......... Fraser Kerr, Blott .......... Brian Haines, Foss .......... Haydn Jones, Robert .......... John Forrest, Carol .......... Kate Binchy, Herbert .......... David Gooderson, Producer .......... John Rye, Monica .......... Diana Bishop, Ice Man .......... Michael Kilgarriff, Bruton .......... John Samson, Davies .......... Anthony Hall, Child .......... Judy Bennett, Miss Meadows .......... Olwen Griffiths, David .......... Nigel Graham, Producer .......... Betty Davies.

1971-06-19 The Magic Stick
By Sam Selvon. Afternoon Theatre, freely adapted from the novel The Obeahman by Asmit (sp?) Khan. A story of love and magic in Trinidad at carnival-time. Hop and Drop: Charles Hyatt, Zumpi: Gordon Woolford, Zolda: Valerie Murray, Massahood: Tommy Eytle, Joseph: Cedric Scott. Music By: Russell Henderson. Other parts:Frank Singuineau, Mona hammond, Ken Gajadhar. Music by the Russell Henderson Band. Produced by Betty Davies.

1968-01-28 The Chequer Board
By Nevil Shute, ad. Stephen Grenfell, from the novel.
'Tis all a chequer board of Nights and Days.
Where Destiny with Men for Pieces play,
Hither and thither moves, and mates and slays.
And one by one back in the Closet lays.
Cast in order of speaking: Hughes .......... Austin Trevor, Hodder .......... Bruce Condell, Jackie Turner .......... Maurice Denham, Mollie Turner .......... Margaret Wolfit, Al Kovacs .......... Stephen Thorne, Jim Dakers .......... Donald McKillop, Schultz .......... John Baddeley, Frobisher .......... Lewis Stringer, Colonel McCulloch .......... Guy Kingsley Poynter, Abe Lorimer .......... Tommy Eytle, Bessie .......... Eva Stuart, Dave Lesurier .......... Nigel Anthony, Grace Trefusis .......... Elizabeth Morgan, Philip Morgan .......... Trader Faulkner, Mrs Morgan .......... Molly Rankin, Chang .......... John Ruddock, Ma Nay Htohn .......... Delia Paton, Utt Nee .......... Andrew Sachs, Thet Shay .......... Timothy Harley, Mark Curtis .......... Ronald Wilson, Producer - Betty Davies.

1967-03-11 Father
By Joan O'Connor from the novel of the same name. SNT, Home Service. Richard Dodge .......... Clive Morton, Jennifer Dodge .......... Penelope Lee, Netta .......... Carol Marsh, Minnie .......... Barbara Mitchell, The Rev C Devenish .......... Peter Claughton, Annie .......... Betty Huntley-Wright, The Rev James Oilier .......... Peter Tuddenham, Alice Ollier .......... Anna Burden, George Patterson .......... Wilfred Babbage, Jim Burridge .......... Tom Bowman, Fred .......... Preston Lockwood, Frank .......... Haydn Jones, Producer: Betty Davies.

1966-01-13 SISTER MULLIGATAWNY
The story of a nurse, by Evadne Price. Auntie Lou: Dorothy Lane, Mollie: Isabel Rennie, Jimmy Drury: Peter Tuddenham, Nurse Fraser: Margaret Wolfit, Matron: Moira Mannion, Nurse Stevens: Eva Stuart, O'Reilly: Michael Collins, Colonel : John Baddeley, Driver: John Boxer, Sister Adams: Kathleen Helme, Nurse Winters: Aileen Harte, ENSA girl: Elizabeth Morgan, The song 'Rhythm of the Spring' composed by Ken Attiwill. Producer: Betty Davies.

1965-04-20 A FOOT IN THE DOOR
By Jill Hyem. Home Service. 'Sometimes I pray for something to happen. Something different. If he spilt the coffee in his lap even! Anything! Just to break the routine..... ' Kate: Mary Chester, Alec: David Spenser, Brian: Hector Ross, Grace: Elizabeth Tyrrell. Produced by Betty Davies.

1964-05-02 Landfall
By Nevil Shute, adapted by Stephen Grenfell. Home Service. Narrator .......... Gabriel Woolf, Jerry .......... Geoffrey Matthews, Mona .......... Penelope Lee, Wing Commander Dickens .......... Frederick Treves, Captain Burnaby .......... Ralph Truman, Miriam .......... Valerie Kirkbright, Commander Rutherford .......... Kenneth Hyde, Trawler Commander .......... Kevin Flood, Flight Lieutenant Hooper .......... Gordon Faith, Air Force C O .......... Norman Claridge, Wing Commander Hewitt .......... Garard Green, Professor Legge .......... Hamilton Dyce, Mrs Burnaby .......... Olga Lindo, Mona's Father .......... John Boxer, Commander Sutton .......... Alan Haines, Nurse Loring. .......... Margaret Wolfit, Nurse Mackenzie .......... Dorothy Smith, Admiral .......... William Fox, Jorgen .......... George Hagan. Other parts played by Patricia Leventon, Gordon Gardner, Wesley Murphy, Stephen Thorne, Glyn Dearman, and members of the cast. Produced by Betty Davies.

1963-06-08 The Old Boy Net
By Roger Dixon. Home Service. An old school friend at the other end of the telephone suggesting a lunchtime reunion over a drink. It sounds innocuous enough..... Henry Bradford .......... Michael Spice, Eileen Bradford .......... Polly Murch, Ralph Sayers .......... Garard Green, George .......... Timothy West, Mr Penry .......... Will Leighton, Manager .......... Anthony Hall, Sergeant .......... Frank Partington, Inspector .......... Norman Claridge, Solicitor .......... George Hagan, Patrolman .......... Leigh Crutchley, Patrolman .......... Arthur White, Petrol station attendant .......... George Merritt, His wife .......... Vivienne Chatterton. Produced by Betty Davies.

1962-08-25 The Sea House
By Margaret Summerton, adapted for radio by Beatrice Gilbert. When Charlotte Elliot tirst saw the Sea House standing on the shore, she felt the same strange affinity as with her twin brother Esmond, whom she had never seen but whose death at sea had brought her to her grandmother's home. But the Sea House was to mock and betray her dreams. Cast in order of speaking .......... Charlotte Elliot .......... Elizabeth London, Tamara Elliot .......... Catherine Salkeld, Edwina Elliot .......... Beatrice Gilbert, Mark Helliwell .......... Peter Coke, Lisa Elliot .......... Gudrun Ure, Ivor Tarrand .......... Manning Wilson, P C Vanstone .......... Anthony Viccars, Timmy Elliot .......... Elizabeth Morgan, The Man .......... Denys Hawthorne, Produced by .......... Betty Davies.

1961-11-30 MRS. DALE'S DIARY
Script by Lesley Wilson. Light Programme. Mrs. Dale writes .......... Richard rang up last Thursday and asked Jim to lunch with him at his Club. Jim and I had planned to lunch together so I was a bit indignant when Jim told me he had agreed. I didn't feel any better about it when he told me that their meeting was connected with Margaret Cunningham. However, I drove up to town with Jim and decided I'd go and see Sally and then Martin took us both out to lunch. Sally obviously was also in the dark about Jim and Richard and Margaret Cunningham. Bob is in Milan on a business trip and Mr. Ransome has sent Caradoc to help in the garage. Mother has had a slight argument with Vicky and Johnnie about their business arrangements-but Vicky has now gone to Paris because Max Desages has had an accident. I don't really know what the position is between Vicky, Johnnie and Max, but whatever it is I'm sure Mother is on Max's side. Mr.Dale, Ellis Powell ; Dr. Dale, James Dale ; Mrs. Freeman, Dorothy Lane ; Sally Fulton , Margaret Ward ; Sue Douglas , Valerie Kirkbright ; Bob Dale , Leslie Heritage .......... Jenny Dale , Julia Braddock; Grandfather Dale , Jack Shaw ; Flora Dale, Madeleine Christie ; Alec Dale , Stuart Nichol ; Carlton Dale , Glyn Dearman .......... Margaret Cunningham , Molly Rankin ; Pat, Jon Rollason ; Myre, Joy Osborne ; Mr. Morris, Derek Birch ; Mrs. Morris, Hilda Kriseman ; Caradoc Oiven , Arthur White ; Johnnie Harvill , Frank Duncan ; Ransome, Frank Windsor; Matron, Grizelda Hervey ; Mrs. Latvson, Jill Nyasa ; Miss Smith, Patricia Bendall ; Andrew Muir , Julian Somers ; Avice, Emma Young. Productions by Betty Davies and Eileen Cullen.

1961-08-17 MRS. DALE'S DIARY
Produced by Betty Davies and Eileen Cullen. Light Programme.

1956-10-27 HIS SAVING GRACE
By J. S. N. Sewell, produced by Betty Davies. The Rev Richard Hardacre: Clive Morton, Penelope, his wife: Beatrice Kane, Ruth Hardacre: Annette Kelly, Trevor Hardacre: Alaric Cotter, Mark Hardacre: Wilfrid Downing, Pansy: Betty Linton. Archbishop of Yarborough: Ivan Samson

1955-04-25 MRS. DALE'S DIARY
Script by Basil Dawson. Produced by Antony Kearey and Betty Davies. Light Programme. An elm tree fell on to the Dales' garage in a storm and damaged their car. Miss Ainley produced a bill for £27 for redecorating her bathroom after David had let the bath overflow; David disputed the amount. He and Gwen decided to share the Scandinavian nurse with the Currans. Monument's dog, Digger, had a fight with Mrs. Dale's new dog, Mr. Ferne. Monument was told not to bring him again, lost his temper and walked out. Jenny and Bob decided to announce their engagement in the papers. Mrs Dale .......... Ellis Powell, Dr Dale .......... James Dale, Bob Dale .......... Leslie Heritage, Mrs Freeman .......... Dorothy Lane, Sally Lane .......... Thelma Hughes, Bessie .......... Iris Ballard, Mr Beedle .......... Frank Tickle, Alec Dale .......... Stuart Nichol, Mr Posner .......... Sidney Vivian, Richard Fulton .......... Norman Chidgey, Fickling .......... Robert Webber, Nurse O'Malley .......... Anita Sharpe-Bolster, Monique Charbrier .......... Yvonne Dulac, Raffaele de Faenza .......... Emilio Reyes, Miriam Dale .......... Brenda Dunrich, Grandfather Dale .......... Jack Shaw, Sir Bernard Remington Wade .......... John Welsh, Mrs Baker .......... Dorothy Holmes-Gore, Jenny Owen .......... Julia Braddock, Mrs Sloane .......... Beth Boyd, Mrs Hero .......... Cecile Chevreau.

1953-07-09 MEET THE HUGGETTS
Written by Eddie Maguire. 2 - ' The Missing Crown '. Additional material by Betty Davies. Light Programme. Production by Peter Eton. Joe Huggett: Jack Warner, Ethel Huggett: Kathleen Harrison, Jane Huggett: Joan Dowling, Bobby: Anthony Green, Bert Oakroyd: Sidney Vivian.

1951-03-30 CHILDREN'S HOUR: The Silver Flame
By Betty Davies; music by Alan Paul. Home Service. Orchestra conducted by Alan Paul. Production by Josephine Plummer. This play has all the proper ingredient! of a fairy tale; the wicked Arabella, cook to the royal household and weaver of magic spells, a young and lovely princess who is turned into a silver flame, and a humble but handsome travelling jester who dares untold dangers to rescue her and to win her love. Princess Cynthia .......... Diana Maddox, Arabella, the Royal Cook .......... Vivienne Chatterton, Dickon .......... John Bentley, Chico .......... Charles E Stidwill, Owen ap Merlin .......... Hurgpryse, Ferdinand, a Cat .......... Charles Leno, Lion .......... Carleton Hobbs, Dragon .......... Andrew Churchman, Giant Grumio .......... Peter Claughton, Girl .......... Bay White, Old Woman .......... Sybil Arundale, King Frederick .......... Geoffrey Wincott, Narrator .......... David Davis.

1947-05-06 Mystery Playhouse: 'DUET'
By Betty Davies. Play produced and series edited by Martyn C. Webster. Light Programme. John Rankin: Harold Scott, Paul Rankin: Ivan Samson, Edgar Rankin: Leslie Perrins, Jeanette: Betty Baskcomb, Smith: Stanley Groome, Sanderson: Martin Lewis.

1946-10-02 Mystery Playhouse: THE KEY
By Betty Davies. Light Programme. Mark Graham: Allan McClelland, Ella: Betty Hardy, John: Lee Fox, Policeman: Frank Atkinson, Taxi-driver: Duncan McLntyre, Mrs Cole: Sybil Arundale, Dr Hardie: William Trent.







compiled by Nigel Deacon / Diversity website