A worthwhile eating apple tasting very like Claygate Pearmain but slightly more acidic, and it keeps better. Apple is more flattened and the eye is deeper. Possibly a good one to leave in the hedgerow, but it has been propagated. We will see what happens (it's on MM106) in a year or two.
Update 2014 based on observations from new trees - the apple is brisk, juicy, medium acid and has an excellent, fresh taste; the pineapple flavours present in Claygate Pearmain are much weaker in this variety. It also stores better than Claygate Pearmain. Ripe early Nov; pick mid to late Oct.

Pictures (click on small images for detail):

Blossom:


.....


Fruit from original tree, mid-Oct 09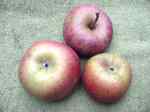 .....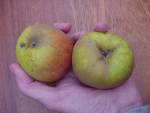 compiled by Nigel Deacon / Diversity website