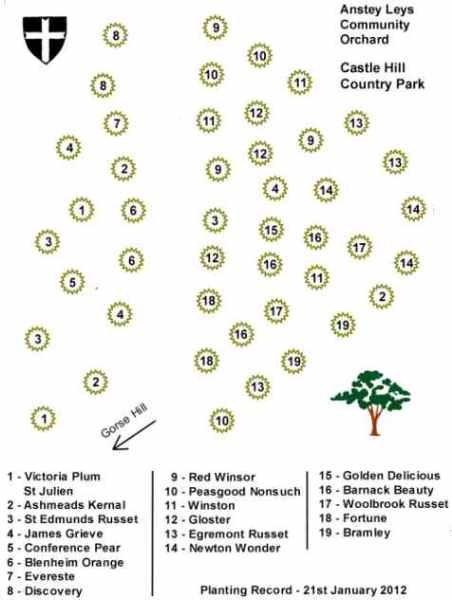 A sketch map of the orchard showing Astill Lodge Rd (which borders the plot) is shown below. Click on this for a large scale. The two maps are not quite identical; the lower one is sketched from Google Maps and the one above is from the planting plan.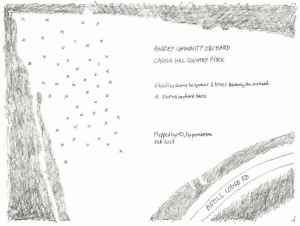 Castle Hill's publicity says that an orchard is recorded nearby in the early 14th century, when the Knights Hospitaller received an income of six shillings and fourpence from the sale of fruit. It is not known whether or not the orchards survived after the departure of the Hospitallers but the field names 'Orchard' and 'Further part of the Orchard' appear on a 1686 map of the Beaumont Leys estate. The modern orchard was established in 2005, and now carries 100+ traditional fruit trees, including a few Leicestershire apple varieties.
The apples planting list (including other trees planted in different parts of the Country Park) is as follows:
HERITAGE VARIETIES
Lord Derby, Worcester Pearmain, Red Winsor, Egremont Russet, Sunset, Bramleys Seedling, Kidd's Orange Red, Red Devil, Laxton's Superb, Blenheim Orange, James Grieve, Greensleeves, Ashmeads Kernel, Isaac Newton, Lemon Pippin, Lane's Prince Albert, St Edmund's Pippin, Scarlet Pimpernel, Old Pearmain, Norfolk Royal, Morgenrot, Orange Goff, Rosemary Russet, Mabbot's Pearmain, Newton Wonder, George Cave, Devonshire Quarrenden, Castle Major, Laxtons Superb, Discovery, Peasgood Nonsuch.
LEICESTERSHIRE VARIETIES:
Annie Elizabeth, Barnack Orange, Belvoir Seedling, Dumelow's Seedling, Marriage Maker, Prince Charles, Queen Caroline, Saint Ailred.
WARWICKSHIRE
Wyken Pippen.


Finally here is part of the 1686 map to which I referred earlier ... the lettering isn't very clear on the copy. The original is held by the Leicestershire & Rutland Record Office in Wigston; the map is inscribed 'James Fish 1686'; ref. no 3D42/M12. It shows the neighbouring scheduled monument site as 'the orchard' and a field immediately west of the monument site as 'further part of the orchard'. (...Reproduced by permission of the Record Office)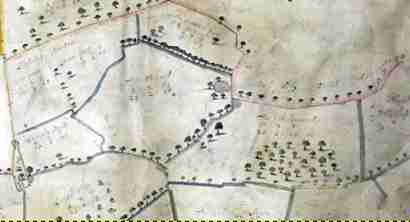 Thanks to SC for supplying details of plantings, the diagram of the orchard, and the 1686 map.