DUKE OF YORK and RED DUKE OF YORK: A good old-fashioned variety with excellent flavour. It was bred about a century ago in Aberdeenshire. Tubers oval; some almost egg-shaped. Medium-floury variety with yellowish flesh; very good flavour. Some susceptibility to blight but they mature early so they usually avoid it. Best boiled but will disintegrate if over-cooked; care is needed.

Yield about 1.25 lbs per 2 gallon pot; up to 2lb from a 3 gallon pot; the reds slightly more prolific. I find the reds a bit more floury and happier in pots than the whites; they are my favourite early. There is a rare pink variant too which is equally good. It occasionally flowers when grown in pots (see picture) but usually the buds fall off.

Pictures (click on small images for detail):

Flowers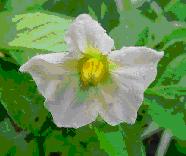 ....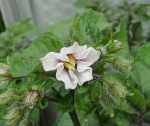 ....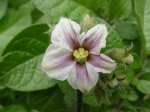 ....

Tubers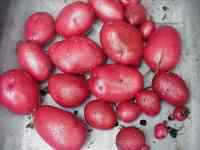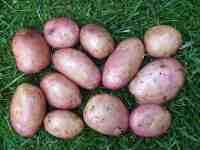 Pink variant.



Seed tubers of Duke of York (and its variants) can be obtained from JBA Seed Potatoes. The link below goes to the white variety (click the picture):





Pink Duke of York is below:



Nigel Deacon / Diversity website