EUGENIE SUMMERFIELD RADIO PLAYS
Eugenie Summerfield writes: I have written a number of "children's classics", as follows:
In December 1980 my Wriggly Worm and the Beanstalk was specially commissioned for the "Listen with Mother" programme, and was described on "Pick of the Week" as one of the most unusual pantomimes broadcast. "Wriggly Worm" et al were much loved characters in 42 stories, written for radio, and enjoyed a cult following over some 17 years, until the axing of all children's programmes in the late 1980s.
I wrote many other stories for young children (and the young in heart!) for programmes such as "Listen with Mother", "Listening Corner", "Let's Join In" and ITV's "My World". I was also a scripwriter for "Listen with Mother" in the 1980s.
My main producer was Dave Bell when the "Listen with Mother" programme enjoyed a new and lively approach.
I would welcome an increase in radio programming for young children, which at the moment (2003) is in very short supply.

Eugenie Summerfield

UPDATE ... Wonderful Wriggly Worm (Wriggly is a worm with an oversized ego) - a collection of fourteen short stories - has just been published by the Book Guild. (tel. orders 01825 873133 - outside the uk, tel 44 1825 873133) £9.99, isbn 1-84624-068-9.

..........Another book ......Wonderful Wriggly Worm Rides Again, was published by the Book Guild and launched at Waterstone's on 3 Mar 08. There are 28 stories in this latest collection. There are so many people who remember these stories from the radio broadcasts that there has been quite a demand for them to appear in book form. Like the 'William' books, they are full of well-observed human traits. It's possible to have many a wry smile on sharing these excellent stories with a child (or grandchild).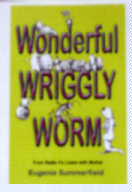 BBC BROADCASTS: RADIO PLAYS
25.05.73 A Monster and his Pet (repeated on overseas programmes)
26.10.73 Learton's Winter House (repeated, R4)
..........75 April Fools
.....12.80 Wriggly Worm and the Beanstalk (+ 42 Wriggly Worm stories)



Many thanks to Eugenie for supplying details.
Nigel Deacon / Diversity website.