This is a new cross between pink fir apple and charlotte - I think pollen from charlotte used on a pink fir plant. It's a waxy salad potato but not as waxy as pink fir. It's also less knobbly. I grew this in pots; no flowers. Yield low but the tubers were very clean and attractive. Excellent flavour.Yield about 1.5 lbs.

In the ground the yield is much larger; the tubers also get quite big, many of them reaching 4 inches in length and 2 inches in diameter. They store very well; at the time of writing (31 Jan) they are firm and cook well and show no sign of sprouting.
Although this is an excellent potato, it has lost many of the flavour characteristics of Pink Fir Apple. If you want a nutty Pink Fir type potato which will give a crop even in a bad blight year, Anya is probably a better choice.


Pictures (click on small images for detail):

Flowers




Tubers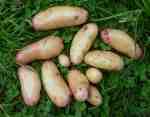 Seed tubers of this variety can be obtained from JBA Seed Potatoes by clicking the link below:



Nigel Deacon / Diversity website