Please note that this is a page DEDICATED to the International Radio Drama Festival; it is NOT the official website. The latest material is posted at the TOP; older information is lower down.
The official festival website is at radiodramafestival.org.uk

LOOKING BACK AT THE 2019 FESTIVAL
The 5th UK International Radio Drama Festival took place from 18 - 22 March, for the first time in Canterbury, Kent. We listened to 48 dramas in 15 different languages in the lovely Caffč Nero on the High Street.

The jury, made of those who attended all the listening sessions and chaired by Jonathan Keeble, met at the end of every day at The Mooring Cafe to discuss the plays and share their thoughts. On the Friday, they awarded the best radio drama for both the full length and the short form category.


At a post-listening session with specially invited guest, Gillian Reynolds, a German delegate wondered whether the BBC was selling off its high-tech recording studios, just as has happened in Cologne. Yes, said Reynolds. Maida Vale, home to the radiophonic workshop, is up for sale. Perhaps the prevailing message of the festival was not so much one of celebration but of an urgent need for more European collaboration to save the particular art form that is radio drama.
.......(summarised from Kate Chisholm's article in The Spectator, 30 Mar 2019)

Here's a short piece about the festival broadcast on Radio Kent compiled by Holly and Nicola, students at Christchurch University, Canterbury. It's also on the BBC Sounds page at https://www.bbc.co.uk/sounds/play/p072dx3f

The entries are online until 30th April, so please go online to listen to some of them and cast your vote - this will determine the winner of the substantial Audience Award. The link for listening is at http://radiodramafestival.org.uk/listen-and-vote/

A representative for the festival said:
"The UK International Radio Drama Festival is the first major international radio drama festival to go green! With the generous support of festival entrants, we provided participants, both jurors and drop-ins alike, with e-readers loaded with the English script of every play in the programme.

Every night we had 30 or so Kindles charging (see photo below) and ready for the following day's listening session. Once everybody got used to their new electronic friend: "Reading on Kindle made the listening experience so much easier"; and someone loved it so much they even went out to buy their own e-reader at the end of the festival. So much better than 48 boxes of scripts!"

What people have said...
"You might expect that hearing a play in a foreign language presents a problem... however it doesn't, because English scripts on electronic readers are provided. Once you get synchronised there isn't a language barrier. At the end of Tuesday afternoon it was wonderful to hear everyone laughing at David Mairowitz's comic play 'Mono', in spite of it being in German!" (Nigel)
"A really enjoyable week, listening to audio drama from around the world. I enjoyed listening to and learning about formats very different to those used in the UK. Hearing people's reactions to the pieces was fascinating, as was finding put the background as to why they were in the format they were." (Alison)
"I had a wonderful day on the Monday listening to the range of different plays and being exposed to a new style of form and content." (Michael)
"It was for me a pleasure to participate for the second time to me to yours festival. I left it with many new and inspiring ideas for my work." (Oana)
"Thank you again so much for having us in your beautiful festival with an amazing laid-back atmosphere in nice places in Canterbury." (Ulrike & Andy)

And a final word from the festival organizers:
Last, but not least, a shout out to the UK Radio Drama Festival team: Jonathan Banatvala, Melanie Nock, Nicholas McInerny, Gaia Bini & Pete Cudmore.
And a big thank you to: Jonathan Keeble for chairing the jury; Nigel Deacon for his indefatigable support to the festival and the world of radio drama.

5 Apr 19


ND'S REPORT
I have put together a few notes about the festival as a whole, for those who are interested to read a little about European radio drama and what it's like to attend and listen. For this, click ND'S REPORT' above.
Below you will find descriptions of all of the plays and dramas; just scroll down. Perhaps this will persuade some of you to come to the next festival in early 2020.
N.D.

WINNERS OF LONG AND SHORT FORM AWARDS

We have the winners of the first two awards:

Short form

3rd: What kind of coffee do you like? by Czech Radio (Czech Republic)
2nd: Heruvim by Bucuresti FM (Romania)
1st: One of our exercise books is missing by Darrick Wood School (UK)

Full length

3rd place is a tie: James's Story and Mono - both by David Zane Mairowitz! (Ireland and Germany)
2nd place: The victims of Radio Boom Boom by Academy of Theatre, Radio, Film and TV, University of Ljubiana (Slovenia)
1st place: The Dead of Tierra del Fuego by Andreas Ammer and Ulrike Haage (Germany).

Later addition ......AUDIENCE AWARD
This was won (a month later, after hundreds of audience votes) by the Georgian entry, TRAVELLING IN AFRICA, by Nugzar Shataidze.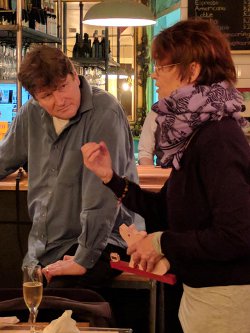 Ulrike Haage's response to receiving the Award for the best drama of the Festival: The Dead of Tierra del Fuego. This was a fascinating story, using documentary sources, about the transporting of an indigenous person from Tierra del Fuego to England (and back again, several years later) and the unforeseen consequences of doing it. A fabulous piece of drama.
23 Mar 2019

VENUE, LISTENERS, JURY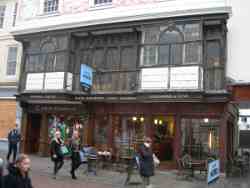 Radio drama festival at Caffe Nero, High St, Canterbury. A superb venue for the event.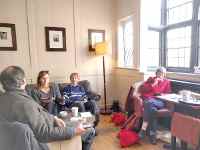 ...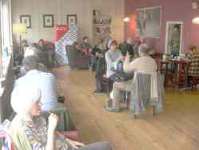 Listening to one of the 48 dramas.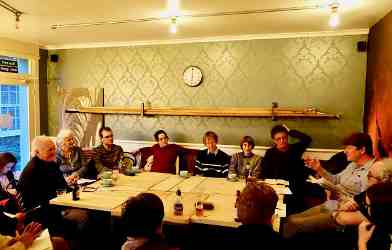 The jury, discussing one of the plays heard earlier in the day (Thursday); click for detail.
Picture by Ulrike Haage; used by permission - thank you!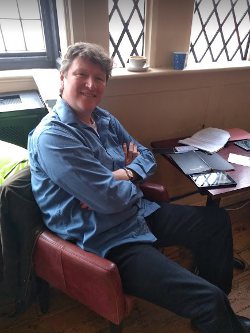 Jonathan Keeble, jury chairman.
21 Mar 2019

RADIO KENT INTERVIEWS NICHOLAS McINERNY, 14 Mar 19
Nicholas was interviewed about the festival on Radio Kent's Dominic King Show on Thursday evening. Here's what Nicholas and Dominic had to say:
15 Mar 2019

WHERE ARE THE LISTENING SESSIONS?
At the lovely Caffč Nero, 44 High Street, CT1 2SA. 18-22 March in the cafe's space upstairs to listen to the best radio dramas in the world. Not sure how to get there? Check the MAP.
The café is a 10 minute walk from both Canterbury West and East railway stations, close to the beautiful Cathedral. Everyone welcome, admission free.
6 Mar 2019

FESTIVAL GOES PAPERLESS
The UK International Radio Drama Festival is the first major international radio drama festival to go paperless. The organisers say "Each year, we print, transport and recycle 75000 sheets of paper, providing listeners with access to English language translations of the works being heard. The translations and texts are vital and ensure that everyone is able to enjoy the plays to the full."
This year, the festival is breaking new ground and going paperless. With the generous support of festival entrants, the festival is providing participants with e-readers, pre-loaded with the scripts.
The e-readers will remain the property of the festival to protect authors' rights and to ensure quick and easy access to the translations.
3 Mar 2019

JURY CHAIRMAN
I am pleased to report that Jonathan Keeble will be chairing the jury. Jonathan is well known to radio drama listeners; I can trace 580 of his appearances (1995-present) in plays and readings on R4, another 50 on R3, and 8 on World Service.
26 Feb 2019

PROVISIONAL PROGRAMME
The plays have now been selected for the festival. See this link, on the official website, for the programme .
21 Feb 2019

UPDATE ON THE RADIO DRAMA FESTIVAL
For our latest update, please click Drama Festival information.
About the festival
The Festival is the UK's only radio drama festival. It is the only European festival of its kind to be produced by an independent company rather than a national broadcaster. It is produced by International Arts Partnership (Artistic Director Jonathan Banatvala) on a mission to bring audio drama in a range of languages and cultural styles to a UK audience. We are proud that the festival's awards have predominantly been made to emerging international independent producers.
The festival programme is selected from the 60+ entries. This year entries have been received from: Belgium, Bulgaria, Canada, Czech Republic, Denmark, France, Germany, Iceland, Iran, Ireland, Italy, Lithuania, Romania, Russia, Spain, Slovenia, Serbia, UK, USA .
The programme will be announced next week.
The festival will take place this year in Canterbury after four years in Herne Bay. It will run Monday to Friday 10 am to about 5pm apart from Wednesday afternoon. We will be announcing the chair of the jury shortly.
13 Feb 2019

SELECTION OF ENTRIES
Entries are now being selected for the Festival from those submitted. Not easy with so many interesting items!

UPDATE: LATER ENTRIES
We are now up to 60 entries, and the table below (scroll down) has been updated with the details. Notes about the longer items have now been added.
27 Jan 2019

NOTES ON THE PLAYS
Notes for the longer plays are below, in alphabetical order of country, Australia is theoretically be at the top, America is listed as USA. England is listed as UK. The table of entries is further down the page.
These are my summaries of the notes supplied; let me know if I have misunderstood any of the translations. I have removed spoilers. - Ed.




***BELGIUM***
UM
By Charo Calvo. 26m.Two Russian musicians living in Berline perform in German and Russian texts by Russian poet V.Khlebnikov. He lived during WW1, the Russian Revolution and the Civil War following it. He was a pacifist and suffered watching much destruction and death. He did mathematical research on the recurrence of historical events at certain determinate points in time. Using mathemetical formulas he found a kind of algoritm whhich could predict the dates of future wars. He called it 'The Laws of Time'. In this drama, "Mind" in Russian, the two performers are placed in a large studio with binaural microphones. They tease each other and give voice to the words of Khlebnikov. ... interesting piece; highly recommended - ND

[To hear this - a piece of experimental sound art - click on UM . Most of you will need the English translation of the script. Look carefully at how it is set out before you listen. The recording and script are hosted here with the author's permission and are copyright © Charo Calvo.]
THE FIRST TIME I WENT....
By Jeanne Debarsy and Maël Lagadec, based on an anonymous piece. 48m. "The first time I went crowdzy....., the tale of an attempted escape. The original French contains the pun "to go crazy" (fou) and "to become a crowd" (foule). Truth can only appear when the walls of thought break down and the world finally becomes a reflection of ourselves. Spoken by: Michčle Nguyen, Yvan Tjolle, Pietro Pizzuti, Denyse Schab, Emilie Praneuf, Jean Fürst & Jean Pierre Bruno. Directed, recorded and edited by: Jeanne Debarsy and Maël Lagadec. Original music: Joăo Lobo. Assistant recordist: Axel Antoine in studio 3J20 of RTBF. Mix: Christophe Rault. A Babelfish production, with support from the Gulliver Fund, ACSR, and Wallonia-Brussels Federation's fund for supporting radio creation. First broadcast: 8 May 2017 - Radio Campus Bruxelles. Language: French.
LA TOURMENTE / THE TORMENT
By Fabrice Osinski. At the end of 2012, a production company offers me a job as a sound engineer on a shoot for a documentary on hurricanes. It entails long trips to the other side of the world. The sound of a hurricane is reputedly impossible to record. Do I go or not? Whilst I hesitate, Louise, the young woman I love, leaves me, and so begins an oscillation between other-worldly storms and tropical torpor. A voyage into an impossible sound, the hurricane. 52m. CineSilex ABSL. Editing: Laurent Gerard. Mixing: Remo Gerard. Production: Fabrice Osinski. First broadcast 27 Feb 2017, Radio Campus Bruxelles. Language: French.
VERSION 133
By Sebastian Dicenaire. 52m. What if other worlds were a possibility? What if the cities of Ancient Greece had colonised continents and become true modern civilizations? And what if there really had been superheroes? And if a 'journalist-priest' with unusual powers had been sent into thid world to conduct an investigation? The drama is freely adapted from The Children of Heracles by Euripedes and is a political and social satire. First broadcast: 15 Oct 2018, Radio Campus Bruxelles. Language: French.
DIPSOMANIA
By Mehdi Bayad, 38m. In French. What if God was a tired old man with alcohol issues sleeping in a staircase? How would you deal with strangers claiming that your whole life is a scientific experiment? And what is that electronic voice on the radio that keeps answering the strangest questions? This is a science fiction drama. The story begins with an encounter: two jaded and disillusioned employees discover a half-sleeping man in a derelict building. Cast: Alan Trap, Gilles Goblet, Ilan Widera, Lucie Milabi, with additional voice Pauline Nouail. SM: Cesar Travers. Sound: Quentin Malingrey. Producer: Mehdi Bayad. Not yet broadcast.

***CZECH REPUBLIC***
LOVE IS GOOD STUFF
Czech Radio. By Petr Vodicka. 42m. A comedy set in contemporary times; first broadcast 31 Dec 2017. Veronika Karafiatova has just passed her A levels and is leaving for Prague to study at university. She decides she wants to find true love. The other episodes (not submitted here) show her progressing through life and still looking for it, not very successfully.
THE CREMATOR
By Ladislav Fuks, 59m, Czech Radio. By Ladislav Fuks, dram. Lenka Veverkova. This is the first radio dramatization of the famous 1967 novel by Ladislav Fuks. It ´s a play about how an ordinary, conforming individual, who loves his family, music and art, becomes a monster capable of destroying even those closest to him. Whilst doing it, he feels as though he´s saving the world. Director: Ales Vrzak, Dramaturge: Zuzana Vojtiskova, Sound direction / design: Ladislav Zelezny, Sound and technical execution: Stanislav Abraham, Producer: Eva Vovesna. First broadcast 17 Nov 2017, CRo Dvojka, Translation: Halka Varhanikova.

***FRANCE***
MONO
Or - How My Brother Lost His Hearing in One Ear During a Concert of "The WHO". A radio fable by David Zane Mairowitz. It's true. It happened during the song"Baba O'Reilly". My brother still goes to rock concerts, although he's over 75, a septuagenarian teenager. During the day, he sells spare parts for lifts. He's been doing the same work for fifty years, without more than a few weeks holiday, and without the merest promotion. Everyone wonders why he doesn't retire. But he's still strong, still mobile, why should he stop? ANd he's got a special place in his heart for 60s legends. This fateful night he buys himself an orchestra seat for another of those famous "farewell" concerts. He sits near the front, right under the powerful amps... Technical Realisation: Benno Müller vom Hofe, Christian Baader, Günther Kaspar and Steffen Jahn. Assistant Director: Jasmin Schäffler. The characters: Mono (75), the Fabulist, his brother (72), the boss-lady (35-40), a mediator, and the speaker. Roger Daltry also appears, in person. First broadcast: 15 Dec 2018, Westdeutscher Rundfunk, Cologne. Language: German and some English. 53m.
MY CITY AFTER PARIS
By Kristel le Pollotec, Anouscha Trocker and Marie Chartron. 51m. On 13 Nov 2015 at 11pm, in a Parisian apartment, a woman with a young baby learns from her companion that the city has been subject to several terrorist attacks. The play is that woman's audio diary; she makes recordings over the grieving city for a year, marking the transformations which gradually take place. We learn how the events have affected her, her relatives, and the city. In French and German. Director: Anouscha Trocker, assistant director: Maya Marckwordt, Sound and technical production: Bernd Bechtold and Venke Decker. First broadcast: 3 Mar 2017, RBB/SR, Germany.
MY PRINCE WILL COME
ARTE Radio, France; in French. Klaire is looking for Mr. Right, the love of her life, and the pizza delivery number. This is a rom-com which sees Klaire trawling various dating sites. There are plenty of fish in the sea - but most seem to have something wrong with them! 14m. Witty and funny; very good piece ... ND

***GEORGIA***
TRAVELLING IN AFRICA
By Nugzar Shataidze; adapted and directed by Zurab Kandelaki. 36m. A play about the refugees from Abkhazia, who had to leave their homes, described by a 12-year-old boy who is trying to find his father. There is a short episode within the play in Abkhazian. First broadcast 26 May 2018, Georgian Radio Drama. Language: Georgian.

***GERMANY***
THE JOURNEY BACKWARDS
By Stéphane Querrec. A radio drama in the form of a road movie through the vast, predominantly rural spaces of French Flanders. It's the story of a neglected teenager who runs away; the play interweaves her thoughts with those of her mother. The setting is a small isolated village; there is little or no work; the mother is overwhelmed with worry and no money. 37m. Nathanaelle: Louise Pronier, the mother: Marianne Petit. Production: CCFI Flandre Interieure / DRAC Hauts-de-France. Mix: Niko de Paula Lefort. Language: French. First broadcast: June-dec 2018 throughout 15 public libraries on "La Serpentine" network, and on La Serpentine's website, 30 Oct 2018, FM 88.4
LIEBER NICOLAS BERGGRUEN
By Ulrike Muller. 54m. Nicolas Bergguen, son of a famous art collector (see Wikipedia) is a well-known financier. One day 4 tenants in one of his properties receive a letter from him saying their tenancies are under threat; they may have to move out. They play an imaginary game of Monopoly. Whoever manages to continue living in the Gartenstrasse by the end of the game will be the winner... Cast: Gerd Wameling, Alexandre Schroder, Franziska Kleinert, Martina Hesse, Andreas Klumpf. Sound: Kaspar Wollheim, Producer: Ulrike Muller, editor: Regine Ahrem. Technical editing: Martin Scholz, production assistant Silvia Vormelker. Language: German. First broadcast: Rundfunk Berlin-Brandenburg, 27 Jan 2017.
TORRENT OF DREAMS AND NIGHTMARES
By Werner Cee. A monologue based on the original production "Gesange des Charon", Deutschlandfunk Kultur and HR2 Kultur 2018. 41m. The piece was inspired by the novel "I fatti della fera" by Siciliian writer Stefano d'Arrigo, whihch describes the last 8 days in the life of 'Ndrija Cambria, a sailor who returns from the war in 1943 and tries to reach his home village on Sicily. His travels and fantasies are shaped by ancient mythology and contemporary political events. We hear scenes and fragments of myths and folklore, war trauma and dreams, all described while sailing on a smuggler's boat on the Mediterranean. Language: Italian / Sicilian. Production details: First broadcast 21 Jan 2018. The voice: Gaspare Balsamo, Editor: Ulrike Brinkmann. Producer: Werner Cee, producer's assistant: Esther Schelander, SMs Martin Eichberg and Sonja Rebel; Translator: Bettina Obrecht. Musicians: Norbert Grossman (church organ), Giovanni Apprendi: tamburello; additional music by Giacomo Cuticchio and his ensemble.
DIE TOTEN VON FEUERLAND
By Ulrike Haage & Andreas Ammer, 54m, in German. On 11 May 1830, the sailors on board "HMS Beagle", a research vessel, removed a 15-year-old youth from the island in exchange for a mother-of-pearl button. They 'borrowed' three other natives too, to be used as interpreters and to help establish friendly relations between England and Tierra del Fuego. It did not work out happily. After a year, the captain, Fitzroy, took the survivors back home, along with a certain Charles Darwin, a young naturalist. The play is based on the diaries of Fitzroy and Darwin; it tells of the consequences of being uprooted. Cast: Birte Schnöink, Lars Rudolph, Nora Gomringer, Paul Hanford, Peter Thiessen. Editor: Ulrike Toma. SMs: Philipp Fiedler, Sebastian Ohm, Gerd Ulrich Poggensee. Radio premiere: NDR KULTUR, 10 Oct 2017. This drama received the award for best Long-form drama at the festival.

.........an atmospheric and deft telling of the true story of Jemmy Button, who was brought back to Europe from the island of Tierra del Fuego on the HMS Beagle in 1830. Almost 30 years later, Button was chief suspect for the savage murder of a group of Christian missionaries on the island to which Button had returned after only a couple of years in the West, readopting the language and lifestyle of his native Yamana people.

Die Toten von Feuerland/The Dead of Tierra del Fuego (devised and directed by Ulrike Haage and Andreas Ammer) had a haunting soundscape, evoking the strangeness of the encounter between the English sailors and the naked islanders, the mutual incomprehension and suspicion. Part drama, part documentary history (with clips from phonograph recordings of the islanders made in the 1920s) this was mostly in German with some English passages. Strangely it lives on in the mind as if it had all been in English so vivid was its imagery. (....Kate Chisholm, Spectator, 30 Mar 19)

***ICELAND***
THE PROPHECY
By Sten Sandell (Sweden) and Sverrir Gudjonsson (Iceland). 28m. The text is taken from the famous Icelandic poem "Voluspa", or 'The Prophecy of the Seeress', from around 900 AD. The poem tells the story of creation, doomsday and the possibility of a new beginning, told through the voice of a female prophet, a "Volva". First broadcast: 10 Jan 2019, on https://vimeopro.com/brianfitzgibbon/sverrir.

***IRAN***
METAMORPHOSIS
By Mahdi Azari. A story about a young woman dealing with addictioon, going on an inward journey to find herself. The drama uses 'noir' style, which is well-known for narration in cinema, but rarely used in radio. 22m.First broadcast: 4 May 2018; Radio Guilan. Language: Farsi.

***IRELAND***
JAMES'S STORY
By David Zane Mairowitz. The radio drama kicks off from a rather simple, but startling anecdote. Two young English art students, vacationing in a remote area of Kerry in the late 1960s, pass an old Irish farmer in a country lane. Hearing them speaking English, he calls to them and asks where they're from. When they reply they are from London, he declares 'I killed an Englishman once". The man explains that the event occurred at the time of the Troubles, when Sinn Fein exhorted the villagers to kill an Englishman. The men and boys over 14 draw straws and the task falls to the person who is now, years later, the old man telling the story. The narrator, listens, but starts to put his own interpretation on what he hears...Production details: Language - English. First broadcast on RTE Radio 1, 28 Oct 2018. Also on the RTE download site. Producer: David Zane Mairowitz. Story Poacher: Stephen Rea, James was played by James Rook (himself), Tom McQueen played James as a young man, and P. McGarratt played the old farmer. Richard Smallwood was the lighthouse keeper and Roisin Derby (sp?) his daughter.
THE TIME BEFORE THE TARN
By Jason Gill. 50m. The play is an exploration of today's ever more complex media 'realities' and their effects on us. Although it has some features of dystopian science fiction, it is a play about now. It is set in the near future, where the TV show has reached new heights of addictiion and engagement. It is a constant presence in people's lives. Mark is a coder and office worker for a big corporation running the TV network which broadcasts 'The Tarn': the interactive TV show which consumes most of the time when he's not working. Then a woman enters his life. The story is loosely inspired by elements of Irish mythology. Language: English. First broadcast 27 Dec 2018 on Midlands 103. Background details: Produced by Alan Meaney, with whom Jason has worked before. Previous plays by the partnership include 'Love Was', a two-part mystery 'Fairies only wear wings', the black comedy 'The Prime of Johnny Broody', and 8-part murder mystery and 'A Pilot's Honour', which won a bronze award in the 2018 International Radio Drama Festival.

***ITALY***
ROUND TRIP
By Stefano Giannotti. 59m. An unmade screenplay, adapted for radio; Italian entry but in German. The initial idea was inspired by a train journey from Wroclaw to Walbrzych in December 2015. The first city is lively and rich in culture; the second is a former mining city that was in total ruin. The project for a film was about a group of people who leave their beautiful city to reach a sort of ghost town, destroy it, return home in the evening and realise they have destroyed their home city. In the play, the two cities are not placed in any particular tkime or location. There are three narrators: a keeper who has always lived there who knows everyone, a female voice who interprets the thoughts of the characters, and and unpleasant ticket inspector who ferries the characters from one city to the other. Produced by Stefano Giannotti for SWR 2 between 2014 and 2017. Story, text, direction and music: Stefano Giannotti, Executive producer: Frank Halbig, Assistant Producer: Lukas Fütterer, German translation: Olivia Toffolini, English translator: Bonnie Eldred, SMs: Manfred Seiler, John Krol, Casting: Sylvia Böttcher. Cast: Keeper: Henrik von Holtum, Narrator: Caroline Junghanns., Ticket Inspector: Jurg Low, Teacher: Stefan Roschy, Photographer: Nadine Kettler, Lawyer: Klaus Cofalka-Adami, Priest: Horst Hildebrand, Guldo: Robert Besta, violinist: Oliver Jacobs, eldertly lady: Doris Wolters, girl: Anne Leissmeister, single mum / woman: Constanze Weinig, man: Sebastian Mirow, twenty-year-old boy: Stephan Klauke, with Benedict Walsh, Lukas Futterer and Stefano Giannotti. Very interesting piece; great soundscape and specially-composed music.

***LITHUANIA***
ŠIAURES MIESTELIS / NORTH TOWN
By Rasa Kregzdaite. 40m. Radio series about young people facing everyday questions: where can they live; can they live together; what work will they do? Why has the hot water gone and why is Minika still not calling? It is about things that hurt; real life; about why it sucks and how people learn to move forward. That is the way you have to go. Language: Lithuanian. First broadcast: Ep. 1 18 Sep 2018, Ep. 2 25 Sep 2018, StartFM. Production team: Sound track: Golden Parazyth, Producer: Rasa Kregždaite. The music playing in the series is by Linas from the website minimal.lt. Cast: Šarunas Zenkevicius, Laurynas Jurgelis, Severina Špakovska, Jurgis Marcenas, Milda Noreikaite, Martynas Vaidotas, Deividas Breive, Andrius Alešiunas.

***ROMANIA***
iHAMLET
By Mihnea Chelariu. 45m. iHamlet is a contemporary version of Shakespeare's masterpiece redesigned to fit into the universe of present day young people, as suggested by the title. We're diving into the daily teen world. The play is set in a world the young will understand, respect for moral values and rejection of compromise.Ophelia is the picture of young love; her parents separated by divorce. Gertrude is a sensible woman, Claudius is mum's new lover, and in Hamlet's eyes, their affair is the reason for father walking out on the family. First broadcast: June 2018, Radio Romania and www.eteatru.ro.
LETTERS AND PHOTOS FROM THE GREAT WAR
A personal sound archaeology by Alexander MacLennan. Language: Romanian. 54m. Can be heard entire or as an 18-episode podcast. It fictionalises actual photos taken on the Romanian battle front during WW1 and describes the life of the average soldier and his loved ones left at home. The production has the credibility of a documentary; the photos on the website in the podcast section (www.eteatru.ro) are from the National Military Museum collection in Bucharest. Radio adaptation and artistic direction by Mihnea Chelariu. Composer George Marcu. The Cast: Ionut Visan, Ion Haiduc, Vlad Bîrzanu, Mihnea Chelariu, Alin Potop, Stefan Velniciuc, Cezar Antal, Mihai Smaramdache, Dorin Andone, Constantin Florescu, Sorin Cocis, Cristi Dionise, Marius Rizea, Ionut Oprea, Virginia Rogin, Gabriel Rauta, Julieana Draghici, Daniela Ionita si copiii: Luca Haloiu, Ana Cristina Ionel, Ioana Gornea, Albert Chelariu, Bianca Chelariu, Luca Voinea Budusel and author's voice (Razvan Ursuleanu). SMs: Studio direction : Janina Dicu, sound engineer : Codrin Lazar, coordinating editor: Oana Cristea Grigorescu. First broadcast: Teatrul National Radiofonic, Dec 2018. Very good production; describes the contents of a set of photographs, which, being radio, we never actually see. Skilful use of the medium.

***RUSSIA***
NATASHA'S DREAM
By Yaroslava Pulinovich, a story based on actual events, adapted for radio by Dmitri Nikolaev. The play is in one act and is translated by John Freedman. An orphan girl wants some love and happiness for herself, but the path to achieving it is fraught with difficulty. The play ( a monologue) was recorded in one take as a part of the "Microphone Acting" Gitis Theatre Art Institut course. 44m. First broadcast to celebrate International Women's Day on 8 Mar 18 by Gitis Radio and Kniga network. Language: Russian. Natasha is played by Karina Strelkova.

***SERBIA***
ADAM NEAMTU, OUTLAW
By George Plananian (text and music). Radio adaptation by Ana Niculina Ursulescu. Adam Neamtu's legend lives to this day. Adam was a teacher, born in the Romanian Banat. He become an outlaw, and with a band of friends he decided to rob the rich and to use the money to help the poor. George Plananian chose this story for his dissertation at the Bucharest musical academy, and thus was created Adam Neamtu, the musical. The script is inspired by Damian Izverniceanu's book (1921, repr. 2000). This is the first radio drama musical made in Romanian by Radio Novi Sad, which has been producing radio drama since 1985. Production: adapted from Damian Izverniceanu's book "Haiducul Adam Neamtu – La Pestera Rolului". Master of Sound: Doru Barbulov and Aleksandar Markovic, Editor: Ana Niculina Ursulescu, Producer: Iulian Ursulescu. Cast: Adam Neamtu: Margarit Ecovoiu, Lazarica: Ionica Cugia Ileana: Lucia Todoran, Adam's mother: Ana Niculina Ursulescu, Nobleman Jivcovici: Ionel Stoit, Sinesie, the haiduc: Ionel Stoit, A haiduc: Vicentiu Turcoane, Constable 1: Remus Berlovan, Constable 2: Laurian Duluj, A peasant: Mircea Conrad, An old woman: Ana Niculina Ursulescu, Priest: Mircea Conrad, The town crier: Vincentiu Turcoane, A voice: Lucia Todoran. 43m. First broadcast: 23 Mar 2018, Public Media Service, Radio-Televisioin of Vojvodina /Radio Novi Sad 3.
MUZIKA TRAŽI UŠI / MUSIC SEEKS EARS
By Dejan Aleksic, dram. Kristina Djukovic. 27m. In this play, an Empty Story seeks a cure for its emptiness from a doctor, who asks where the story wants to go, in the manner of a doctor talking to a patient. Soon we 'sail' into Paris, into the dream of a boy who is dreaming in French... Language: Serbian. First broadcast 21 May 2017, Radio Belgrade, First Program, RTV Serbia. Producer: Andjelka Nikolic, Programme Editor: Melina Pota Koljevic, Music editor: Dragan Mitric, Sound Designer: Milan Filipovic, proof reader: Nataša Šuljagic. Translation: Natasha Vujnovic. Cast: Doctor - Uros Jakovljevic, Prazna Prica ('Empty Story'): Milica Janketic, with Milan Mihailovic, Dejan Dedic and Teodora Zivanovic.
..........Radio Belgrade's submission in Serbian, Muzika Trazi Usi/Music Seeks Ears (directed by Andjelka Nikolic), was fantastical but gradually revealed layers of meaning: houses that grow massive ears, characters for whom listening has been something to fear, and an empty story in search of an experience to write about. (....Kate Chisholm, Spectator, 30 Mar 19)
LILI MARLENE
Branko Miliskovic sang this famous song in many different places over the years, including at Marlene Dietrich's grave. The drama goes through some of these performances. Artworks Audi, Serbia. 16m. In Serbian, English, French and German.
A LARGE STONE
Radio Belgrade, Serbia. "Hasanaginica" is a folk ballad from the Central Balkans. This piece contains adaptations of several dozen verses from this work which represent the essence of drama: condemnation, helplessness, tragic guilt, cruelty, shame, loneliness, futility and death. There is an amazing soundscape here. 21m.

***SLOVENIA***
THE VICTIMS OF RADIO BOOM BOOM
An original adaptation of the cult drama from 1975 by Dusan Jovanovic entitled The Victims of Fashion Boom Boom. Put together by fourth year drama students coordinated by Masa Pelko, Academy of theatre, Radio, Film and TV, University of Ljubiana, Slovenia. 20m. (...This drama came second in the Long Form slot; rather like an audio collage tracking important moments in radio history. Very effective.)

***SPAIN***
THE STATEMENT OF RANDOLPH CARTER
Randolph Carter tries to explain the disappearance in an abandoned cemetery of his companion, the occultist Harley Warrenafter, after following the instructions in a strange book. Voices: Luis Trebal and Manu Barcelo; soundscape by Chuse Fernandez. TEA FM Radiotheatre Department. Escuela de Radio TEA FM, Spain (Spanish), 20m.

***UK***

WHEN THE PIPS STOP
By Oliver Emanuel, produced by Kirsty Williams. 44m. It's 2.13pm on a remote Scottish island where the only inhabitants are two sisters. One of them hasn't spoken to the other for over two years. They're listening to The Archers when Radio 4 suddenly cuts out. It throws them into a quandary; they never switch it off. Now they might have to speak. When they were children, the radio went on to cover up their parents' fights. Then their mother left and it covered up her absence. Then it covered up their father's death. Ever since, it's covered up their mute relationship. For two years, their constant companion has been Radio 4. The radio going silent forces the couple out of their rut. First broadcast 11 Oct 2018, BBC R4. Cast: Older sister… Shauna Macdonald, Younger sister … Jessica Hardwick, Icelandic man…Jakob Jakobsson, Radio Announcer … Ken Mitchell, with grateful acknowledgements to the Ian Messiter Estate for allowing the production team to create its own version of 'Just a Minute'.

CHEETA: MY LIFE IN HOLLYWOOD
By James Lever, adapted from the novel by Stef Penney. Saturday Play, 55m. Cheeta is the chimp who featured in many of the Tarzan adventures starring Johnny Weissmuller. Cheeta recalls his capture in the jungle and the training which followed. Cheeta: John Malkovich, Johnny Weissmuller and Tarzan: Julian Sands, Marlene Dietrich and other characters: Edita Brychta, Humphry Bogart and others: Enn Reitel, Errol Flynn and others: Darren Richardson, Dolores del Rio and others: Elisa Bocanegra. Producer: Kate McCall. First broadcast 3 Nov 2018.

***USA***
OF MYTH AND MAGIC
By Lisa Sniderman; a radio drama musical, based on the audiobook "Do You Believe in Magic"? Wonderhaven is a kingdom filled with magic. Rumour has it that the magic comes from hidden springs. The Guardians watch over them. But there are those who wish to build a new Dark Haven in its place. They put a curse on the Kingdom, and the magic begins to fade. Aoede, the muse of song, searches for the enchanter and the source of the trouble. 45m. First broadcast 28 May 2018, Atlanta Fringe Festival-Audio. Language: English. Lisa wrote the book, music and lyrics.
TRIPLE SIX
Play from Texas, by Sean Patrick Bridges. A suspense thriller about a regular guy who gets in over his head trying to beat the odds. When a husband and wife take a trip to Las Vegas to rekindle their marriage, his wife disappears and he is forced to play the ultimate game of chance. Each episode of the plot driven series spirals the listener further into the hole with the husband, keeping you on the edge of your seat. Audible Productions, Texas. 2m trailer and two 26m episodes. First broadcast: available on Audible Parade website, Dec 2018.
BEAUTIFUL RADIANT THINGS
By Marty Durlin, Utah. KZMU Radio. Acts 1 and 2 (50m and 42m). A musical radio drama. The title comes from the anarchist Emma Goldman, who wrote: "I want freedom, the right to self-expression, everybody's right to beautiful, radiant things." The play centers around her 50th birthday in the Missouri State Penitentiary, where she served two years for speaking out against the draft during World War One. Largely music, the play is based on historical documents and the writings of Goldman herself, as well the socialist Kate Richards O'Hare, who was in the cell next to hers. The production stars community players from the rural town of Moab, Utah: a lawyer, a builder, and a gas station manager are among the cast of seven women. They are accompanied by an orchestra of five, with a crew of three providing sound effects and technical support. The inmates are based on the penitentiary's records of 1917-18, and include a murderer, a prostitute, a thief, a counterfeiter, a drug dealer and an activist. In Act One, they each tell their own stories. The grim circumstances of the prison are displayed throughout the musical, as well as the affection etween among the inmates.The play was performed live before an audience at historic Star Hall as a benefit for the community radio station KZMU in February of 2018. It was aired on KZMU a few weeks later.
THE SIGNALMAN
33m. Icebox Theatre Radio, Minnesota. First broadcast: 13 Nov 2018. Adapted by Jeffrey Adams from the story by Charles Dickens. A railway worker is haunted by a ghostly figure whose appearance is always a harbinger of death. The action of the story takes place in a tiny signal shack at the bottom of a deep ravine cut by the railway to accommodate a tunnel. The location inspires locals to refer to the signalman as 'the loneliest man in Britain'; a moniker which gathers the attention of a visiting reporter. The reporter scales the steep path down the signalman's shack and asks for an interview... In the original story, the narrator is unnamed and assumed to be Dickens himself. In the Icebox Radio Theatre version the narrator is changed to an American journalist. "The Signalman" is part of the IBRT's current season of adaptations of classic suspense and horror stories titled 'Mystery on the Air'. It originally appeared in podcast form in November, 2018.
ARMADILLO'S SONG
By Rebecca Sheir, Massachusetts.18m. In English. First broadcast 9 Oct 2018, on Circle Round: story-telling podcast for children and adults from WBUR. Web link: https://www.wbur.org/circleround/2018/10/09/armadillos. Bolivian folktale about one little armadillo who doesn't let anyone discourage him from following his dreams. Armadillo, whose name means "little armored one" in Spanishis sick and tired of being teased and taunted about his hard shell. All he wants is to follow his one true passion: music. Eventually a fellow shelled creature, the wise Turtle, tells him how he can make music. She instructs him to be patient, enjoy the other animals' music, and come back to her when he is very old... The cast includes Moroccan comedian Gad Elmaleh.
THE UNWELCOME GUEST
By Rebecca Sheir, 16m. Middle Eastern folktale about a clever man who teaches his village never to judge a book by its cover. The town beside the sea is abuzz with the news: everyone is invited to the governor's grand banquet. No one is more excited than Nasruddin. He owns the vineyard at the edge of town, and the governor will be serving Nasruddin's wine at the feast. The morning of the event, Nasruddin wakes up early and spends all day working in the vineyard. When it comes to getting to the party, things don't go to plan. Elle Borders, Laura Gardner, Mitchell Hebert, Maurice Parent, Craig Wallace, Thom Whaley, Jacob Yeh, Richard Kind. Production details as for "Armadillo's Song", 9 Oct 2018.
THE MACHINE
By Thomas Reintjes, 28m. In German. A mockumentary about an artificial intelligence claiming to be able to predict everything. It's set in 2019 Germany. The fictional character Marie Winkler finds the machine on her doorstep, and soon its convincing statements are turning her life upside down. Within a few days the artificial intelligence has become an internet phenomenon, and before long its interests become somewhat wider. The story is dotted with statements from actual scientists, talking about work they were doing in 2017 in artificial intelligence. Producer: Friedrike Wigger, edited by Christiane Knoll. Original broadcast: 26 Dec 2017. Cast: Max Urlacher, Nina WEst, Inka Lowendorf, Jens Mondalski, Thomas Hollander, Ilka Teichmuller, Julius Stucke. Maximilian Held. Sound by Bernd Friebl. A production of Deutschlandfunk.
THE OLD CART WRANGLER'S SAGA
By Brian Price, 46m. A comic monologue in three parts. We've all seen that lone shopping cart sitting on the edge of a car park. Who goes and gets it and brings it home? Who will follow it across the frontier? The cart wrangler, of course. Performed by David Ossman of Firesign Theatre, backed by a Kansas City jazz trio and recorded before a live audience at the Brick in downtown Kansas City, June 6, 2018. Production team: Written/directed by Brian Price; musicians: Rev. Dwight Frizzell on woodwinds, Julia Thro on guitar, Patrick Alonzo Smith Conway on percussion, and Tony Brewer on sound effects. Executive producers: Judith Walcutt and Jerry Stearns. A Great Northern Audio Theatre and Otherworld Media production.

SHORT FORM DRAMA:
SET IN STONE
By Julia Hartnett, England. In English. 6.5m. It's 12 Nov 1922, the day after the dedication of the Herne Bay memorial to the fallen of the Great War. Miriam, the mother of a boy who died in the war, sits alone at the memorial. Her dead son speaks to her. He wasn't a coward.
ACCELERATOR
By Peter Beeston, Cornucopia Radio, English. 6m. Deep underground, in a setup very like CERN, engineers and scientists are about to set off a breakthrough experiment which could change our understanding of atomic sub-structure. But something unexpected happens.... This is a short sci-fi audiodrama which uses a reversed narrative to demonstrate a broken timestream. Script well-structured and ingenious; a perfect piece of writing ... ND
SYMPHONY OF RECOGNITION
By Christian Eiming; soundplpay, 6m. A former Afghan soldier talks about Copenhagen at night, and how everything comes back to him when the police helicopter flies over the city searching for criminals.
WILL NOT SEE WONDERLAND
Czech Radio, 2m, in Czech
HOW WILL YOUR WORLD SOUND?
Ep 1 (52s), Ep 2 (49s), Night Theatre (1 min 7s), How do you like your Coffee (3m)
FREE FALL
From Darrick Wood School, England, in English. A school teacher is so preoccupied with her targets and her paperwork and the need for accountability, that she fails to see the desperate need of a student. 3m. Very good indeed ...acted and recorded by students; the school has an excellent drama studio.
ONE OF OUR EXERCISE BOOKS IS MISSING
From Darrick Wood School; another crackinig drama... young Danny's bag is packed, ready for school. But one of his exercise books isn't there. He'll be in big trouble when he's asked to hand it in. Can the contents of Danny's school bag help him realise what he's forgotten. This one was very clever and gave voices to the inanimate objects in the bag - excellent use of radio, and witty. 6m.



ENTRIES - DEADLINE EXTENDED
Good news to start your week; we are now accepting submissions for our 5th Festival for the whole week!
14 Jan 2019

TABLE OF ENTRIES at 14 Jan, updated 27 Jan
| | | | | | |
| --- | --- | --- | --- | --- | --- |
| Name | Organization | Country | Title | Length | Lang |
| Darrick Wood School | See left | UK | Free Fall | 3m | English |
| Darrick Wood School | See left | UK | One of our Exercise Books is Missing | 6m | English |
| Lisa Schneiderman | Aoede | US | Of Myth & Magic | 45m | English |
| Mahdi Azari | Islamic Republic of Iran Broadcasting | Iran | Metamorphosis | 22m | Farsi |
| Chuse Fernandez | Escuela de Radio TEA FM Radio School | Spain | Randolphe Carter's Statement | 20m | Spanish |
| Dmitri Nikolaev | - | Russia | Natasha's Dream | 44m | Russian |
| Silvain Gire | ARTE Radio | France | My Prince Will Come | 14m | French |
| Zurab Kandelaki | Georgia Public Broadcasting | Georgia | Travelling in Africa | 36m | Georgian |
| Kristel Le Pollotec | - | France | My City, after Paris | 51m | French |
| Mihnea Chelariu | Radio Romania | Romania | iHamlet | 45m | Romanian |
| Ursuleanu Razvan | Radio Romania | Romania | Heruvim | 3m | Romanian |
| Eugen Vrabie | Radio Romania | Romania | Only Sound We Had | 2m | English |
| Jeanne Debarsy & Mabel Lagadec | Babelfish ASBL | Belgium | The first time I became ... | 48m | French |
| David Zane Mairowitz | - | France | Mono: How my brother became deaf in one ear at a concert by "The Who" | 53m | German / English |
| Julia Hartnett | - | UK | Set In Stone | 7m | English |
| Stephane Querrec | - | Germany | The Journey Backwards | 37m | French |
| Peter Beeston | Cornucopia Radio | UK | Accelerator | 6m | English |
| Stefano Giannotti | - | Italy | Round Trip | 59m | German |
| Charo Calvo | - | Belgium | UM | 26m | German / Russian  |
| Sean Patrick Bridges | Audible Parade Productions | Texas, USA | Triple Six | 55m | English  |
| | | | Series Trailer | 2m | English  |
| | | | Episode 01 | 26m | English  |
| | | | Episode 02 | 26m | English  |
| Karolis Burzinskas | - | Lithuania | Koma | 12m | Lithuanian  |
| OANA CRISTEA GRIGORESCU | RADIO ROMANIA | Romania | Letters and Photos from the Great War (A personal sound archeology) | 53m | Romanian  |
| Sonja Savic Vezmar | Public Media Service, Radio-Television of Vojvodina/ Radio Novi Sad 3 | Serbia | Adam Neamtu, the Haiduc | 43m | Romanian  |
| Clémentine Delahaut | CinéSilex ASBL | Belgium | La Tourmente  | 52m | French  |
|  Clémentine Delahaut (for Zoe Suliko) | - | Belgium | Rascasse, le vieux marin | 22m | French  |
|  Zorica Radunovic Pribic | RTS/Radio Belgrade | Serbia  | MUZIKA TRAŽI UŠI | 27m | Serbian  |
| -  | - | Serbia | Veliki Kamen | 21m | Serbian  |
| -  | - | Serbia | Od ljuljaške mucnina | 6m | Serbian  |
|  Kevin Brew | RTÉ Drama On One | Ireland | James's Story | 40m | English  |
|  Christian Eiming | Soundplay | Denmark | Symfoni af genkendelse | 5m | Danish  |
|  Alan Meaney | - | Ireland | The Time Before The Tarn | 50m | English  |
| Mira Burt - Wintonick | - | Canada | Romeo and Juliet | 20m | English  |
| Snežana Ristic | "ArtworksAudi, Belgrade, Serbia_x000D_ " | Serbia | Lili Marlene | 16m | Serbian, English, French, German  |
| Regine Ahrem | Rundfunk Berlin-Brandenburg | Germany | Lieber Nicolas Berggruen | 54m | German  |
| Werner Cee | - | Germany | Torrent of Dreams and Nightmares. A Monologue (Special Version Director's Cut) | 41m | Italian/Sicilian  |
| Kevin Patterson | Stationary Hobo Productions | North Carolina, USA | Detective Samwel Sift's Loved One Discovery or Recovery Services | 29m | English  |
| | | | Episode 1 | 12m | English  |
| | | | Episode 2 | 17m | English  |
| Rasa Kregždaite | BILIETU NERA | Lithuania  | ŠIAURES MIESTELIS / North Town | 40m | Lithuanian  |
| Mija Špiler | Academy of Theatre, Radio, Film and Television University of Ljubljana | Slovenia  | ZRTVE RADIA BUM BUM | 20m | Slovene  |
| Sebastian Dicenaire | - | Belgium  | Version 133 | 51m | French  |
| Sverrir Gudjonsson | Art Centrum | Iceland | Ragnarok - The Prophecy | 28m | Icelandic |
| Marty Durlin | KZMU Radio | Utah, USA | Beautiful Radiant Things, Act 1 and Act 2: | 50m and 42m | English |
| Jeff Adams | Icebox Theatre Radio | Minnesota, USA | The Signalman | 33m | English |
| Katerina Rathouska | Czech Radio | Czech Republic | Love is Good Stuff | 42m | Czech |
| " | Czech Radio | Czech Republic | Will-Not-See Woodland | 2m | Czech |
| Zuzana Vojtiskova | Czech Radio | Czech Republic | The Cremator | 59m | Czech |
| Renata Venclova | Czech Radio | Czech Republic | What Kind of Coffee Do You Like? | 2m | Czech |
| Rebecca Sheir | - | Massachusetts, USA | Armadillo's Song | 18m | English |
| " | - | " | The Unwelcome Guest | 16m | English |
| Mehdi Bayad | - | Belgium | Dipsomanie | 38m | French |
| Thomas Reintjes | - | New York, USA | Die Machine: Uber das Dunkle in der Black Box | 28m | German |
| Brian Price | Great Northern Audio Theatre | Indiana, USA | The Old Cart Wrangler's Saga | 46m | English |
| Vladimir Kryuchev | oontz.ru | Russia | Seagulls and Silver Angels | 12m | Russian |
| Ulrike Haage & Andreas Ammer | ndr.de | Germany | Die Toten von Feuerland | 54m | German |
| Dmitrii Urupin | Audio Theater audiotheater@ya.ru | Russia | How will your Peace Sound? #1 | 1m | Russian |
| " | " | " | How will your Peace Sound? #2 | 1m | Russian |
| " | " | " | Night Courier | 1m | Russian |
| Oliver Emanuel | BBC R4 | UK | When The Pips Stop | 44m | English |
| James Lever | BBC R4 | UK | Cheeta: My Life in Hollywood | 55m | English |
14 Jan 19

2019 INTERNATIONAL RADIO DRAMA FESTIVAL, KENT
Note that this year there is a change: the listening events for the festival will be taking place in Canterbury.
Venues are being sorted out.
14 Jan 2019

TABLE OF ENTRIES at 20 Dec
| | | | | | |
| --- | --- | --- | --- | --- | --- |
| Name | Organization | Country | Title | Length | Lang |
| Darrick Wood School | See left | UK | Free Fall | 3m | English |
| Darrick Wood School | See left | UK | One of our Exercise Books is Missing | 6m | English |
| Mahdi Azari | Islamic Republic of Iran Broadcasting | Iran | Metamorphosis | 22m | Farsi |
| Chuse Fernandez | Escuela de Radio TEA FM Radio School | Spain | Randolphe Carter's Statement | 20m | Spanish |
| Dmitri Nikolaev | - | Russia | Natasha's Dream | 44m | Russian |
| Silvain Gire | ARTE Radio | France | My Prince Will Come | 14m | French |
| Zurab Kandelaki | Georgia Public Broadcasting | Georgia | Travelling in Africa | 36m | Georgian |
| Kristel Le Pollotec | - | France | My City, after Paris | 51m | French |
| Mihnea Chelariu | Radio Romania | Romania | iHamlet | 45m | Romanian |
| Ursuleanu Razvan | Radio Romania | Romania | Heruvim | 3m | Romanian |
| Eugen Vrabie | Radio Romania | Romania | Only Sound We Had | 2m | English |
| Jeanne Debarsy & Mabel Lagadec | Babelfish ASBL | Belgium | The first time I became ... | 48m | French |
| David Zane Mairowitz | - | France | How my brother became deaf in one ear at a concert by "The Who" (mono) | 53m | German / English |
| Julia Hartnett | - | UK | Set In Stone | 7m | English |
| Stephane Querrec | - | Germany | The Journey Backwards | 37m | French |
28 Dec 18

CALL FOR ENTRIES
The festival will have a special theme this year: "simply the best".
Both full length and short form dramas are welcome. There will be awards for the best in each category as well as an audience award.
Entries are open from 1 November 2018 – 15 January 2019
Go to Festival 2019 for regulations and entry forms.

15 Nov 18

NEWS
The theme of this year's festival is

"Your Best Radio Drama this year".

The regulations and entry form will be ready soon. They will be slightly different from last year's.

ND, 16 Oct 18
----------------------------------------------------------------------------------------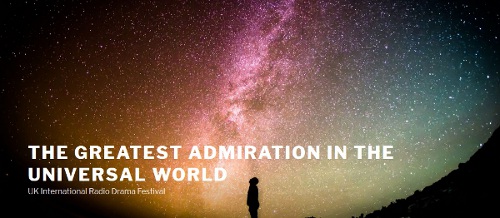 Welcome to our page about the 5th UK International Radio Drama Festival which will take place from 18 – 22 March 2019.
The festival is currently being planned. Information will be posted here as I receive it, subject to my time constraints.
NOTE THAT UPDATES ARE POSTED AT THE TOP OF THE PAGE
Official website for Radio Drama Festival