Please note that this is a page DEDICATED to the International Radio Drama Festival; it is NOT the official website. The latest material on this page is posted at the TOP; older information is lower down.
Selected plays will be listed in alphabetical order of country, below.
The official festival website is at radiodramafestival.org.uk


Welcome to our page about the 7th UK International Radio Drama Festival. The unprecedented situation with the coronavirus has affected our plans, but they are now formulated. Canterbury won't happen this year, but as for the festival itself, it's all systems go. Details below. You'll also notice a change in the title. We're now the UK International Audio Drama Festival; there have been great advances this year in the number and quality of podcasts so 'Radio' no longer covers everything we do.
..........................................................................






TO REGISTER FOR THE LISTENING SESSIONS...
To register for the listening sessions, which take place in the afternoons UK time, click the link: https://www.eventbrite.co.uk/e/uk-international-audio-drama-festival-listening-sessions-tickets-14368993145
We will send people a zoom link shortly before the event. The start time will be announced soon.
1 Mar 2021

COVID ISLAND DRAMAS, 3
Jonathan Keeble, radio actor, and voiceover artist, interviewed by Clive Perrott.
Covid Island, episode 3
15 Feb 2021


ABOUT THE 2021 FESTIVAL
Covid 19 continues to create enormous restrictions on the festival world – on travel, on meeting, on creative expression .
We are determined that the 2021 festival will not just such survive through an online presence but be one of the most exciting Audio Drama Festivals yet – for the first time coming together to make audio drama as well as to listen to it.
This year's virtual festival 22 – 26 March 2021 will combine collaborative creative sessions with real-time and on-demand listening and real-time collective jury discussions.
We will be asking you to sign up to take part soon.
Meanwhile the festival poster is shown below: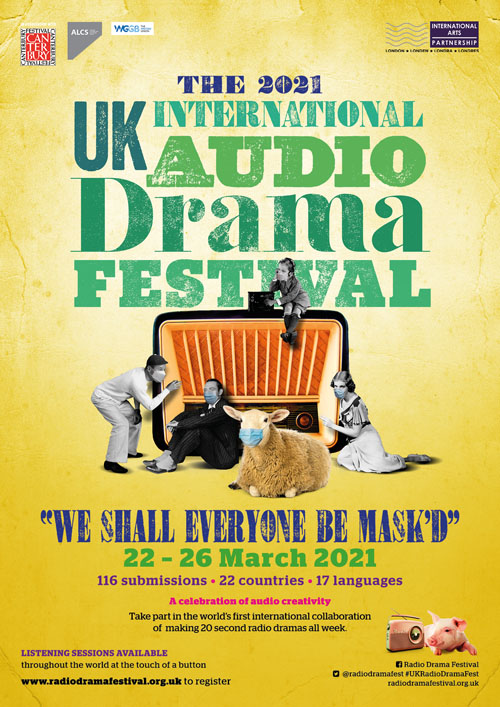 13 Feb 2021


WHAT ABOUT ALL THOSE LANGUAGES?


13 Feb 2021


COVID ISLAND DRAMAS, 2
Jack Klaff, actor, writer and academic, interviewed by Maureen Younger.
Covid Island, episode 2

COVID ISLAND DRAMAS, 1
Nigel Deacon, radio drama collector, interviewed by Jack Klaff.
Covid Island, episode 1



Sitemap