'A Tokyo Murder' is a thriller about the disappearance in Japan of young British teacher, Daisy Whitelock. The production was recorded in Tokyo.

Broadcast date: – BBC Radio 4 Tuesday 16th - Thurs 18th September 14.15-1500.

PRODUCTION PHOTOGRAPHS: © Daan Archer
click on the small images to see the detail: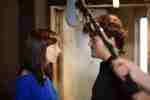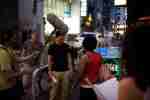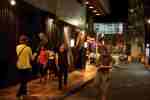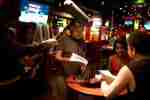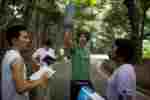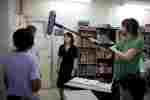 Producer: Tamsin Barber / Director - John Dryden

John Dryden supplied details and photographs (courtesy of Daan Archer) of the production - many thanks to both. I haven't said too much about the plot - we don't want spoilers on-line.

Part 1 – is the story of Detective Inspector Julie Hill, sent to Tokyo to investigate the disappearance. Working with the Tokyo police, who are reluctant to have a foreign police officer interfering with the case, she has to overcome cultural and bureaucratic obstacles as she attempts to untangle what really happened at the foreign language school where Daisy taught.

Part 2 – is the story of Daisy Whitelock herself.

Part 3 – is the story of Daisy's parents, Jennifer and Peter Whitelock.

Cast:

DI Julie Hill - Rachel Ferguson
Asst. Inspector Takasugi- Takuya Matsumoto
Daisy Whitelock- Sophie Cartman
Peter Whitelock- Martin Burns
Jennifer Whitelock - Lynne Hobday
Akira- Nariyasu Kato
Norio Ito - Ryoji Yoshimura
Superintendent Yamagawa -Teruhiko Nakajima
Brie- Erika Hirokawa
Alex- Michael Naishtut
Mr Takahashi - Junichi Takahashi
Mrs Takahashi - Sachiko Yamada

Other parts: Takako Anami, Huruhi Tsumoto, Ken Endo, Gemma Nokes, Daan Archer, Michael Rhys, Masaru Yoshiahra, Rika Wakasugi, Kei Katsumoto, Harumi Nojima, Harumi Tsumoto, Adam Browning, Shinji Kobata, and Hiroyuki Nojima.

Production team

Tokyo: Dagmusic-Line Producer - Chizu Iwaki
Japanese Casting - Shinji Kobata
Assistant Director - Philip Madeley

Script Editor - Mike Walker
Sound Designer - Steve Bond
Music - Sacha Puttnam

Producer- Tamsin Barber
Director - John Dryden

A Goldhawk Essential Production for BBC Radio 4.

******************************************************

John Dryden (Writer / Director) - productions for BBC Radio include MY NAME IS RED ( broadcast this August on Radio 4), the Woman's Hour serial "Q&A" which won this year's Sony Award for best drama, THE CAIRO TRILOGY staring Omar Sharif (Sony Radio Awards 2007 - The Drama Award, Bronze), FATHERLAND, A SUITABLE BOY, THE HANDMAID'S TALE and the Sony Award winning BLEAK HOUSE.

Tamsin Barber (Producer) has produced factual documentaries for BBC Radio 4 including FIGHTING CHANCE 2007, WARS OF THE ROSES (to be broadcast this November) COLOUR ME WHITE (2009). Tamsin has worked with John Dryden on '43.59- Yara' for BBC Radio 4 and as Production Manager for Channel 4 Radio's 'The Radio Play's The Thing'.
compiled by Nigel Deacon, from notes and pictures supplied by JD & DA / Diversity website