Rosemary & Jeremy's Gilbert & Sullivan Website
In this first paragraph, I should introduce myself. My name is Jeremy Stevenson and my late wife's name was Rosemary. The picture shows us standing outside the Opera House Buxton in about 1996. I am a collector of Gilbert and Sullivan material and I specialise in sound recordings. In my archives I have many unique items. I would like to extend a special welcome to readers of "Gilbert & Sullivan News".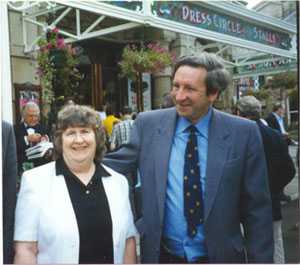 SONGS OF FAMOUS SAVOYARDS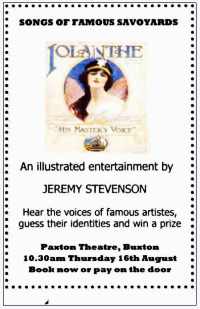 "Songs of Famous Savoyards" has run in Buxton every year for the last nine years without a break. It still appears to be as popular as it ever was. The first four programmes (casually refered to as "Buxton 1" "2" "3" and "4") have been repeated at The Acts and Actors Theatre in the West End of London.

So what is "Songs of Famous Savoyards"? you ask. It's a good question. It would be interesting to hear an answer from anyone who has sat through one of the two hour sessions. If one were to sum up the answer in a few sentences - it might go like this. It is a chance to hear recordings of Gilbert and Sullivan Singers (mostly from The D'Oyly Carte Opera Company) singing songs they never recorded commercially. To give one or two examples - Joyce Wright as Iolanthe, Arthur Richards as the Grand Inquisitor and a few other "way out" examples. Anyone wanting more information feel free to contact me.

"Songs of Famous Savoyards" is designed for the expert. For a more simple version see the lecture "The Story of Gilbert and Sullivan". But that's another story altogether.

"Songs of Famous Savoyards" returned to The Acts and Actors Theatre, London on the 25 February 2010 at 7.15pm.

RADIO DRAMA

Another large section of the Jeremy Stevenson Sound Archives is devoted to Radio Drama. This, of course, does not consist solely of plays written specially for the wireless. It also includes dramas that have been performed on the stage or - as films - in the cinema.

An interesting example is the story "Alfie Elkins and his Little Life" by Bill Naughton. This work started out as a Radio Play on the BBC Third Programme. Alfie was played by the late Bill Owen ("Compo" to modern television audiences). It was adapted as a stage play and achieved a good run at the Duchess Theatre. Then it was made into a film starring Michael Cain. Subsequently it returned - in a new production - to radio. As if all this were not enough, just for good measure, it became a book and was read on Radio 2. This astounding saga still carries on! Since I first wrote these notes, another film version has appeared. This time we have Jude Law in the main role. The original story is now really beginning to disappear. With each stage we've got further away from it. In this latest film we seem to have moved to America. All the supporting characters have changed. This piece of updated information was added on the 17 October 2007.

Has this work achieved some sort of record? I would welcome the views of anyone who shares my great interest in the drama.

RADIO COMEDY

Another section of the Sound Archives is devoted to Radio Comedy. This includes such gems as "Bandwaggon" and "ITMA" up to more modern programmes such as "The Navy Lark" and "Dad's Army". One must certainly not forget "Take It From Here". Could anyone forget the Glums ?

It is hoped that it will be possible to produce a list for a future posting.