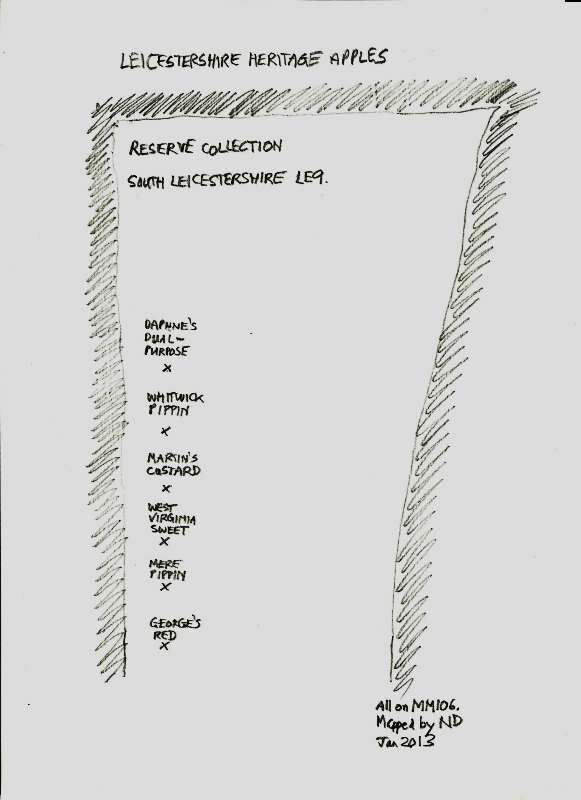 NOTES
Tree no. 1: George's Red, from Essex; pleasant flavoured pink fleshed apple originating in Roundbush, Essex; planted on an old parish boundary about 100 years ago. Original name of the variety is unknown. It blossoms very early and fruits slightly later than Discovery.

Tree no. 2: Mere Pippin, from Mere, Wiltshire. Very late dessert green-skinned apple with white flesh; can stay on the tree until New Year or later, depending on the weather. Low acidity. The tree forms virtually no branches unless the top is taken out - a 'pole tree' or 'ballerina'. This is a unique wild seedling.

Tree no. 3: West Virginia Sweet; an apple of outstanding flavour from an abandoned farmstead in West Virginia. It may have had a name once, but we do not know what it is. A phase 2 apple which ripens by late October but which keeps all winter.

Tree no. 4: Martin's Custard; an brightly coloured old Leicestershire variety of beautiful appearance; a mid-season cooker which is at its best in late October and early November.

Tree no. 5: Whitwick Pippin; a unique seedling from Whitwick, Leicestershire. It is a pink-skinned dessert apple; there are other eating apples with a better flavour, but the special property of this one is its extremely late season. Most years it stays on the tree in good condition until mid-January. Picked at that time and stored, it will generally last another 3 months.

Tree no. 6: Daphne's Dual-Purpose; a unique seedling from the Spalding area, from a friend's garden. A good cooker and a good dessert apple; reliable cropper, green skinned.

Tree no. 7:(not yet shown in the diagram): Mere Pippin seedling; a seedling from tree no. 2, self-pollinated. It is 5 years old and has not yet fruited. It appears to be a vigorous grower and the growth habit seems similar to its parent.