NEIL BRAND RADIO PLAYS
BBC BROADCASTS: RADIO PLAYS
1996 The Player
1998 *Talkers
1999 *The Art Class
2000 *The Cave of Harmony
2001 *Between the Lines
2002 *Joanna
2003 *Righteous Brothers
2003 *The Good Listener
2004 *Stan (Laurel and Oliver Hardy)
2007 *Seeing it Through (Masterman & WW1)
2011 *The Big Broadcast
2013 The Wind in the Willows
Neil is a well-known composer and dramatist. His website can be found at http://www.neilbrand.com/



NOTES ON THE PLAYS

THE WIND IN THE WILLOWS....2013
An adaptation of Kenneth Grahame's famous tale of Toad, Rat, Mole and Badger, by Neil Brand. The adaptation is unusual because it is arranged for actors, the BBC Symphony Orchestra (conducted by Tim Brock), and the BBC singers. It was commissioned to mark the 90th anniversary of the BBC's first broadcast of this well-known classic. Cast: Toad - Stephen Mangan, Mole - Claire Skinner, Badger - Philip Jackson, Rat - Carl Prekopp, Otter - Patrick Brennan, Bargee - Liza Sadovy, Judge - Paul Stonehouse, Girl - Stephanie Racine. Producer David Hunter.

THE BIG BROADCAST....2011
1 Jun 11, R4. Afternoon Play, 45m. Musical about what happens backstage during a radio show in Chicago in the 30s. Josie Lawrence, Nigel Harman, Sam Dale, Sean Baker, Joanna Monro, Jane Whittenshaw, Stuart McLoughlin. Producer David Hunter.
....RT blurb.....Neil Brand enthusiastically pastiches everything from ad jingles to romantic showstoppers.....(....Stuart Manning).

Seeing It Through....2007
90m. R3. By Neil Brand. Imagine if Alastair Campbell had recruited Tom Stoppard, JK Rowling, Ian McEwan and Jeanette Winterson to write patriotic literature supporting the war in Iraq. In 1914 Charles Masterman used the literary and artistic elite to unite the nation against the common enemy. Wells, Bennett, Hardy all did their stuff. A fascinating unknown story of WW1.


Cast: Masterman ...... Michael Maloney, Jean ...... Clare Corbett, Lloyd George ...... Robert Pugh, HG Wells ...... Sam Dale, Frances Stevenson ...... Honeysuckle Weeks, Frank ...... Sam Pamphilon, Dwyer ...... Ben Crowe, Robert Donald ...... John Dougall, Arnold Bennett ...... Simon Treves, Thomas Hardy ...... Peter Marinker, directed by David Hunter.


See also Jim's notes on this play.


STAN....2004
R4, 30 Jul 04, 1415. Tom Courtenay plays Stan Laurel in a play described in RT as "a poignant and powerful farewell to Oliver Hardy". As death finally threatens to separate the greatest double act in film comedy, Stan tries to say the things which have been left unsaid. Director- Ned Chaillet. With Ewan Bailey as Ollie, Barbara Baines and Ed Bishop.
I was a bit dubious about listening to a play taking place over Oliver Hardy's deathbed. I need not have worried. This was a sensitive and interesting play, with flashbacks over Hardy's career, and a realisation by Laurel that Hardy doesn't want to hear false optimism; he just wants the truth. Tom Courtenay sounds exactly like Stan Laurel, and in the opening scene, the archive soundtrack from a Laurel and Hardy short (so I thought) has been recorded by the cast. It sounds absolutely genuine. Another excellent play by Neil Brand. -N.D.


RIGHTEOUS BROTHERS ........ 2003
Three medieval monks stumble upon the concept of close-harmony singing. 24 Feb 03, afternoon play. It's the year 1100 and the routines of an English monastery are about to be shaken and stirred in a highly original way.


Harmony is the joyful noise that Brother Caradoc wishes to offer to the Lord, and he dreams of taking his fellow monks to a higher musical plane with him. But if plainsong is the rule, is he inspired by God, or sent by the Tempter?


With Tom George [Brother Caradoc], John Woodvine [The Father Abbot], Clive Swift [Methuselah], Ioan Meredith [Brother Esmonde], David Timson [The Precentor], Peter Luke Kenny [Brother Alyn], and Carolyn Jones [Lady Emma].

Music composed by Neil Brand and sung by members of the company.

Directed by Ned Chaillet.


THE GOOD LISTENER ......... 2003
The world of covert surveillance...Cath, the head of an MI5 surveillance team, is renowned for her skill in using the most advanced surveillance techniques. But she has to bug a close friend from her past. With Haydn Gwynne, Margot Leicester, Charlie Simpson, Gerard Murphy, Nicholas Murchie, Susan Brown; dir. Eoin O'Callahagn.



JOANNA....2002
An old piano recalls the hands that have caressed her over the course of a century, and the love affairs she has witnessed. With Haydn Gwynne, Sara Crowe. Producer Peter Kavanagh. 27 Dec 02. Rebroadcast on R4 Extra Nov 2012.
BETWEEN THE LINES........ 2001
Siegfried Sassoon after he came back from Flanders. Cast: James Fleet, John Rowe, Ewan Bailey, Ray Lonnan, George Baker, Eleanor Bron, Struan Roger; dir. Peter Kavanagh.
........Part of the life of Siegfried Sassoon was examined in Between the Lines, by Neil Brand (R4, 1415, 8 Nov 01). In 1924, Sassoon was suffering from depression and mourning for friends lost in World War I, and unable to write poetry. A wealthy friend bought him a car, and he immediately went on an 800 mile trip to see writer friends including Thomas Hardy and T.E.Lawrence. As his spirits lifted he realised that could write things other than poetry, and his fortunes improved. Sassoon was played by James Fleet and George Baker took the part of Hardy. (VRPCC newsletter, Dec 01)
THE CAVE OF HARMONY........... 2000
The relationship between Dickens and Thackeray. Song and Supper evenings, often held in private houses or clubs, were the precursors of early music hall in the nineteenth century. This play, which features a number of songs of the period, tells the story of the relationship between two pillars of the literary establishment. Produced by Jeremy Mortimer; RT cutting shown below.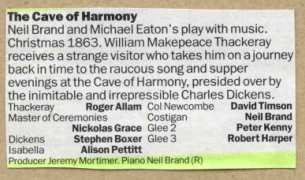 THE ART CLASS............ 1999
In 1939, the Nazis were rumored to be developing an atomic bomb. The United States initiated its own program under the Army Corps of Engineers in June 1942. America needed to build an atomic weapon before Germany or Japan beat them to it. This is the story behind the building of the world's first nuclear pile, and the scientists involved: the Manhattan Project...it's worth quoting the postscript to the play, which helps put things in context:
...........In April 1945 Leo Szilard again wrote to President Roosevelt. He pointed out that with Germany defeated, and momentary advantage gained by dropping the bomb on Japan would be outweighed by the global, moral and political rifts such a weapon would cause. He begged the President not to drop the bomb on a live target, but to make a second, more public test to which the representatives of the Japanese government would be invited. The letter was still unopened on Roosevelt's desk when he died on April 12th. Three months later, plutonium, created in the nuclear pile, was successfully detonated at Los Alamos. President Trueman was subsequently advised by a panel of scientists including Robert Oppenheimer, Arthur Compton and Enrico Fermi. The bomb was dropped on Hiroshima on August 6th, destroying two-thirds of the city."
The play stars Christian Marks as Dr. Rubens, Gerard Murphy as Leo Szilard, Garrick Hagon as Professor Compton; with Paul Ryner, Ed. Bishop and Nathan Osgood. Direction by Eoin O'Callahagn; music by Neil Brand.
TALKERS..........1998
26.6.98, R4. Union strife in Chicago in the 1920s; early days of the film industry. Nathan Osgood as Ronnie O'Connor, Bradley Levelle as Jack Warner, also stars Hester Wise, Kim Romer, Kerry Shale, Eric Lerenn; piano played by Neil Brand, directed by Eoin O'Callahagn.
THE PLAYER.......... 1996
A journey to Scotland with Cecil B. de Mille.






Nigel Deacon / Diversity website.
Asterisked plays known to exist in VRPCC collections.