Peter Gibbs: ex-cricketer and playwright. He has also produced recently a very entertaining novel about life on the county cricket circuit called "Settling the Score" (2012).

RADIO PLAYS:

AFTERNOON THEATRE
19.07.78 Making Way
date nk....The Fancier
02.01.80 The Other Alvar
12.05.82 Hanging On
15.12.82 Trade Winds
28.06.83 Mother Daughter, Friend
date nk....Making Way
19.12.85 Get Santa
14.04.88 Arnold Smith is Innocent

JUST BEFORE MIDNIGHT
07.01.64 Top of the Heap

THIRTY MINUTE THEATRE
04.11.80 One For The Album
05.12.81 Supersaver

OTHER
02.07.91 Taking Us Up To Lunch


NOTES

TOP OF THE HEAP....1964
John Hollis/Lee Harrington

MAKING WAY....1978
Brian Blessed/Ysanne Churchman/Allan Cuthbertson

THE OTHER ALVAR....1980
Christian Rodska/Jean Boht

ONE FOR THE ALBUM....1980
Geoffrey Banks/Judith Barker/Sue Jenkins

SUPERSAVER....1981
Richard Briers/Wendy Richard/Ronald Herdman/Michael Tudor Barnes. This play won the Priz Futura Prize. Producer John Tydeman.

HANGING ON....1982
George A.Cooper/George Parsons/Anne Rye

TRADE WINDS....1982
Malcolm Hebden/Nick Owen/Russell Dixon

MOTHER,DAUGHTER,FRIEND....1983
Judy Parfitt/Betty Bascomb/Melinda Walker/Kerry Francis

GET SANTA....1985
Producer John Tydeman; with Dinsdale Landen, Barry Morse, John Bluthal, Peter Woodthorpe, John Church, Ronald Herdman, Anna Jameson, David Learner.

Two wealthy international businessmen, one American and the other Australian, have everything they want. However, their interests lack one vital commercial element: Santa Claus. So they decide to get him...

ARNOLD SMITH IS INNOCENT....1988
Comedy starring Steve Hodson, Ronald Baddeley, Joan Matheson, Kim Wall. Producer Glyn Dearman.50m.

TAKING US UP TO LUNCH....1991
2 Jul 1991; 7pm. Peter Gibbs is a former Derbyshire opener (P.J.K.Gibbs, I seem to remember from the late 60s) and this was the first of three plays about cricket broadcast on Radio 3. It's a very funny parody about life in the commentary box. There's foul language, a punch-up on air, questions in the Commons, a BBC inquiry and a required resignation. It's hilarious.

Director Jane Morgan, a dedicated cricket fan, gets wonderful performances from Peter Jeffrey, Bryan Pringle and Mark Wing-Davey. Johnners, of course, insists it bears no relation whatsoever to real life, where, he says, all is sweet and never a cross word has been spoken. The plays were commissioned by BBC Radio head of drama John Tydeman, who approached 11 leading playwrights - including the late Samuel Beckett, Harold Pinter, Tom Stoppard, Simon Gray and Tim Rice - who either didn't reply or declined. However, Sue Townsend, Peter Gibbs and Peter Tinniswood took up the cricketing challenge....(R.Twisk, Observer, Jun 91)

Found it..... a picture I took to Grace Rd. in about 1970 as a schoolboy when Leicestershire played Derbyshire, which Peter Gibbs autographed for me...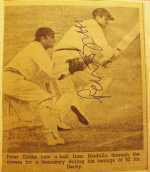 Peter Gibbs' website is at http://petergibbs.net