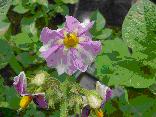 The pictures above are thumbnails. Clicking on the text below will lead you to full-size pictures. I've reduced the file size as much as I can so they load quickly. Typical file: 20kB.

Some varieties do not produce flowers, or only very occasionally; they may abort just before the buds open, or much earlier. This list is compiled from my experience of growing the plants in pots. Potatoes tend to flower more easily in the ground.

THE IMPORTANCE OF FLOWERING TO THE BREEDER
Some varieties of potato produce 'apples' or berries, resembling small tomatoes. These are fruiting bodies containing potato seeds, and if grown they produce plants and potatoes different to the parent. They only form after successful pollination.

Certain varieties pollinate easily and often form fruit,e.g. Salad Blue, which will even self-pollinate; unusual for a potato.

Others only form fruit if pollinated successfully by another variety, e.g. Maris Piper.

Some never set fruit when pollinated, or are very reluctant to do so, e.g. Pink Fir Apple.

Some varieties never flower. These cannot be used for breeding new varieties.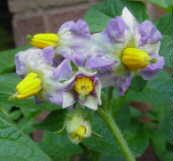 Arran Pilot
Arran Pilot, another picture
Blue Salad (Salad Blue)
Blue Salad, another picture
Blue Salad, seedling with white tubers, white flesh
Blue Salad, seedling with light blue tubers, white flesh
British Queen
Cabaret
Catriona
Claret
Congo
Desiree
Duke of York
Duke of York, red
Epicure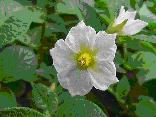 Edzell Blue
Edzell Blue, another picture
Golden Wonder
Golden Wonder, another picture
Highland Burgundy Red
Highland Burgundy Red, another picture
Kerr's Pink
Home Guard
Majestic
Markie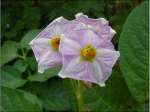 Maris Peer
Maris Peer, another picture
Maris Piper
Maris Piper, another picture
Mayan Queen
Mayatt's Ashleaf
Nadine
Orla
Picasso
Pink Fir Apple
Pink Fir Apple, another picture
Puritan
Red Laure
Remarka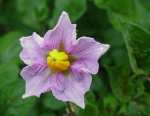 Rooster
Rooster, better picture
Ryecroft Purple


Sarpo Mira
Sarpo Axona
Setanta
Ulster Chieftain
Up-to-Date
Verity
Vitelotte
Wilja
Yetholm Gypsy


NO FLOWERS SEEN:
Anya
Bambino
Cherry belle
Dunluce elite
Flourball
Isle of Bute
Jersey Royal (Int. Kidney)
Kestrel
Linzer delicatesse
Mayan Gold
Mimi
Orion
Osprey
Pentland Dell
Record
Rocket
Royal Kidney
Saxon
Shetland black
Smile
Swift
Sharp's Express
Ulster Prince
Yukon Gold

FLOWERS RARE:
Bleu Auvergne
Highland Burgundy Red
Yetholm Gypsy
Verity

copyright Nigel Deacon / Diversity website