White variant of a pink American potato, Beauty of Hebron. Good salad potato, early. Yield in pots about 1.5lb in a 3 gallon pot; probably better in a smaller container or in trays. Flavour excellent. This is a relatively new variety, available when I bought it as minitubers from Thompson & Morgan. It didn't flower.
Tried again in 2011; larger pots; all plants flowered; excellent flavoured salad potato. Was ready on Jun 11.


Pictures (click on small images for detail):

Flowers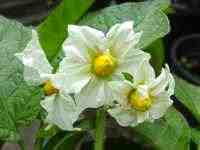 Tubers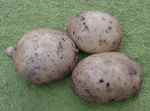 ....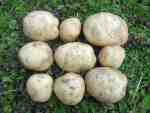 ....

Nigel Deacon / Diversity website