I haven't grown this but it looks interesting. Alan Romans says that it is believed to have originated at the University of Aberystwyth, and I think A.R. has cleaned it up using microplant technology. No information yet on cooking quality.

I am grateful to Chris Hitchcock and William Whitehead for permission to photograph this sample, which was on display at Painswick Rococo Gardens during October 2008.

Pictures (click on small images for detail):

Tubers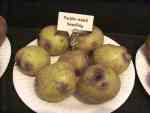 UPDATE.... I have now grown this ..... here are some pictures: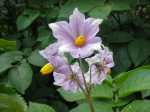 ....



....
....



Nigel Deacon / Diversity website