DUKE OF YORK and RED DUKE OF YORK:

Medium haulms; fairly thick. Tubers oval; some almost egg-shaped. Medium-floury variety with yellowish flesh; very good flavour. Some susceptibility to blight. Best boiled but will disintegrate if over-cooked. Yield about 1.25 lbs per pot; no point in making the compost deeper than about 6-8 inches because the roots are shallow. I find the reds a bit more floury and happier in pots than the whites; a good 'early' for container growing, with a beautiful shiny, red appearance. Flowers usually abort before maturing.

There is a rare pink variant too; grown for the first time this year.

Pictures for the three kinds: (click on small images for detail):

Flowers (red variant only)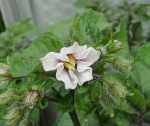 ....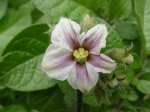 ....

Tubers



....



....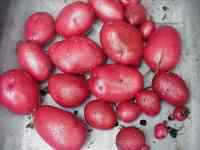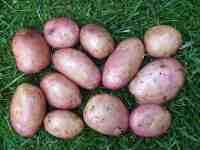 Nigel Deacon / Diversity website