Irish potato, second only to Golden Wonder in dry matter content. Red skin but duller than Desiree. Haulms small. Good flavour; nearly as good as British Queen; excellent for steaming, boiling (do not over-cook) and frying. Yield about 2.5 - 3lb in a bottomless three gallon pot; they are great for container growing; I use them every year. The variety is relatively recent; I came across it first in Ireland in 1999, and apparently it was first made available in 1993. It has been used for making crisps.

No real trouble with blight or scab in most years. It matures rapidly; as long as the seed is in early, its low blight resistance (4) isn't a problem. Flowers seen occasionally; pale purple with yellow centres.

Pictures (click on small images for detail):

Flowers



....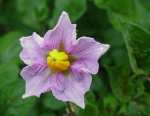 Tubers



....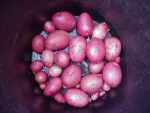 Seed tubers of this variety can be obtained from JBA Seed Potatoes by clicking the link below:



Nigel Deacon / Diversity website