Tom Webster wrote a lot of radio drama: 28 plays. Most were under his own name, but several were written as David Bannister. Most of them were produced by Peter Windows.

Tom spent most of his working life in Education. He was a teacher and latterly a headmaster; first in Lincoln, then in Nottinghamshire.

His plays were very popular with the BBC during the seventies and eighties, and they were also well-received abroad. The seven 'Saturday Night Theatres' were translated and broadcast in Germany; others went out in Italy, Switzerland, Australia, New Zealand and South Africa.

I spoke to Tom recently and he gave some comments about the plays, some of which are included below.

His work is very highly regarded by radio drama enthusiasts.
UPDATE
Tom's first novel SEND IN THE CLOWN is now published and available on Amazon. He describes it as a romantic thriller set mainly in Whitby. Click the link to order a copy.

ND, Jan 2015



AFTERNOON PLAY / THEATRE

THE TICKET*....1986
(As David Bannister) 08/05/86, R4. The idea for the play was based on an event known to the author: a man has a ticket for the Blackpool - Bolton Cup Final of 1953; then he dies. What happens to the ticket?

A stage version of the play was also written but not produced. The last scene takes place at Wembley Stadium; by no means impossible to stage in this hi-tech age....

Stanley Matthews once contacted Pebble Mill to get hold of a copy of this play....

Cast: Alan Parnaby, Judith Barker, Edward Kelsey, Bert Parnaby, Susie brown, Shelley Stellfox, Patricia Green, Francis Middleditch, Jamie Roberts, Keith Clifford, Kathryn Hurlbutt, Richard Durden, Jane Dowell. Directed in Birmingham by Peter Windows.


SCARBOROUGH MORNING....1983*
13.3.1981 Natasha Pyne/Michael N. Harbour; rpt. 8.2.1983.


GOODNIGHT IRENE....1983
(As David Bannister); 20.1.1983, Nigel Lambert/Stephen Thorne/Paul Copley/John Rowe. This is about the Territorial Army and men looking back on their National Service.

TW....I served three years in the Territorial Army; not my idea, but part of National Service.


A SENSE OF PRESERVATION....1982
16.9.1982 David Buck/Rosalind Shanks/John Barron.


SOME SUNNY DAY*....1981
(As David Bannister) 6.11.1981. This is about TDW's old grammar school in Sheffield, towards the end of the war. Repeated 11.8.84. A young Army Captain, invalided out of the army, resumes his career as a teacher.

Cast: Michael N. Harbour, Pauline Letts, Kathryn Hurlbutt, Roger Hume, Michael Spice, Terry Molloy, Jonathan Owen, John Asbury, Terence Coates, Patricia Gibson. Produced in Birmingham by Roger Pyne.

At that time, many teachers were not in the first flush of youth: young men were generally in active service; young women were helping in others ways with the war effort. Pupils therefore received an education from a workforce which was relatively elderly, including teachers called back from retirement for the duration of the war. It was to be a time of sweeping educational change when younger people resumed their places in the workforce after the conflict was over.


WHEN THERE'S NOWHERE ELSE TO GO ....1980
A Yorkshire mining village in the late 1970s. Bill, the prodigal, returns home after an unexplained 20 years' absence, apparently prosperous and driving a Porsche. His younger brother Brian is uneasy.

Bill picks up on his old popularity and his relationship with an old flame, now married. Brian's unease increases.

Where has Bill been? How has he made his money? Vague stories of cashing in on the Middle East oil boom don't convince. Then two strangers arrive asking about Bill. Brian realises his brother has come home to hide because he has nowhere else to go ...#

Broadcast 1.8.1980. With Colin Douglas/Roger Hume/Nigel Lambert.


A SLICE OF THE BIG APPLE....1979
17.8.1979 Geoffrey Matthews/Anne Jameson/Lisa,Perry/Sean Arnold.
Mid 1970's: a middle aged couple are nearing the end of a motoring holiday in France. A few days before they are due to catch the ferry their car is stolen. Then, miraculously, the French police find it, with no harm done.

They continue to Calais, but the incident has disturbed them greatly. They, especially the wife, want to get rid of the car. They do this when they get home to Croyden, but are still uneasy when they feel the house is being watched.

At the dealer's where they have sold the car, a young mechanic is told to give it the once-over. He finds an inside door panel is loose and inside are three plastic bags full of white powder. With growing excitement he thinks he knows what it is and what to do with it, not realising there are others interested in the car....#

TW...When I wrote the play I was unaware that 'The Big Apple' meant New York.


ANOTHER BLUE DAY....1979
(As David Bannister) 3.2.1979. With John Hollis/Nancy Gower/William Fox.

A small village school in rural Northants, before Ofsted and the bean-counters arrived. A new housing development brings new parents to the school. The head, Jack Howard, is highly regarded in the village, a 'bread-and-butter' head who puts the three R's first.

The new parents want more, and say so. They take over the moribund PTA but still don't get very far. The Governors, headed by an aristocratic chairwoman and the ancient vicar give them no support but attitudes change when Jack begins to show an undue interest in a pretty young student teacher who is doing research at the school....#


A PRETTY LITTLE GIFT HORSE*....1978
11.11.1978 John Hollis/Michael Kilgarriff/Stephen Thorne.


A LONG TIME GROWING....1978
28.4.1978 Kika Markham/Geoffrey Matthews/Steve Hodson.

TW.....Kika Markham had just done the 'Just One Cornetto' advert in freezing Venice.

BBC Notes:
.....with Kika Markham as Marilyn Geoffrey Matthews as Eric Thorpe and Steve Hodson as Johnnie. ' Johnnie wants Michael out of the way. Out of sight ... You see, Mr Thorpe. at first Johnnie thought Michael was just a little slow ... ' Alex Gibson .......... Eric Allan Philip Brooke .......... Raymond Mason Steve Wright .......... Peter Brookes Fiona .......... Roberta Thayne Producer .......... Vanessa Whitburn, in Birmingham.


A LATE & LAST BEQUEST....1978
25.2.1978 Rosalind Shanks/Tom Adams/Ann Firbank

BBC notes:
'To be honest, I don't know what or how I feel. When my aunt died I was shattered ... she virtually brought me up ... it was almost as if it was a physical blow. This isn't like that.... I haven't even cried yet.' Judith Talbot: Rosalind Shanks, Mark Richardson: Tom Adams, Margaret Armstrong: Ann Firbank, Philip Armstrong: Roger Hume, Stan: Terry Molloy, John Brice: Ian Liston, Jack Greaves: Ralph Lawton, Harry Benson: Jack Holloway. Produced by Vanessa Whitburn in Birmingham.


THE FALL & RISE OF BIG ARTHUR....1977
18.2.1977 Eric Allan/Diana Bishop.

BBC notes:
'Arthur has seen his heart's desire and he feels that everything and everybody is conspiring to stop him getting it. It's as good a basis for a tragedy as any I know.' Afternoon Theatre. Arthur: Eric Allan, Phyllis: Diana Bishop, Mrs Bell: Kathleen Helme, Mr Bailey: Ronald Baddiley, EriC: Paul Gaymon, Foreman/Official: Malcolm Hayes, Mr Evans/Steward: Sion Probert, Detective Sergeant: Michael Deacon. Producer: Harry Catlin.


THE BRIGHTON TRADE*....1977
22.1.1977 Manning Wilson/Ysanne Churchman/Stephen Yardley/Terry Molloy.

A former small-time crook, Jimmy Marsden, comes to see Edgar Fenton, an ex-CID who had left the force to set up his own investigative business, on a personal matter. He wants Edgar to check up on his wife - she's been putting a lot of mileage on her car but says she hasn't gone anywhere.... (continued....)


FORTY IS A DANGEROUS AGE, ARNOLD ....1978
3.11.1976, rpt. 29.6.1978 Norman Rossington/Diana Bishop/Joan Matheson.

Arnold (40) is the chief clerk at a large city centre bank in Leeds: married to Eileen, no children; pleasant home in the suburbs. She works at a big department store in the city. He is told that Eileen is having an affair with the boss.

He confides in his friend, Clive. They check up and find it is true. Arnold confronts Eileen who admits it and says she is leaving him. Arnold accepts this in a docile manner. Eileen leaves; Clive tells him he is lucky; he can now lead a carefree bachelor life. Clive, although married, hopes to join him.

Arnold tries but it's not a success.

Then, one lunchtime, when he is feeling particularly morose, he meets Clive for a lunchtime drink. When he returns to the bank he is barely sober. A taxi is waiting for him. He is sent to replace a suburban bank manager who is seriously ill.

When he gets there he finds an old flame, Liz, holding the fort. He knew her twenty years ago but a blossoming romance was cut short when she moved to London. After that he lost touch. Still feeling ill he sobers up enough to deal with the day's takings.

They begin to pick up on their old relationship. When the security men arrive to collect the day's money Liz questions them. They react by producing a gun. Arnold refuses to give them the safe key. They threaten him. He is beyond caring. He tells them to shoot....#


FRIDAY NIGHT MAN....1976
13.2.1976 Barry Foster/Rosalind Shanks/Clifford Norgate.

Geoff, an ex-teacher, is a freelance composer - musician. After a struggle he is now beginning to succeed; he is much in demand for the educational lecture / workshop circuit, usually involving weekends away. He lives in Cambridge; his wife Helen is the deputy head of a local public school, and likely to rise.

When Geoff is invited to lecture at a weekend seminar at a Teacher Training College in Somerset he strikes up a friendship with Anne, a college lecturer. It develops into an affair. It goes well to begin with, but doesn't survive the difficulties of getting together. They part reluctantly; then shortly afterwards, Helen disappears.

She is supposed to be spending a weekend with an old friend in London. Geoff has a name but nothing else. She doesn't return. Geoff contacts the police. They can't find her. The friend left London many years ago. The police turn their attention to Geoff.

They find that his marriage was less than idyllic and about his affair with Anne. Helen is, or was, a wealthy woman in her own right. It appears that she told no-one else about her friend in London. The pressure on Geoff increases. Then, searching through Helen's papers, diaries, letters, passport and other effects, he finds something which baffles him .... #

TW...The late Barry Foster, a musician in the play, was a very good jazz pianist.


THE DARKENED SCHOOLROOM*....1975
3.7.1975, rpt. 11.11.1976 John Pullen/Jane Wenham. A rather sad ghost story, 90m. TW....When I taught in Lincolnshire the neighbouring school was in the middle of nowhere. I was told that the Head took his own life in the late 1890s. It was a very eerie place.


THE CHANGE IN HARRY....1975
6.6.1975 Clifford Norgate/Liane Aukin/Carole Boyd/Malcolm Hayes.


SCARS*....1975
28.2.1975. Julie Hallam / Paul Gayman. A young upper-class couple in a car; there's a pile-up, and the girl gets scarred. She's convinced she will be unattractive, and so decides to disappear. She meets a writer, who has his own scars.....

Full Cast: Julie Hallam, Clifford Norgate, Elizabeth Morgan, Paul Gaiman, Joan Matheson, Michael Shannon. Producer Harry Catlin.


EXPEDIENCY*....1974
10.7.1974 Hugh Burden/Malcolm Terris/Godfrey Kenton. A young idealistic teacher is a little too free with his knowledge during a history lesson. Other cast members: Gerald Cross, Wilfred Carter, Liane Aukin, Jane Knowles, Anthony Vickers, Betty Huntley-Wright, Alan Rowe, Sandra Clark, Diana Olssohn, David Timpson. Producer Susannah Capon.


AFTER DUNKIRK*....1974
20.4.1974: Elizabeth Morgan/Anne Jameson/Anthony Jackson/Christopher Godwin. Two soldiers are billeted in a Welsh mining village during WW2, shortly after the Dunkirk evacuation. Other cast members: Brian Haynes, Elizabeth Revell, Eric Allan, David Haddon.

TW: ....two infantrymen were billeted on us, fresh from Dunkirk, though unlike what happens in the play, nothing nasty happened.....I'd like to write this one again, and have a child actor in the key role. At the time this play was recorded, a boy would usually be played by a woman.


ARRANGEMENTS....1973
17.11.1973 Vernon Joyner/John Bentley/Michael Harbour; thriller, rpt. 3.7.75 and 11.11.76. A man who is having a discreet affair meets an old acquaintance. They come to an arrangement which causes trouble for both of them. Produced by Harry Catlin.

John Bentley was the 'Bulldog Drummond' character in early films.


AND THERE WERE IN THE SAME COUNTRY....date nk
(as David Bannister). Can't find this in Radio Times.

TW.....This was a play about pushy parents, and therefore very popular with teachers. Roger Hume was excellent in it. I did a spin-off of one of his speeches for an educational journal. Roger used it in a one-man show about teachers which he used to do in various small theatres. He also used "The Secret Diary of Madge, aged 53 and three quarters" which I wrote for the Times Educational Supplement.



MIDWEEK THEATRE


A NICE EASY JOB*....1975
R4 16.4.1975/2015. A pair of thieves raid alarge, well-to-do house. Unfortunately there is a snag - there's a corpse in there. They make themselves scarce.

A day or two later, one of the pair receives a shock ... his partner in crime has been found dead in the river. Is it because someone saw the break-in? And if so ... will he be next?

Cast: Martin Jarvis, Emily Richard, Hector Ross, Alan Dudley, Francis de Wolf, Liane Aukin, Clifford Norgate, Olwyn Griffiths, Anthony Smee. Producer John Cardie.

TW...probably the only 'gorblimey' role Martin Jarvis ever played...



SATURDAY NIGHT THEATRE


A VERY METICULOUS DEATH*....1989
9 Dec 89, 70m. Thriller. A play about the making of a radio play. Then one of the actors croaks....

Gordon Sabaduquia (CA, USA) sent the casting details; transcribed from the recording... many thanks. (Sp. = spelling unsure):- Jack Roberts - Bert Parnaby, Andrew Benson - Graham Colclough, James Meridan - Edwin Richfield, Tom - Roger Hume , Meg - Tina Gray, Martin - Andrew Wincott, Joy - Headley Nickland (Sp.), Miranda - Rebecca Harbord (Sp.), Kath - Judith Boyd, Connie - Jo Kendall, Studio Mgr. - Andy Hockley, Inspector Lombard - Terry Molloy, The Supt. - Roger Roland. Technical presentation (SMs) - Steve Portnoy, Andy Morton, Rob Taylorson. Directed by Nigel Bryant at Pebble Mill, Birmingham.


PERADVENTURE / MISADVENTURE*....1989
16.9.1989/1945. Alan Parnaby, Geoffrey Matthews.


........DS Adam Gedling, a reluctant detective, gets called out to investigate the death of a cat burglar who fell whilst doing a job.


THE LAST RENAISSANCE MAN ....1986
14.6.1986, 7pm. Nicely moving thriller by T.D. Webster about fake antiques and murder, with a stirring bit of Vivaldi as the theme music. For some reasons this has become a generic comfort blanket in our household, so if someone takes to their bed with 'flu, this play invariably makes the playlist. (Alan Whitby)

Michael Pennington/Caroline Mortimer/Geoffrey Matthews.


Like the geniuses of old, Bill Mottram is a man of many talents. Above all, he is a brilliant furniture maker and his business is booming. But then his partner's wife is found murdered and there are other questions to be answered.


THE TRADE OF MAN*....1984
2.6.1984, by T.D. Webster, SNT. 90 minute play set in the 80s but whose roots lie in France during WW2. Outstanding play along the lines of "For Elise", by John Bird. Nigel Davenport, Isabell Dean, John Rowe, Geoffrey Collins, Carole Boyd, George Pravda, Geoffrey Matthews, Graham Patten, Natasha Pyne, Crawford Logan. Produced in Birmingham by Peter Windows. Recording from Clive Lever; many thanks....

This play was favourably reviewed by John Wain in 'The Listener'.


THE DISPOSAL MAN ....1983
18.6.1983 Edward Woodward/Caroline Mortimer. Another notable thing about the production is the use of Al Bowlley's music in linking the scenes. ........Many thanks to Tom for the recording - ND.


Max Quixall, a successful writer of the cloak and dagger story, wants to spend his remaining years out of the limelight even though he is only middle-aged. His wife Elaine, also a writer, wants to be a success in her own right. Something has to give....


RADIO SUISSE ROMANDE
In 1975 there was a season of British plays broadcast on Radio Suisse Romande, including work by Shelagh Delaney, John Osborne, Anthony Greighton, John Tarrant, Bernard Kops, Arnold Wesker, David Storey, Dylan Thomas, Ted Willis, David Mercer, Tom Stoppard and Tom Webster: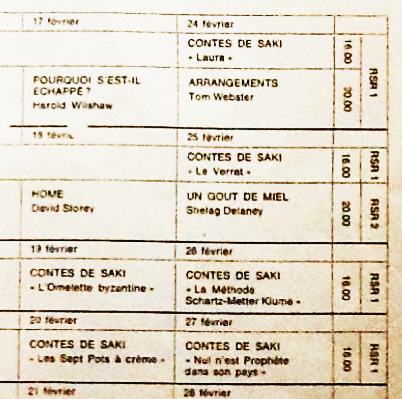 This was what RSR said about it (inaccurately translated from the French by me) ....

A Retrospective of British Theatre
An excellent way to exploit the possibilities of expression of diversity: we now offer a Radio Suisse Romande and Radio Suisse Romande 2.

If it were necessary to convince the public of the important role of radio playwrights and their work, Martin Esslin, Director of Broadcast Drama, would persuade even the most skeptical listener.

I wish to pay tribute to our policy of keeping radio drama alive. This is a chance to hear work by some influential young authors.
Back to top

....Thanks to Tom for the five longer synopses #, and to Jim for his notes about several of the plays.... copies of the asterisked plays have been located....ND



Sitemap