page 1: introduction
page 2: more seedlings and pictures, Oct 08
page 3: more seedlings and pictures, Nov 09
page 4: update, Oct 2011

Here are some photos of last year graftings (2008). The first photo shows the potted graftings in the nursery, planted in spring.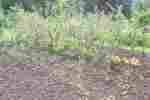 The second photo was taken in august; the same plants with good growths.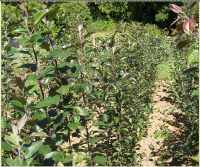 The next picture is Malus Geneva with a redfleshed cherry crab (middle, own seedling) and top, an almost black-fleshed apple (open pollinated seedling of M. niedzwetzkyana).

The intensity of colour Anthocyanins in redfleshed apples can range from pale pink or red under skin to very dark red.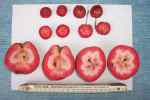 The last picture is `AlmataŽ with first fruit.


pictures from Reinhard Schomberg-Klee; copyright / Diversity website

-----------------------------------------------------------

Note from ND: ............I am also including some photographs of an unknown redfleshed apple from Sweden, sent by S.D. The colouration here is vivid scarlet. S.D. wrote asking my opinion of the variety; I was unsure but suggested that it might be a descendant of the Manchurian crab.

Update - S.D. has had the apple identified as Aldenham Purple. I must check that it matches the English "Aldenhamensis".

Click on the thumbnails to see the detail.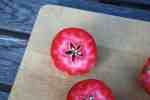 .....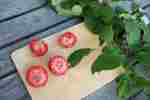 .....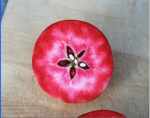 .....