RADIO DRAMA FORUMS AND MESSAGEBOARDS
ex-R4 forum / 'beebotron' / R3 drama forum /
The above are non-BBC sites. The BBC no longer has a messageboard so use the above.
See also our Facebook page for recent updates and links to other sites.




CAROL MCSHANE
I am sorry to report the death of my friend Carol McShane, SM with the BBC for 30 years.

I had known Carol for 20 years, since she was introduced to me by Rodney Wingfield in pre-internet days. Carol helped me a great deal with the Diversity site from 2002 until she died. It was she who first put me in touch with a large number of writers and producers, with whom she had a great rapport.

On one occasion Carol was particularly pleased by her sounds effects - which included a battle involving elephants - on Glyn Dearman's mesmerising production of "I Claudius" back in 1985. For those who know the television play 'Radio Pictures' (about making a radio play), the SM is modelled on Carol and the producer on Glyn.

Carol worked with all of the well-known directors from 1963-1993 - Gerry Jones, Graham Gauld, Glyn Dearman (q.v.), Michael Bartlett, Gordon House, Martin Jenkins, John Tydeman, Richard Wortley, Ned Chaillet.

For those who knew her I am reproducing (with permission) part of a piece written in September 2017 in the 'Dennington News'. Dennington is in rural Suffolk.

>>Carol left school like many teenagers, unsure of what she wanted to do in life. Her chief interests were in acting and with animals. She wrote to the B.B.C. and was lucky enough to be accepted for their year-long studio managers' training course, based at Broadcasting House.

From here, Carol went into radio drama, which she loved, and she got to meet many of the stars of the time: Ralph Richardson, Michael Redgrave, Judi Dench, Derek Jacobi and Dirk Bogarde. It was an exciting place to be for a young lady and she developed her career from doing studio sound effects with the actors, to running the sound mixing desk for final broadcast productions. Carol married Ian Sheward, who also worked for the B.B.C. in television drama; they left together in 1993. She'd been with the 'Beeb' 30 years to the day, August 26th and experienced many changes during that time, particularly in the mood and relationship to employees within the Corporation. For some time, Carol had been considering a career change; she took voluntary redundancy in advance of a much larger exodus of studio managers.<<

I was unable to attend the memorial service yesterday, but NC tells me the church was filled to overflowing and memories of Carol were warmly and beautifully expressed. There was a long tribute from Michael Bartlett, and others from John Tydeman, Dirk Maggs, Miriam Margolyes and Kay Patrick.

John Tydeman's tribute consisted of a reference he wrote for Carol on her leaving the BBC, where he commented that Carol had exactly the right way of dealing with those of an 'artistic temperament', including actors, composers, musicians and directors.

She once told me "A good producer has to be able to judge how best to help an actor in difficulty; it's important to be tactful and positive; in spite of appearances, actors are sometimes quite frail creatures and they have to be handled very carefully."

Here's a photo of Carol in action in 1982 in studio B10; Michael Bartlett is in the background on the left. I don't know the identity of the lady on the right.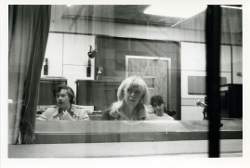 The full article about Carol can be found at Dennington-News, July-Sept 2017
Requiescat in pace.
10 Jan 2018

IMISON & TINNISWOOD AWARDS
The shortlists are now out. Go to main radio page and click on 'Imison Award' and 'Tinniswood Award'.
4 Jan 2018

IMISON & TINNISWOOD AWARDS
I am told that the shortlists should be available in a few days.
19 Dec 2017

MORE ON HERNE BAY FESTIVAL, MARCH 2018
For those who are considering coming to the festival (it is free entrance for audience members), I have put online the full programme, play descriptions, and a list of winners, for the last festival which took place early in 2017. The page is here: irdf-2017.html.
12 Dec 2017

HERNE BAY FESTIVAL, UK, MARCH 2018
Interesting blog by a person who entered a play for the Herne Bay radio drama festival in 2017: Jeffrey Adams, who runs Icebox Theatre: www.iceboxradio.org/fridays-at-the-mic/. He talks about the festival in some detail, and gives five good reasons (my summary shown below) why radio drama should receive backing from NPR:
1. Radio drama fulfils the cultural part of NPR's mission statemenmt better than anything else.
2. Value for money in radio drama has never been better, because of improvements in audio technology.
3. Radio drama could lower the average age of NPR's listenership considerably.
4. Radio drama will assist NPR's case for more funding by increasing soundscape diversity
5. Radio drama gives significant influence over arts and culture.
If this interests you, please click the link and look in detail at what Jeff has to say.
11 Dec 2017 .