RADIO DRAMA FORUMS AND MESSAGEBOARDS
ex-R4 forum / 'beebotron' / R3 drama forum /
All of these are non-BBC sites.


FACEBOOK
Facebook is becoming more important to those who run websites. Half of the population of the UK now has a Facebook account.

You'll see 'like' buttons appearing on a few of this website's pages. If you like the site, and use Facebook, please give us your vote by clicking on one of the buttons. It all helps.


SANDI JOHNSON





I'm delighted to see that my friend Sandi, who has written BBC radio drama in the past, now has nine of her books online, as Kindle editions. There's something for everyone - but the recent addition which has caught my eye is a collection of waspish short stories called 'Bad Apples'. There's a lovely tale called 'Holes' which most men over the age of fifty will recognise ... and at the amazingly low prices for Kindle books, you can't go wrong. Take a look... .



RADIO DRAMA REVIEW
The radio drama review for December 2011 is now online.

23 Dec 2011


NUMBERS FOR NOVEMBER
Total visitors 12,094; top three writer pages: (1) Dave Sheasby, (2) JulietAce, (3) Jimmy Chinn.
15 Dec 2011


THE BID
I don't usually use this page to comment on particular plays, but THE BID, by Matthew Solon (R4, Friday Play, 2100, 2 Dec 11) was outstanding. It was about England's failed bid to host the 2018 World Cup, and was definitely in the 'must-hear' category. Main characters were David Cameron (Chris Villiers), David Beckham (James Hurn), Prince William (also James Hurn), Jack Warner (Larrington Walker); producer John Dryden, for Goldhawk Essential Productions. More on the 2011 comments page.


SATURDAY NIGHT THEATRE SITE
In case readers are unaware, there is a website devoted to Saturday Night Theatre. The web address is www.saturday-night-theatre.co.uk .


CRIMSON CATS
Our favourite audio book supplier, Crimson Cats, has some interesting ideas for Christmas presents. The site is well worth a visit.

1 Dec 2011


SATURDAY PLAYHOUSE
I have received a log for 'Saturday Playhouse' from Gary Marsa, Flushing, Michigan USA. I'm very grateful for this- it covers the period from 1990-1998.

Over to Gary:

Saturday Playhouse was a series of (mostly) 90-minute plays aired Saturdays at 2.30 pm on Radio 4. It started off with new plays, but fell into doing repeats during 1993 and 1994. By 1995, the series returned to airing new plays. Its name was shortened to Saturday Play when the plays themselves were shortened to 60 minutes in April 1998.

Since I don't have access to Radio Times I used Saturday issues of The Times at a local university library. I started at the date where your Saturday Play log begins and worked backwards until I found the first episode of Saturday Playhouse. Then I investigated a little further back to find all of the 2.30 plays. I think I found the first of those, too.

(Many thanks to Gary for sending this information ..... it's also given me a prompt to put together a 2008-2011 page....ND)

30 Nov 2011


PAINTING THE TOWN RED
Do you know the origin of the phrase 'painting the town red'? It comes from an incident in Melton Mowbray. Here's the transcript of a play based on it, The Meltonians , from 1838; made available by Mel Wilson.

30 Nov 2011


ROBERT GRAHAM
Excellent 30-minute play 'A Nocturne for Mr. Yeats' (1989) by Robert Graham has just been received, starring Bernard Hepton.

27 Nov 2011


MATTHEW SOLON & T.D. WEBSTER
New radio plays pages about Matthew Solon and T.D.Webster have just been put online.

27 Nov 2011


FAVOURITE RADIO PLAYS
More of Jim's notes about favourite radio plays are being put online. I'm also adding reviews to his Radio 3 list.

17 Nov 2011


LUCY CHING
The radio play "The Lucky One", dramatised by Rosemary Davis, about the early life of Lucy Ching, has been found. It was first broadcast in 1993.

Dr. Lucy Ching was an inspirational figure who became blind whilst a baby, but grew up to become the first blind social worker of the Hong Kong Governmentís Social Welfare Department, devoting 30 years of her life to improving conditions for the blind. She died in May this year aged 75.

She has been called the 'Helen Keller' of Hong Kong.

22 Nov 2011


GILES COOPER
I've done some updating of the Giles Cooper page, and put in an extra link to an article compiled in 2006, which went out just before Martin Jenkins' new production of Under the Loofah Tree.

Five afternoon plays this week as ever, but the only one which wasn't a repeat was 'Brief Lives' (an excellent legal drama) on Monday....

17 Nov 2011


A 'DISABILITY' SEASON?
I have just received an interesting email from my friend Clive Lever. He writes as follows:

....We have already had a Black History Month (October 2010) and a LGBT History Month (Feb 2011). (I had to look up 'LGBT' - it means 'Lesbian, Gay, Trans and Bi'. )

So - what about a 'Blindness' season? Or a 'Disabled' season?

There are plenty of plays which relate to blindness and disability: autobiography (R.C.Scriven and James Follett), detective stories (Max Carrados, the blind detective), the development of Braille (John Pilkington's Apostle of Light); blind cricket (Lloyd Peters' "Bell in the Ball"); even horror (Blind Man's Buff from 'The Price of Fear'). Round it off with readings of John Hull's 'Touching the Rock', Nick Darke's wonderful radio memoir 'Dumbstruck', the plays 'A New Step Every Day' (the story of a dancer with multiple sclerosis) and 'The Unhearable' (a young woman losing her hearing) and it would make an interesting themed series for Radio 4 extra.

A few plays on 'blindness' are listed here.

6 Nov 2011


PETER GIBBS
I have compiled a page about Peter Gibbs , cricketer and playwright. Years ago he was opening bat for Derbyshire. He has written a dozen radio plays, including 'Taking Us Up To Lunch', broadcast in 1991 and involving a punch-up in the Test Match Special commentary box.

His comedy play 'Get Santa' - about a business consortium who want to control Santa Claus - has just been found.

5 Nov 2011


NUMBERS FOR OCTOBER
15,276 visitors; most-visited writer pages were (1) Wally K Daly, (2) Alan Plater and (3) Richard Monks.


UNIDENTIFIED PLAYS
I've listed some more unidentified plays .... these have been attracting a lot of attention recently. If you can give any titles, please email....

27 Oct 2011


RADIO WRITERS ON TV
Clive Lever writes..... I notice that in recent months David Essex has been starring in East Enders as 'Ed'. On Monday night, his character left the programme with a brilliant father-and-son two-hander, written by Christopher Reason. So we have Peter Whalley writing for Corrie, and Christopher Reason for East Enders. Radio drama is obviously a great training ground for scriptwriters.

24 Oct 2011


SPOOKY PLAYS
Three notable spine chillers in the style of 'Fear on Four' went out recently, with the series title 'All The Dark Corners:

The Desk (Andrew Readman, 18 Oct 11)
Something in the Water (Paul Cornell, 19 Oct 11)
The Dying Wish (Rosemary Kay, 20 Oct 11)

The plays were excellent; I hadn't heard of any of the writers. Names to watch ....

21 Oct 2011


NUMBERS FOR SEPTEMBER
14,652 visitors to the site; most-visited radio writer pages for the month were Peter Souter and Wally K. Daly.

26 Sep 2011


RADIO DRAMA REVIEW
The radio drama review covering the period Apr-Sept 2011 is now online.

25 Sep 2011


SOCIETY OF AUTHORS LAUNCH SWEET STORY TWEETATHON
Launching on 14 September 2011 for 5 consecutive weeks, Simon Brett, Neil Gaiman, Joanne Harris, Ian Rankin and Sarah Waters will lead a short story tweetathon in which authors and tweeters will collaborate to write a short story in 670 characters.

More information

13 Sep 2011


SANDI JOHNSON STORIES NOW AVAILABLE
I am very pleased to report that my friend Sandi Johnson has published her first three books. These are now available on Amazon as Kindle editions. Sandi has written excellent short stories for many years, and there are examples of her work on this site. Many years ago she had a radio play "Lemon Tea" on Radio 4, produced by John Theocharis.

These are the titles available so far....... the first two are collections of short stories; the third is science fiction. Download and enjoy!!

A CASKET OF WORMS

A TWIST OF SNAKES

BLOODLINES

11 Sep 2011


IMISON & TINNISWOOD DRAMA AWARDS 2011
I have received the Imison and Tinniswood Drama Award shortlists from Jo McCrum of the Society of Authors. See Imison and Tinniswood pages. The winners will be announced a little later than usual - in early December.

2 Sep 2011


NUMBERS FOR AUGUST
12660 visitors to the site, 999 to the main radio page. Top three writers' pages: Charles Chilton (102), Diana Griffiths, Marcy Kahan. Also - if you haven't yet read Roger Howe's piece on Alan Garner's Elidor, it's here .

1 Sep 2011


VRPCC
The Vintage Radio Programme Collectors' Circle is continuing to locate interesting radio broadcasts, including drama and comedy. If you have recorded radio programmes off-air in the past, we would be interested to hear from you.

3 Sep 2011


RADIO FORUMS
The Radio 4 forums are much missed. Could I encourage all those who used to visit the R4 messageboards to start using the forums above? The more people who sign on and contribute, the better they will be. Let the rest of the forum know what you think about current output - and what older programmes you would like to see repeated.

4 Aug 2011


NUMBERS FOR JULY
10,708 visitors during the month; top radio writer page Nick Warburton (200 visits); second Martin Wade, third Rodney Wingfield.

4 Aug 2011


STAN BARSTOW
I am sorry to report that Stan Barstow has died. He became famous fifty years ago for his novel 'A Kind of Loving', which was made into a film - and, last year, broadcast as a radio drama, adapted by his partner, the radio writer Diana Griffiths. We send our condolences to Diana and to the family.

3 Aug 2011


AL GORE IN RADIO TIMES
I notice that Al Gore features in Radio Times this week, in a feature advertising his programme "50 Documentaries to See Before You Die".

"An Inconvenient Truth" gets a prominent mention in the RT article. Interesting to see it described as a 'documentary' rather than what it is - a propaganda film.

RT is a BBC publication.

3 Aug 2011


JEREMY STEVENSON
I have put online a few pages from the late Jeremy Stevenson's website. A large fraction of the recordings currently in circulation are from his collection, especially early comedies such as The Goon Show and The Navy Lark. He also had an unsurpassed collection of Gilbert & Sullivan and classic radio and stage plays. See Jeremy Stevenson page .

1 Aug 2011


Bad News for the Short Story on Radio 4

The BBC recently announced it is reducing the number of Short Story slots on Radio 4 from the already reduced figure of 3 - (it used to be 5) - to ONE per week, from next spring.

That means the opportunities for writers of new short fiction on our National Broadcasting service could all but vanish.

The press release adds that there will be 'readings on R4 Extra' - but not whether these will be new, commissioned pieces, or archive material.

If you wish to read more, or to voice your disapproval and try to get things done to reverse this, please click here.

The 3.30 Afternoon Reading has an estimated 202,000 listeners per broadcast.

Susie Maguire

Twitter: @wrathofgod
www.susiemaguire.co.uk
UPDATE...I notice that Bernie Corbett of the Writers' Guild describes this as a piece of pointless cultural vandalism - ND...

18 Jul 2011

Further update.... Gwyneth Williams has replied. (28 Jul 2011)



MORE MONEY FOR RADIO DRAMA?
A curious piece appeared in the Daily Telegraph on 13 July, which I'm summarising below:

The television dramatist Andrew Davies says that TV budgets are being greatly reduced, and that as a result, lavish drama may appear on radio instead, because it's cheaper. Works needing exotic locations or casts of thousands would have to be done on radio.

Mr. Davies was speaking to Radio Times about the launch of his latest drama, an adaptation of "The Purple Land" by W.H.Hudson.

He described how, years ago in a radio play, he wrote off a Rolls Royce and severely damaged York Minster. The great thing about radio was that one did not have to worry about the budget.

Not sure how many radio producers would agree, but it will be interesting to see how the situation develops.

14 Jul 2011


NUMBERS FOR JUNE
Down a bit, probably due to the recent sunny weather....total website visitors 11,288; top writer page Bruce Bedford (218), due to the repeat of 'The Gibson' on R4-extra; second Mike Walker, third Charles Chilton.

2 Jul 2011


RICHARD LUMSDEN
New page on Richard Lumsden, radio play writer and actor. Richard has appeared in a number of radio plays and comedy, including 'Clare in the Community'.

30 Jun 2011


DONALD HEWLETT and GLYN HUGHES
The actor Donald Hewlett has died, aged 90. From 1974-1981 he was the unworldly Lt-Col Reynolds, in 'It Ain't Half Hot, Mum', the famous TV comedy show written by Jimmy Perry and David Croft, in which he acted alongside Michael Bates, Michael Knowles and Windsor Davies. Hewlett's radio work included plays by Wally K. Daly: his "Burglar" trilogy (which also starred Bernard Breslaw and Charles Hawtrey), the three science fiction "Screaming" plays, and the eight-part comedy series "Anything Legal", where he was paired with Michael Knowles.

VRPCC located recordings of all of these items and enabled the BBC to repeat them on Radio 7.

Glyn Hughes, novelist, radio writer, poet, artist, and expert on Turner, Lowry and the Brontes of Haworth, died in the same week.

15 Jun 2011


SANDIE JOHNSON
Another short story by Sandie Johnson (Sandra Shippy) now online: The Light In Their Eyes.

12 Jun 2011


DON HAWORTH
I have just completed some pages about the late Don Haworth, using material from an interview which he gave nearly 25 years ago and which was broadcast in New Zealand. See interview .

6 Jun 2011


NUMBERS
14,868 visitors to the website during May; most visited individual writer pages Wally K. Daly (170), Rodney Wingfield (96), Mike Walker (90).


JIM'S NOTES
I've now put online 100 reviews / programme notes on favourite radio plays by our friend Jim in Ontario. Many thanks, Jim....

28 May 2011


DAVID POWNALL
A repeat of a 1993 David Pownall play, DREAMS & CENSORSHIP, will be broadcast on Radio 3 as the Sunday Play, 29 May, 8pm. The cast includes Hugh Ross, Edward Petherbridge, Robert Stephens, Hugh Dickson, Garard Green, Michael Barnes, John Church, Eric Allan .... it's set in 1610 and is about the new King James Bible. Not to be missed. Producer Eoin O'Callaghan. 90m.

24 May 2011


LENNY HENRY
A first radio play by Lenny Henry will be broadcast on 30 May. There is a long article about this in the Radio Times, 28 May - 3 Jun, pages 116 - 117. It begins in Jamaica. The title character of the drama, Corinne, goes to see a terrifying old woman and asks her to cast a spell on her abusive husband so that her daughter, who will be left with him, will be protected. Then she flees the country. The producer is Claire Grove.

24 May 2011


NUMBERS
Most visited radio writer page during April was Wally K Daly. Total visitor numbers: 13,034 for the month.

10 May 2011


WALLY K DALY
A new radio play is out in late May, I'm told. See Wally K's page .


RADIO 3 DISCUSSION FORUM
I have found the index page of the Radio 3 discussion forum above and altered the link.

24 Apr 2011


JIM'S REVIEWS
At last I've put some more of Jim's reviews online, from radio 3, 1998-99.

24 Apr 2011


SONY DRAMA AWARD
Nominations for the 2011 award are now shown on the relevant page. I was surprised that nothing from Radio 3 Drama made it onto the shortlist.

But there was a nice comment about radio 3 on the "ex-radio4 messageboard" the other day ... which I reproduce here, edited for clarity and anonymity, by a person I'll call 'hsf':
....I can imagine that r3 may gain an 'award' and extra prestige after adopting some of the bad habits forced on R4, such as: repeat trails; closing listeners' message boards; and a 12 day solid stretch of mozart; this last labour saving trick presented as a rare 'treat'.

I still have a small chuckle, about a R3 continuity announcer recommending a 'woman's hour' feature on 'mums and sons' to R3 listeners of the 'Oedipus' opera recently broadcast....wonder what Jenni Murray recommended? Incest, followed up by some random poisonings, perhaps?
23 Apr 2011


RADIO DRAMA REVIEW
This is now online.

21 Apr 2011


NEVILLE TELLER
Mary Kalemkerian's Radio 4 Extra Newsletter for 15 Apr contained some news about Neville Teller, who has been a regular contributor to the station (known for most of its life as BBC7) since its inception in 2002.

Neville's vast range of adaptations and abridgements includes The Saint novels, starring Paul Rhys, Maugham's Eye View , starring Dirk Bogarde, Robert Goddard's Into the Blue, and PD James thrillers with Adam Dalgleish and Cordelia Oliver.

Neville and his wife are moving to the Middle East and will become ex-pats, though he will continue to write for radio.

Over the years, Neville amassed a large collection of audiocassettes and CDs containing much of his work including hundreds of audiobooks he abridged for UK publishers. He offered the collection to the National Sound Archive of the British Library and it has been accepted.

Much of it is not in digital format, but eventually it will be in the public domain and should become available.

Neville asked whether he could address a few words to the readers of the newsletter. He wrote as follows:
"Radio entered my bloodstream like a sort of virus when I was very little, and there it has flourished ever since. I do hope that the pleasure I have gained from dramatising and adapting works of literature for radio has also brought pleasure to listeners. I don't intend to stop writing for radio, provided my work is still wanted, but I do want to take the opportunity to thank you for the many messages I have received over the years, of praise and of blame when deserved, both directly and more recently through the BBC's on-line message-boards. They have genuinely been much appreciated.

Au revoir - certainly not good-bye."


20 Apr 2011


ROGER BICKERTON'S INTERVIEW
Roger's interview, about VRPCC, on the Modernsoundling blog. I'm also starting to compile the April drama review.

18 Apr 2011


RADIO DRAMA INTERVIEW - N.D.
Roger Bickerton and I were interviewed recently by Justin, of the Audio Drama Wikia. You'll find a transcript of my interview on his Modernsoundling blog. Roger's will appear shortly.

Justin is putting a great deal of time and effort into his Audio Drama site ... it's becoming a substantial resource. Please pay it a visit. I've linked to the main radio play writers' page.

11 Apr 2011


NUMBERS
The site was hacked during March, and some of the stats were lost, but the most visited radio writer page during the month was Nick Warburton's. Total visitor numbers: 16148 for the month.

10 Apr 2011


NEW DRAMA / "RADIO 4" MESSAGEBOARD
I would like to encourage you to join the ex-radio 4 messageboard forum . This is a welcome chance to discuss radio 4 programmes with other listeners.


AMAZING COINCIDENCE
I show below a clipping from the Times (17 Feb 1947) sent by Ric Cooper .... his father's wedding is shown ..... but just look at the adjacent entry. An amazing coincidence. Click on the thumbnail for a bigger view.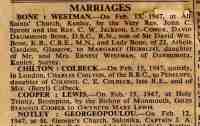 3 Apr 2011


ALAN GARNER
VRPCC's Roger Howe has written a long article: The Song of Roland: Alan Garner's Elidor. Many thanks for permission to publish it on the site.

27 Mar 2011


NICK WARBURTON
There is to be a Nick Warburton week on BBC7 - five plays....... a well-deserved tribute to one of our best radio writers.

24 Mar 2011


BBC RADIO 4 MESSAGEBOARD
Those who follow the way the BBC uses its finances will not be surprised to hear that the BBC messageboard is closing down. I imagine those who use it will regroup somewhere else. When I find out where, I'll post the details.

23 Mar 2011


AUDIO DRAMA WIKIA & TOYTOWN
Justin has now put 1,000 pages on-line. He has also had a sizeable contribution from John Fletcher on his Modernsoundling blog - this is recommended reading.

There's also a new piece about 'Toytown' on the ARTICLES page, kindly sent (and compiled by) auctioneer Toby Jenkins .

20 Mar 2011


T.P.McKENNA, RADIO ACTOR
Stephen McKenna writes....

My father, the actor TP McKenna, was in and out of the BBC Radio studios for the best part of five decades, appearing in dramas, short story and poetry readings, however we have next to no archive for this part of his output, even though it was amongst his final and most subtle work.

I would be interested in hearing from anyone that might have samples of his work or can point me in the right direction.

He loved doing radio work and yet the website Iíve created in tribute to his career (www.tpmckenna.com) is so short on examples of this.

Stephen McKenna (email steviepics@btinternet.com)

....see quick listing for the titles of a few plays in which T.P McKenna has acted.

9 Mar 2011


FORUM FOR DISCUSSING RADIO 3 DRAMA
I've recently been told of a non-BBC forum which often discusses Radio 3 Drama: http://www.for3.org/forums/forumdisplay.php?38-Arts-amp-Ideas.


MORE STATISTICS
Visitors in Feb 2011: 15,146.

The most visited radio writer pages were:

Wally K.Daly 444
Charles Chilton 94
John Dryden 93
Rodney Wingfield 74.

There were also 76 visits to the Friedrich Durrenmatt page.

2 Mar 2011


JIM'S NOTES
I'm putting online more of Jim's reviews and production notes of (mainly) radio 4 plays; about ninety done so far. Thanks Jim. He has also supplied notes about radio 3 plays, and these are being linked to his Radio 3 List.

7 Feb 2011


LUCY CALDWELL, STEPHEN WAKELAM, RICHARD LUMSDEN
A new page is online about Lucy Caldwell, the Irish writer who won the Imison Award a little over a year ago. I have also extended the entry on Stephen Wakelam after his excellent play about Montaigne on Radio 3 last Sunday and begun a page on Richard Lumsden.

31 Jan 2011


NEW AUDIO DRAMA WIKIA - UPDATE
Justin has contacted me again, giving an update on the progress of his radio drama site. He is using the Diversity site as the main source for 'structuring' his information. I am happy about this, so long as we are cited. His 'Wikia', if popular, may remain online indefinitely; private websites eventually disappear.

It is also likely that the sites will be mutually beneficial.

Now - over to Justin.....
Just wanted to give you an update on the Audio Drama Wiki. We have over 200 entries right now, and are continuing to grow. We've started to incorporate information from your website (cited, of course) and are using it as the structural basis of, for example, lists of plays by an author, and then creating individual entries for each play that link to the main list and filling in details where we have them. Hopefully we'll be able to add more details than we currently have, but as you know there aren't very many sources online that we can cite. We're also incorporating information from Wikipedia itself (which has some very good articles about radio drama, and can further supplement our articles, or lead our audience to further information that is outside the scope of audio drama). Because of their creative commons license, we can use Wikipedia content rather freely.

One of the things I'd like to do eventually, for each play, is to have a subsection for comments and thoughts from the cast and crew, as a way of providing perspective on the behind the scenes aspect of each work. Wikipedia doesn't do that, typically, because their rules mandate that information has to originate with verified published sources. But it might be possible in the case of the ADW, to provide unique material, provided there was a method for verifying authenticity.

Justin, 24 Jan 2011



JEREMY STEVENSON
I am very sorry to report the death of my friend Jeremy Stevenson, drama collector and Gilbert and Sullivan expert, in the middle of January.

23 Jan 2011


NEW AUDIO DRAMA VENTURE: WIKIA
I was recently contacted by an American radio drama enthusiast, Justin, who wrote to me with news of an interesting new radio drama project:
..... I found your site several years ago, and have found it to be immensely helpful in finding out more about audio drama.

I recently attended a symposium on the future of radio drama that was held in New York City. Most people in the US either don't know what radio drama is, or think it's a dead, archaic format. Either way, most people in my country cannot comprehend what the term means.

One of the reasons seems to be that there is a lack of basic information. From reading your extensive website, such information clearly exists, but it seems to be held by a multitude of people, who each have pieces of the puzzle but no clear table on which to assemble them.

I think the solution would be an online encyclopedia, like Wikipedia, which anyone can edit or add to. This would allow people from all over the world to collaborate. To this end, I've created a web site using Wikia, an offshoot of Wikipedia, at www.audiodrama.wikia.com .

I want to invite you and anyone else you know who might be interested, to participate. I'm not sure if the project will succeed, but I think a wiki-style attempt might be the best way to do it. At the very least, if nobody else is interested except me, I'll have at least made some knowledge more readily accessible.

Justin.
The site is at an early stage, but is well worth a visit. Contribute if you can.

19 Jan 2011


VISUALLY IMPAIRED READERS
Some of you emailed me in October and November commenting on the low visibility of the text on this website: pale blue on white, including a person calling himself 'cheops'. I had received a small but significant number of emails on this subject over the preceding five years, and it was a matter of regret for me that for visually impaired people, the text was inaccessible.

I have very limited computing expertise, and could see that altering the pages might be an enormous job, because the site had expanded way beyond what I had originally expected.

In October 2010 I decided that something would have to be done ..... so after taking some advice from some visually impaired friends, we changed, manually, all 1500 pages of the site to black text on a white background. It was a big job.

My wife and I altered fifty pages a day for a month. It took about eighty hours. I even considered shutting the website down permanently; it is non profitmaking and consumes a lot of my time.

However... the job is done, and all new pages will have the new colour scheme. I hope readers like it. 'Cheops'...... I do not have your email address, but I hope that the new pages meet with your approval, and that you are now able to read them.

17 Jan 2011


FAVOURITE PLAYS
More of Jim's reviews are being put online. I've also re-ordered the plays chronologically, which seems to be clearer.

15 Jan 2011


RADIO 3 LISTS
Update ....I am grateful to 'Jim', who has supplied a chronological list of about 500 plays 2008-1946 which will be a useful starting point and which will be put online shortly. The total number of R3 plays during this period was about 3,000; Jim's listing will be supplemented by other information as it comes in.

8 Jan 2011


VISITORS
For those who like numbers, Alick Rowe was the radio writer whose page was most viewed during December 2010: 152 times. There were 11,600 vistors to 'suttonelms' during the month.

7 Jan 2011


RADIO 3 DRAMA LISTS
No-one has volunteered to compile these so I'll be having a go as time permits. It'll usually be restricted to title, date, author, duration, and sometimes a keyword or two. There will be a separate listing for "The Wire".

1 Jan 2011 .