Buy Leicestershire Apples

ORCHARD OPPORTUNITY
Do you have an old unproductive orchard which you would allow to be grafted over to Leicestershire cultivars? If so, please contact us.

2023 COSBY APPLE GRAFTING COURSE (5hr)
Will run next on the third Saturday in Feb, 2023. If interested please email. I'll be taking bookings in Nov-Dec 2022.

HERITAGE APPLE COLLECTION
There are about 100 kinds of apple in our collection so far, including all of the known Leicestershire apples. They have an astonishing variety. Most are not in the National Fruit Collection.

A few of them are listed below.


LEICESTERSHIRE HERITAGE APPLES (available from us)
Annie Elizabeth..
Barnack Beauty.. (this is a Northamptonshire apple, not Leicestershire)
Barnack Orange..
Belvoir Seedling..
Dumelow's Seedling..
Martin's Custard..
Langton's Nonsuch..
Leicester-Burton Pippin (a.k.a. French Codlin)
Lord Burleigh
Marriage Maker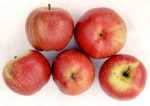 Prince Charles
Packington Apple
Queen Caroline
St. Ailred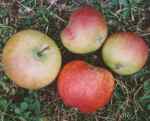 Sweetings Exceptionally early apple (Mid - July ripening)


Foxton's Pride.. Please click on the link for information..

LEICESTERSHIRE APPLES BELIEVED LOST:
St. Cecilia (from Mt. St. Bernard's Abbey; we have found a possible tree near to the Abbey (Nov 2013))
Cross's Seedling (from Hugglescote - we're still looking)
Packington Apple: we have now located a tree and collected scions (Jan 2015).

LEICESTERSHIRE HERITAGE UNIQUE SEEDLINGS
(descriptions and pictures are being added:)

Bumble Bee Lane apple..
Calla Colossus, found near Leicestershire / Northants border
...
Calla Colossus.. Large juicy dual-purpose apple from Foxton
Croft Late.. small, hard, sweet; can pick on Christmas Day
Chapman's Colossus - very large red & green cooker; crops every year
Croft Sharp.. - cider apple, bittersharp; excellent for blending with sweeter apples
High Cross Apple.. - late eater; very good for drying; keeps until April
Sam Bell's Special - very small early cooker; extremely high in vitamin C
Shepherd's Delight - brightly coloured early eater; quite tart, scented
Seagrave Late Apple.. - late eater; pick in Late December
Whitwick Pippin (aka Berkin Beauty)..
Wibtoft Pippin..
Wyggeston Pippin.. - only average flavour but never misses a year

and, from outside Leicestershire.........
Barnack Orange - Stamford variety
Blackjack.. - old Norfolk variety; keeps until March
Metton Roy.. - old Norfolk variety; dual-purpose, keeps all winter
Burford Red.. - found in Oxfordshire: unique seedling
Burford Sour.. - found in Oxfordshire; unique seedling; striped crab, use in cider blends
Burford Yellow.. - found in Oxfordshire; unique seedling; exceptionally late eater; keeps until May or occasionally June in good condition.
Catshead - old English, 1600s, enormous yellow cooker
George's Red.. - found in Roundbush, Essex; red-fleshed.

.....
Kingston Black -cider
Mere Pippin.. - found in Wiltshire; unique seedling, pole tree, very late eater
Pendragon - cider; tart, redfleshed and red juice
Pig's Snout - cider

.....
Sops in Wine, red-fleshed and scented



Surfleet Sour - found in Surfleet, Norfolk. Late eater, tart, sometimes with red flesh.
Witney Deerpark .. - found in Oxfordshire; unique seedling
Wyken Pippin.. - old Warwickshire variety.....
Lots more redfleshed apples in the collection - about 30 varieties - not listed here. Please ask.

Witney Pear.. - pre-commercial Asian giant cooking pear - found in Oxfordshire


Please contact Mel or me if you would like to assist with the work of Leicestershire Heritage Apples. We are particularly interested in finding people who are willing to help us on Apple Days.


CURRENT WORK
1. The search for Foxton's Pride is over. We still have no documentary evidence that it exists. We will not be spending any more time looking for this apple.

2. We are still looking for Cross's Pippin, from Hugglescote.
3.We are still looking for St. Cecilia, bred at Mount St. Bernard's Abbey by Friar Ailred McPike.
4. We are looking for Lady Ashby. A reference has been found in the National Apple Register to this apple, mid 1800s, possibly Leicestershire.

A number of old trees have been found in and around Foxton village and locks. The best of these has been propagated under the name 'Calla Colossus'.

Mel was on Radio Leicester's gardening programme on Nov 1, 2009, giving an update about the project. She can be heard here . ...this recording is reproduced by permission of Radio Leicester, with special thanks to Dave Andrews.

OTHER ARTICLES
Mel has also been looking into old English cider apples - click on Foxwhelps for more information.

Nigel Deacon / Mel Wilson




Community Orchards
We are keen on promoting local community orchards. A private collection of apple trees rarely outlives the person who planted it. New people move in, and the orchard is grubbed up or gradually disappears.

A community orchard can be useful over a much longer period of time.

The same is true of orchards attached to certain large properties such as those owned by the National Trust.

If you need help with stock selection of Leicestershire apples, please contact us.

If you have information about or maps of community orchards, with or without variety lists / names, please contact us.



COMMUNITY ORCHARDS IN LEICESTERSHIRE
Anstey ... Brock's Hill, Oadby ... Broughton Astley ... Donisthorpe... Gilmorton Avenue, Leicester ... Ratby ...

to be mapped:
Braunstone, Brock's Hill, Donisthorpe, Evington, Great Glen, Hose, Wymeswold



OTHER PLANTINGS
Cotesbach Orchard... Foxton Project... LHAP Reserve Collection... Lubbesthorpe Primary School... Shuttlewood Clarke Collection... Waterloo Cottage Farm...


APPLE GRAFTING WORKSHOP
24th Feb 2013, Market Harborough: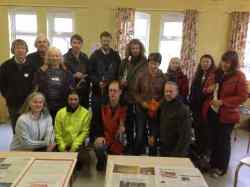 .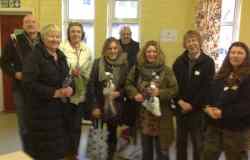 ....

Click the thumbnails for better pictures.


APPLE GRAFTING WORKSHOP
3rd March 2012, Donisthorpe: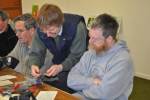 ....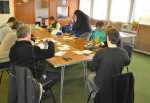 ....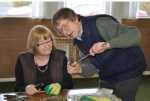 ....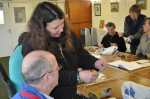 ....


LEICESTERSHIRE APPLE TREES

All of the above, grafted to order in Feb; ready in August.
Leicester-Burton Pippin
Dumelow's Seedling
Sweetings
Belvoir Seedling
Marriage Maker
Langton's Nonesuch
Queen Caroline
Chapman's Colossus (Leicestershire Unique Seedling)

We take most orders in Dec-Jan, prepayment only, but are building up a stock of trees. Inquiries - please send an email. We can advise if you are unsure.

Certain other rare varieties may be added (more Leicestershire Unique Seedlings, redfleshed, etc) later. We can frequently graft other types mentioned on the site; please email.



Eventually there will be plenty of fruit to go round, but it's likely to take a while.

We are interested in hearing from anyone with an orchard containing unknown or rare apples.

We also want to learn about own-root trees, which have some advantages over grafted trees, and about preserving graft wood at awkward times of year (e.g. late summer or autumn). If you have experience in either area, we would like to hear from you.

Mel Wilson & Nigel Deacon.


An overview of Leicestershire apples / Producing new apple trees